Riders to Remember....Geoff Mardon
By Tracy Holmes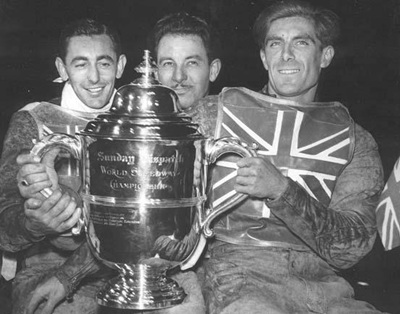 Geoff (left) at Wembley in '53
When the Aranui Speedway opened in Christchurch, New Zealand in 1949, Geoff was one of the youngsters who couldn't wait to get into the action. And by the 5th meeting, as is recorded in the book 'Aranui, a Speedway Legacy' by Alan Batt, it says:
"Unfortunately, the youngsters like Ronnie Moore and Geoff Mardon were far too good for the 2nd division riders but not quite up with Mick Holland, Trevor Redmond and company. Never-the-less, their on track heroics were not going unnoticed".
Geoff's form continued and the 49/50 season saw him take-off:
"Mardon was in commanding form and won all his 6 races including the Christchurch Handicap Final in which he outran Redmond, Peter Dykes and Alby Thomas. In the Fast 8 Final he disposed of Craig Jones, Ronnie Moore and Art Lamport."
In this enjoyable season, he got to represent Canterbury and the South Island with distinction. This was the year that Norman Parker was a regular and of course was to take Ronnie back to the UK with him.
The 50/51 season saw more appearances for Canterbury and rock-steady progress. And this was the season that saw Barry Briggs make his debut and when Bruce Abernethy beat Jack Parker for the NZ Title. Now Geoff felt he was ready for the big overseas experience so to the UK it was where he joined 3rd division Aldershot. He helped them to finish 3rd, scoring 294 points, second top scorer behind Trevor Redmond on 344. He also entered the World Championship and did pretty well? He got to the World Final as reserve!!
If any GP generation are reading this and are tempted to think "so what?", well, a 3rd division rider, is that today's National league?, goes through all those rounds. Then he gets through all the 2nd division rounds and then, gets through the 1st division rounds to make it to the last 18 in the competition. It was a massive achievement!! How about this, Andrew Aldridge qualifies for next year's GP as a permanent wildcard. Can't happen right? Well now you know what Geoff Mardon did!!!
Geoff was also selected for the NZ Team that took on England 'C', Scotland and America. At his home track, he top scored for the Kiwi's with 16 and a month later, did the same at Wolverhampton. At the end of the season, he was transferred to Wimbledon.
A trip to South Africa was next on the Mardon 'to do' list and he represented an Overseas team against the Boks. Now a 1st division rider for Wimbledon in '52, they finished 5th with Geoff scoring 283 points behind Ronnie's 331 and Cyril Brine's 311. They had been joined by Barry Briggs but this was the year when Ernie Roccio was killed. And there was no World Final appearance this year, too far down the list. Ronnie won the Irish champs and GM was 2nd.
It was then back to NZ and the thrills of Aranui. In 3 matches for Canterbury and one Test for NZ, Geoff top scored for his team in each one. A thoroughly enjoyable home season set him up for another season with The Dons.
The '53 year saw Wimbledon again finish 5th and Geoff was 2nd highest scorer with 118 behind Ronnie's 149. Geoff rode for NZ against Scotland, England, Australia and Scandinavia. On May 29, Kiwi Edmund Hillary with Sherpa Tenzing Norgay of Nepal stood at the top of Mount Everest, they had "knocked the bastard off!" It was Coronation year and Queen Elizabeth the 2nd was crowned in Westminster Abbey on June 2nd. The Korean war fizzled out and Vietnam started to rumble... JFK married Jackie, Comets fell out of the sky and on September 17, Geoff Mardon wrote his name into NZ Speedway folklore by taking the Bronze medal at the World Speedway Final. The first Kiwi to stand on the rostrum.
After scoring 12 points, the same as Sweden's Olle Nygren, they met in the run-off. "I made a blinder of a start and just hung on as close to the pole-line as I could. Olle tried everything, apparently he hit me twice but overcooked it on the final bend and fell off."
Freddie Williams was the World Champion, Split Waterman was 2nd and GM was world number 3. They were presented with their medals by Sir John Hunt and Sir Edmund Hillary. In the decades that followed, Geoff's achievement that night got swallowed up by 3 other Cantabrians but it needs recording that Ronnie Moore was NZ's first World Finalist and Geoff Mardon was the first Kiwi to take a World Final medal.
Geoff returned to NZ and Aranui for another enjoyable season riding for Canterbury and The South Island. The UK season of '54 saw victory for The Dons over their 7 rivals. GM's 274 points was the highest individual haul among the 90 plus 1st division riders. Australasia took on England and although beaten 3 nil, GM top scored for his side. On World Final night however, he couldn't get a grip on that form and scored 5 points to finish 11th. Ronnie Moore became NZ's first World Champion being unbeaten to do so.
The year finished on a high for Geoff as he won the prestigious Brandonapolis at Coventry, beating Arthur Forrest and Briggo in a 12 point triple run-off. It was also the year he married Val, a Kiwi girl he had met through Ronnie Moore, his sister actually.The thought of living permanently in the UK did not appeal, "I'd seen so many other Kiwis and Ozzies go to England, diving in deep with a new wife and that sort of thing. The next minute they're divorced, rows and what-not. I thought I can do without that. I got a good woman and I thought I'm hanging on to this one." Hang on he did! The Mardons returned to NZ. Still happily married after all these years, they had 3 children and today have 4 grandchildren. GM retired from Speedway but as it turned out, not forever!
GM returned to Speedway in '59. Why? "Southampton wrote to me. They would supply a bike, pay my return airfare and I thought, what have I got to lose?" Aranui hosted his return and he did it in style, winning the South Island title from Ivan Mauger and Brian McKeown. He also represented the South Island beating the North. So at season's end, and the last ever at Aranui, and at 31 years of age it was off again to the UK and first division racing.
Southampton finished 5th behind Wimbledon, Leicester, Coventry, and Norwich. Geoff scored 128 points behind Brian Cruther's 161. And it was also back to Wembley and the World Final. Unfortunately just 3 weeks before the Final, a smash at Oxford resulted in a broken jaw. On the 6th of September, GM represented Great Britain in a World Cup Final prototype. This was at Oberhausen, West Germany and was won by Sweden 46 from the host nation 32 with GB 3rd on 31. GM scored 9, Peter Moore 9, Ron How 8, Ronnie Moore 5 and reserve Cyril Brine not riding. Norway were 4th with 10.
The Wembley World Final was on September 19 and with his jaw still wired up, GM scored 6 points for 10th place. Ronnie took his second Title that night. Geoff made no excuses but later admitted, "I broke my jaw and it slowed me up a bit!"
In October, GM rode for Australasia against the Swedes and later that month, the Kiwis went to Austria riding against Vienna, made up of Poms and an Austrain Motorcycle Club side featuring Ove Fundin and Josef Hofmeister! The NZ side could have been called Christchurch as alongside Geoff was Ronnie, Briggo and Trevor Redmond. How did they do? Two wins and a draw! That was his last European season but his riding days were not over yet.
Back in NZ, Aranui had closed but there was action to be found. He rode grass track at Doyleston near Christchurch against Ronnie and Briggo in 1960 and in the 61/62 season, he rode for NZ against Australia. At Western Springs, Auckland, he top scored with 11 in the first Test, NZ 34- OZ 14. Then in the 5th Test also at the Springs, he repeated that score, NZ 27-OZ 21. In 1963 at Palmerston North, he was 3rd in the NZ Champs behind Briggo and Ronnie. One year later at Western Springs, Geoff was crowned 1964 NZ Champion! Unbeaten from Peter Moore the Aussie, Bob Andrews, Bob Duckworth, Bryce Subritsky, Len Jelaca, Rim Malskatis and Dave Gifford. Hows that for some names? And who presented the trophy? Ronnie Moore!
Still it wasn't quite over. There was one more night, in 1966, Templeton promotor Russell Lang talked GM and Ronnie out of retirement for a match race series. Ronnie was back on the 'Wall of Death', Geoff was now into sports-car racing and the week before the event, he crashed at Waimate.
But the races went on and despite the rain, it was reported that over 10,000 braved the cold to see this match. Ronnie won 2-1 and the race times confirmed, this was no paid practice. For Geoff Mardon, it was the last ride. For Ronnie Moore, it was the spark that ignited his second career.
Just this year, Geoff and Val returned to the UK for the Vets dinner at Leicester and they thoroughly enjoyed meeting up with friends and fans. Also touring Europe and catching up with Reg Fearman and Ove Fundin in the south of France. Geoff is enjoying good health, making up for a rough spell many years ago and loves playing golf. He sends his best to all his friends and fans who well remember this Kiwi legend and 'bloody good bloke'. I hope you enjoyed this brief story of Speedway's own Geoff Mardon.
We want to feature similar articles on riders from any era of the sport's rich history. If you'd like to contribute a piece then email us at speedwayplus@hotmail.com or fill out our form here.
This article was first published on 13th August 2009
---
Tracy Holmes on Geoff Mardon's funeral:
The funeral of Geoff Mardon, 24 November 1927 - 6 August 2015. Held on 13 August, Christchurch, New Zealand.
"In the hallway of the Avon Park Chapel in Linwood stood one of Geoff's restored motorcycles and on the desk was a memorial book to sign with a few framed snaps. The 1953 World Final podium, one with Ronnie and Briggo, one from his car racing exploits and one on his road racing days. It was simple but SO effective. Because Geoff never lauded his achievements. He was happy with what he did, end of. And this service reflected the man he was."
"One of his daughters told of her dad's endless patience when the family was on holiday. How Geoff had built a boat and he took them all water skiing. No matter how many times they fell off, he just turned the boat around and got them going again. Friends from the Golf and Bowling clubs shared stories of their happy times together. We were told of Geoff's ventures into the catering and taxi industries and how he with Val, brought up their family, sharing as much time as they all could together. It was a humble celebration of a life well lived. A very good and respectful way to say goodbye."
[ Use Mobile Version ]
Comment on this Article | Contact Us | Go Back to Main Menu