Riders to Remember: George Newton
By Bill Dutnall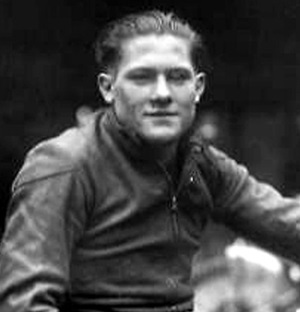 George Newton
George's statistics were respectable but not spectacular. Good finishes in the pre-war World Championships should not be discounted when the opposition contained the likes of Cordy Milne and Bluey Wilkinson. But it is not his numbers that make him my personal favourite.
Anyone who had the good fortune to watch him will know what I am talking about.
My first experience of our sport was at Walthamstow. We had a steady home team with considerable home advantage but pleasurable as it was for those few years it became apparent that we had a rather dull team on the whole. Like many others I enjoyed the more spectacular riders rather than the white liners even though they were often less successful.
The world changed in 1950 when George arrived. The meaning of spectacular was taken into a new dimension. Never before or since have I felt the excitement and expectation of the race as when George was at the staring gate. I swear that on one occasion he fell and remounted to win.
He was of course well past his best when he came to London, having suffered from extremely bad health. But he still gave 110% at all times in a way which still gives me the shivers.
I have been able to watch many of the "greats"; Ivan, Ole etc. but my biding memory is of "Gog" as we called him for this was how his autograph read.
We want to feature similar articles on riders from any era of the sport's rich history. If you'd like to contribute a piece then email us at speedwayplus@hotmail.com or fill out our form here.
This article was first published on 6th March 2016
---

Barry Pickering:

"If I was able to go into a time machine and choose to watch riders of the past, "Wee Georgie" would be in my top 3. His exploits as part of the pre-war New Cross side were nothing short of dazzling. In spite of losing the peak years of his career to injury (he didn't ride between 1939 & 1947) George courageously returned to the saddle and entertained a new generation of fans. How I wish we had the like of him now!"
Nicholas Achilles:

"I wish I could have watched George Newton ride in his heyday but I wasn't born till 1965. He was the best grandad anybody could wish for and his wife Hazel is still the best nan to this day, she is 99 years old and I love her to bits."
Lionel King B.E.M:

"I had the privilege to watch George Newton ride during his career with Wathamstow Wolves in 1950. After set backs in their opening few matches in April, George was signed to fill part of the huge gap to replace Dick Geary, Dick Shepherd and Bill Osborne when they were dropped. He had been with Fleetwood I believe previously.

He made his debut away at Cradley on the Saturday night and in his first race beat local hero Alan Hunt for the first time that year on his home track. His machine reared at the starting gate on his next start and he took no further part in the meeting.

I read the report later in a long defunct speedway mag called Broadsider. He made his home debut at Walthamstow the following Monday and before the match proper he delighted the crowd, many younger members like me who probably had never seen a leg-trailer before - with a couple of demo solo laps at something like full speed! I had only seen three speedway matches before. if it wasn't for George I wouldn't have stayed on to see many more.

The tracks were now all red shale surface, replacing the pre-war cinders. Races had become really rather a procession after the opening lap. George partnered Wolves skipper Jim Boyd and scored two wins, a second place and a third - not bad for his first race at Walthamstow. His riding was spectacular, courageous bordering on the dare devil."

[ Use Mobile Version ]

Comment on this Article | Contact Us | Go Back to Main Menu