Trackin' Down: Gerald Short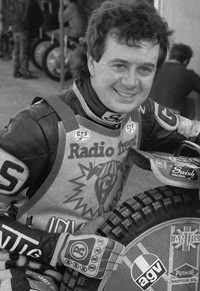 Gerald Short
An extract from Ian Gill's interview with Gerald Short that appears in Trackin' Down 4
Offers to sign for Coventry were likely to have come along in time, but at the time, as British Champion, I had just started to get involved with the lucrative Continental grass-track scene. Another factor that I took into consideration was that I didn't like the idea of not being my own boss, and I realised that if I signed a speedway contract, I'd be racing every Saturday night and I would be at the beck and call of the promoters. In Germany and France, I could be earning good money at the weekends and it was down to me to decide which meetings I fulfilled both at home and abroad.
A further consideration was the slickness of the speedway tracks. There was no dirt on Coventry at that time and I knew I wasn't a slick track rider. It was only after some seasons riding on the sand tracks and grass tracks in Europe that I made any adjustments to my style to accommodate different surfaces. It was all one big learning curve. Mind you I have to say that when it came to a crunch time in any race - like a last bend do-or-die attempt - the "balls or nothing time" - I'd always plump for leg-trailing out in the dirt to accomplish the manoeuvre.
So, at the end of the trials, I told the promoters that I wasn't really interested and that the European grass scene was where I wanted to be. I like to think we parted as friends though and I was most appreciative that they had given me the opportunity to have a go.
Mind you, there was one further 'opportunity' to have a go at speedway when I was in the right place at the right time and, as a result, I could well have signed for Birmingham Brummies!
I was involved in a weekend grass-track meeting during which big Arthur Browning, who was one of my opponents, dropped in to my area of the pits for a chat. Arthur was an all-round motor-cycle star who, as well as riding on the grass had made a name for himself on speedway, trials and moto-x.
"What are you doing tomorrow, Shortie?" he asked.
"Nothing much."
"Well, get yourself up to Birmingham Speedway as I'm doing a stunt for a kids' TV programme and they need some extra riders to take part in the filming."
So I went up to Perry Barr even though I didn't have a speedway bike, but fortunately Arthur said I could use one of his.
In borrowing one of Arthur's bikes, I had to make a few adjustments as he was a physical giant compared to me and I had to put my own handlebars on to be able to ride it.
In the pits I could see Arthur and Carl Askew (who was another of the main men riding for the Brummies at the time) getting their bikes ready, but at that stage I didn't know what the filming was going to involve.
We got talking and the film was going to be used on the Blue Peter TV show and basically involved some shots of riders racing and then the staging of a crash sequence. Arthur started off doing some laps on his own and then me and Carl got involved riding with him. I was getting round the track ok, considering I wasn't a speedway rider at the time, and I was happily mixing it in racing terms with Arthur and Carl. The film crew seemed happy enough with the racing action, so the afternoon finished with Arthur staging a crash-sequence on his own, skidding off on one of the bends and into the fence.
With our afternoon's 'work' completed, we were packing up our kit ready for leaving but Joe Thurley - who was the Promoter at Birmingham - came over and asked to have a word with me.
"Do you want to ride in the second half tonight?"
Well, it seemed a good opportunity as I was already at the track so I agreed, on one condition that I didn't have to ride under my own name! He thought it was a strange request, but agreed. The reason was that I didn't want anyone to know it was me (particularly if I didn't do very well!). Anyway, I did ride and I was programmed as "Harry Long."
Mind you, my anonymity didn't last too long as my 'distinctive' style was noticed by a number of the fans who'd seen me on the grass.
That would have been in 1976 - when the Brummies had just gone into the first division - with riders like Browning, Askew and Alan Grahame.
I did ok in the second half and the Brummies' promotion were quite interested in signing me, but I gave them the thumbs-down as I was still quite happy with the way things were going on the grass at the time. I did go along to a few meetings, but purely as a spectator, though I did go down into the Pits area as I knew quite a lot of the riders as mates from the grass track scene.
So, speedway and me went our separate ways and there was no interest in each other for a number of years.
Click here for details on how to order your copy of Trackin' Down 4
This article was first published on 11th June 2012
---

Chris Stockwell:

"Many fantastic memories of Shortie riding at Station Road. Many's the time when he was on the inside gate, he'd miss the gate on purpose, just so he could blast round the outside of the other three riders, millimetres from the safety fence. Two races stick out in my mind one was against Birmingham, and Shortie came out against Reg Wilson (I think it was) now Reg knew, that Shortie liked to blast round the outside so he moved out to block the move, so Shortie does no more than blasts up the inside into the lead and wins the race. Shortie racing up the inside it was unheard of, me and several hundred Invaders fans stood there totally gobsmacked. Shortie could ride the inside line!! The other race, Shortie was once again on the round the boards route and ended up hitting the fence at a rate of knotts. He lay prone on the track under the collasped fence boards it looked a bad accident. The St Johns people called for the Ambulance which took Shortie away, Thankfully a short time later(no pun intended) Ken Walker the Long Eaton mike man was able to tell us that Shortie was able to walk unaided into the first aide room. Ken asked Shortie what hurt and he replied "My bloody thumb!!" There's a load more stories about Shortie that could be told here and I bet many Long Eaton Fans have their own fond memories of the Invaders action man. Infact Ian I think you could fill another chapter of your book with those stories. Best of luck with Trackin Down."
Keith Anderson:

"Good to read Gerald's article. I didn't know about his Birmingham story, very interesting as I rode for Brum 74/75 and also had some good scraps with him on the grass, though he wouldn't know that as I was always behind him!"
Bob Moulder:

"One of the most exciting riders ever."
Janet Mobley:

"I watched Gerald many times at Long Eaton. Fantastic speedway rider and not a bad brickie."

[ Use Mobile Version ]

Comment on this Article | Contact Us | Go Back to Main Menu