Riders to Remember....Graeme Stapleton
By Tracy Holmes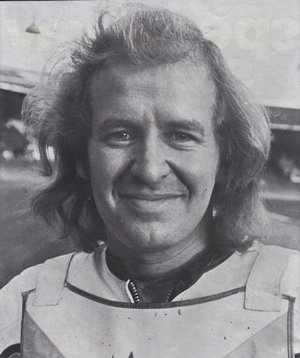 Graeme Stapleton
Stape! You could love him or hate him, sometimes both at once but, you could never ignore him! Rivals did at their own peril. He was hugely popular with the paying public because win or lose, he tried all the way.
Graeme's first trip to the UK was as a motoX rider, or Scrambles as it was then. Thankfully for us, he got the Speedway bug and got busy learning all he could. His coach was Dick Campbell, Edinburgh will fondly remember him. Stape took it all in and wasted no time in getting back to England, lining up for Canterbury in 1971. Riding in 9 matches, he averaged 6.2 and was 2nd in the Martyn Piddock Memorial Trophy behind Ross Gilbertson. And linking up with fellow [Christchurch NZ] Cantabrian Ronnie Moore, got 6 matches for Wimbledon.
Then it was back to Kiwiland where over the next decade and more, Stape became a household name in Speedway and motoX. He took senior titles in the latter and came oh so close to the National Speedway Title. 3rd behind Bruce Cribb and Roger Wright in 72. 3rd again in 73 behind Gary Peterson and Bob Andrews. Then in 77, he was beaten only by Larry Ross. When Robin Adlington beat Larry, a 14 point run-off saw Stape make the gate but Larry proved too good and took the lead. Never giving up, Graeme tried too hard and fell. He never got that close again.
After representing NZ in the Test series against Poland in 75, one his highest honors was to captain NZ against the British Lions in 76. While the Poms thrashed the Kiwis out of sight, Graeme and his men could still hold their heads high, doing their best while Ivan Mauger and Barry Briggs were unavailable.
He also rode in 3 Australasian Finals and no-one can forget his first in 76 when his motor blew sky high! And it wasnt even Guy Fawkes night! I'm told they were still picking bits up a week later.
His British League career established in Wimbledon for the 72 season saw him riding in all 35 matches. Riding for NZ in the InterNations tournament the same year.
1973 was the same, all 35 matches for the Dons and helping NZ to the Semi-final of the Daily Mirror World League Series. He also rode in the World Pairs Championship with Ivan Mauger. They were 2nd at the Semi-Final at Poole but had a nightmare evening at the Grand Final in the Swedish town of Boras, 7th and last. Still, it was a World Final appearance and something to be very proud of.
1974 again with Wimbledon and rode for NZ in the World Cup round at Ipswich. When Ronnie Moore was near fatally injured in Australia, Graeme stayed in Christchurch for 1975, looking after their motorcycle business, Norjo Motors. Graeme's Wimbledon return wasn't until 77, doing 9 matches. After so long away, the rust had set in but he was far from finished.
1978, Graeme rode in 11 matches for the Dons but his move to 2nd Division Newcastle was a revelation. 37 matches saw him set an average of 6.5, very impressive indeed. In a side that included Tom Owen, Robbie Blackadder, Robbie Gardner, Rod Hunter and a kid named Kenny Carter, Stape had earned his due respect. And they were 2nd in the League behind Canterbury.
The following season would be Graeme's last in England. He helped Newcastle finish 6th overall, riding in 32 matches for a 6.5 average. And he was on hand at the World Cup Final at White City.
While not getting to ride for NZ that year, he was flat out helping the Kiwis and helping the meeting to run, fixing lights, tapes, fences and so enthralling Wally Loak, he even got interviewed! As NZ won the 1979 World Cup Gold Medals from Ole Olsen's 'Great Danes', there were few Kiwis wearing a bigger grin than Stape!
Back in New Zealand, Graeme would continue riding for the next few seasons but age and injuries would soon catch up. When solo racing had to be waved, a venture into midget cars was undertaken.
Forward 20 odd years, Graeme was a pig farmer on the Canterbury Plains. Early 2008, he came home to find his house on fire. While attempting to deal with that, Graeme sufferred a heart attack! While not fatal, it was enough to slow him down. While recovering in hospital, that news went all over the Speedway world and today, Stape has a scrapbook with all the well wishes he received. So touched by the kind thoughts of so many. And he sends a huge "Thank You" to his speedway friends from all over.
His pig farming days over, he has moved into his new home with plenty of room for his 13 Boxer dogs! His 2 sons keep a close watch on dad as do friends. Enjoying good health these days, Graeme has dinner every Friday night with close friends and I have it on good authority that he puts as much effort into and gets as much enjoyment from that as he did going sideways around speedway circuits.
I hope you have enjoyed this glimpse into the life of a true entertainer, great sportsman and 'hard as nails', bloody good bloke! World famous in NZ, Graeme 'Stape' Stapleton.
This article was first published on 11th November 2010
---

Glyn Williams:

"Great to hear that Stape is doing well. I had the pleasure of meeting him although under unfortunate circumstances - after his unfortunate coming to grief while guesting for Hull Vikings in the league decider at Coventry I and my then partner went to visit him in Walsgrave Hospital. I remember him being less than impressed with the food and smuggling in to him some fairly hefty roast beef sarnies. Eventually the hospital relented and released him on the condition that he didn't stray far from Coventry so he and his girlfriend came to stay with us until he was well enough to travel home. As you said a great character and a very very popular Diamond in his day. I still treasure a photograph of him on my doorstep!"
Ian Mack:

"Great piece on Graeme Stapleton. As a long life fane of Newcastle Diamonds I saw a lot of riders come and go. Most of the best riders in the world started at Brough Park. I won't mention them as everyone will know who they are. However, Stape came to us rather late. He used to scare the sh+t out of me and I was only watching. Always gave 110%."
Mark K:

"I remember Graeme doing the best ever team riding with another rider called neil! they were always paired together and it was almost impossible to split them when behind them. i did a bit of second half riding around 76/77 and some at Eastbourne and Mildenhall. who was Neil? and just for the record the best ever Wimbledon rider has to be Ronnie Moore (he rode the white line like he was glued to it!!)"
Chris Slade:

"Stape was my Brother in law when I grew up in christchurch. A legend. I used to pit crew for him in my teenage years and that was a challenge! Enjoyed every minute of it until I decided I would have a go at riding them bikes. Will never forget the time when he was seeing if I had it and during a meeting at Ruapunah he came on to the track with a spanner & said if you are going to sit on that seat going around that corner I will take it off! A great Kiwi & mate. Say no more."
Pete:

"I suspect that Neil referred to was probably Neil Cameron, an Aussie rider at Wimbledon Dons?"
Bill Gibson:

"I remember when Graeme came to the UK way back in 1968, and hopped on a 250cc Husqvarna, he immediately got put into the expert's as he was so fast.He won a lot of races back then on it. On a trip to Ireland Cork in 1969 Graeme headlined the meetings winning nearly all the races he entered. Since that time we were friend's and he was my best man at my wedding in 1980. His riding ended in the UK due to Age restrictions on visa's which meant speedway in the UK was over. Spoke recently with him and we plan to catch up sometime in NZ, can't wait for that.A great bloke, true grit. "
Suzanne O'Hara ( Jackson):

"My dad Allan Jackson was a member of the New Brighton Motorcycle club and later President. Every weekend they had a race meeting, dad and I would go out on the Saturday to lay out the track for race, mainly at Clarkville in those days just out of Christchurch. Dad would be official scrutineer checking the bikes out to ensure they were safe.

Every one was riding 4 stroke bikes and they hated any little jumps most preferring to go around them. Graeme and Gordon Holland had many exciting races and they had the crowds cheering big time even the local motorcycle gang would go out and enjoy the spectacle.

Times changed when Graeme came back from his time riding in UK with a 2 stroke CZ from memory, then they really stepped up riding in gully at Halswell quarry and throwing their bikes over the jobs. My most vivid memory was at a North V South meeting in Timaru where the south was being punished But Graeme came down the hill on a dangerous line and passed two of the best North islanders the crowd erupted.

He took risks most others didn't and certainly had a huge fan base. I kept scrapbooks of all the amazing happening in Scrambling as it was known and passed them on the Ruapuna Speedway for safe keeping. I do still have many home movies my dad made including the incredible pass at Timaru. An amazing athlete well deserved of this article."

[ Use Mobile Version ]

Comment on this Article | Contact Us | Go Back to Main Menu