It's All About You....Graham Rouse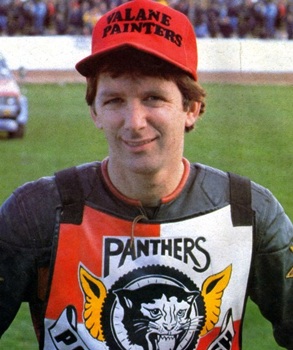 Richard Greer
Tell us about your introduction to speedway
After a few years of watching the likes of Richard Greer, Brian Maxted and Colin Smalley racing grasstrack at the Claylake track near Spalding on Saturday evenings. My parents took myself and my brother to the very first meeting held at Peterborough in June 1970 and I've been hooked ever since. We didn't miss a meeting during that first season it was magic. The smell the atmosphere and watching racing under floodlights and the Supremes LP played before meetings.
Tell us about your favourite meeting of all time
There are two meetings that come to mind the first one Young England v Young Czechoslovakia at Peterborough in August 1971. I had never seen a touring team before but they turned up in their East European type touring bus. Looking at the Young England team before the match I didn't see how they could lose but Young Czechoslovakia won by 4 points. WOW talk about spectacular that's an understatement what a meeting!
Another meeting that stands out is Poland v Russia at Halifax in 1973. What a brilliant track the Shay was. My first view of the Shay was when entering though the turnstiles at the top of the 3rd bend terracing what a beautiful sight this big grey track with banking like I had never seen. It was a brilliant meeting especially with these two teams seemingly trying to knock seven bells out of each other. I loved watching racing at the Shay it still saddens me today that the Shay track is no more.
Tell us about your favourite rider of all time
It has to be Brian Clark who rode for Peterborough for the first 10 seasons and then retired. He was a one club man staying loyal to Peterborough throughout his career. He had a tidy style and could even ride the Boston track well we Panthers fans loved that!
Tell us about your favourite track/stadium
I might be a bit biased here. In modern day Speedway I think the Peterborough track is the best racing track in the country with exciting fast close Speedway. Halifax was a track I really enjoyed attending and Wembley was really special on World Final night with double the number of spectators that attend Cardiff these days.
What are the best things about speedway?
The atmosphere, close racing, occasionally seeing the underdog come out on top and the supporters. The Speedway Family.
What are the worst things about speedway?
Tracks not prepared properly. Riders missing important meetings because they are riding abroad somewhere. Unnecessary hold ups especially on a cold night.
What one thing would you do to improve speedway?
I believe all riders should be on bog standard machinery the top riders would still mostly come out on top but they would have to work harder for it.
Tell us about a rider you wish you'd seen
Peter Craven what a talent and Fred Brand who rode in the Fifties and owned the garage in the village where I used to live.
What does the future hold for speedway?
I don't think the Elite league can survive in its current form especially if Sky Sports lose interest. The top riders will have to take a pay cut or not ride in Britain. I think in Britain we will end up with a league of Premier League standard with about 18 teams in it and a league of National League standard with about 12 teams, more part time riders and hopefully more British riders.
Take part in this feature
This article was first published on 12th August 2012
---

Dave Wilson:

"Funny the Poland vs USSR match getting mentioned as my Dad took me to that match even though I think Great Britain were racing at Belle Vue on the same night!"

[ Use Mobile Version ]

Comment on this Article | Contact Us | Go Back to Main Menu