Dream Team: Grahame Darlington
I posted my Dream Team back in 2006 but many riders have passed through the way since then so this is Part 2.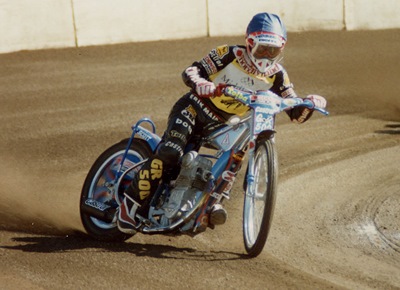 Hans Nielsen
Hans Nielsen
The Main Dane - The Professor - Whatever he was called he is by far the best rider I have ever seen in my opinion and was unlucky not to have won more titles even though he holds the record for most FIM Golds. Started at Wolves in 1977 but was the number one while still a teenager and by the time he had reached the age of 20 he was already owner of one FIM Gold Medal and a ten point average in Britain. The ultimate professional on and off the track and had everything from gating to passing but made it look so simple. Never another like him in my opinion and never will be.
Emil Sayfutdinov
Brilliant youngster to explode onto the scene and looked set to be a multi World Champion of the future. Injuries have not been kind to him and in 2013 while trying to keep up with Tai, he suffered terrible injuries that even 12 months on he is still struggling with in some way. He opted out of the 2014 Series and the 2015 Series but when he comes back he will go in as one of the favourites and his rear wheel chasing style will delight the fans alongside the likes of Woffinden, Ward, Kildemand, Pawlicki, Zmarzlik etc etc.
Tai Woffinden
His potential was obvious from day one but he entered the 2013 season as most peoples candidate for last place in the Grand Prix Series and some even questioning if he could win a race. 2013 was a remarkable year on and off the track and the cocky little boy who liked to be seen and heard grew into a mature and responsible professional who was determined to reach his goal. A good team behind him always helps like Peter Adams, but Tai had one hell of a fitness regime that beggars belief and still found the drive to cycle to Cardiff in two days for Cancer Research in memory of father Rob. He made time for everyone to have a photo, do signatures etc and not only won a GP title in Czech Republic, he went on to be World Champion and I was there in Torun to celebrate the birth of a National Treasure who then went on to promote the sport every spare second he had. 2014 wasn't a great year, especially in Britain and he finished 4th in the GP Series but whatever 2015 holds for Tai, be it in Britain or not due to the crazy schedule required, he is out to regain that title in 2015.
Greg Hancock
Hurts me to put a Cradley Heath rider in the line up but Greg is beyond that and a true legend of the sport. Always smiling and enjoying his racing, it looked in 2010 that his GP days were coming to an end. 2011 he lifted the title aged 41 and now in 2014 aged 44 he has lifted the title for the third time and is currently way ahead of anyone else on the planet and who knows where it will stop or when. He has some young sons ..... wonder if they will get to ride against their father in the 2020's?
Sam Emolenko
Mr Entertainment and a joy to watch. Passing was never made look so easy as when Sam did it but along with the joys there was also the pain of watching him throw away a lead by sliding off and out of the race. Terrible injuries early in his career only made him comeback stronger and although he had a bit of luck in Pocking 1993, he was by far the best rider around at the time and had the referee have judged his fall to be his fault, it would only add another title to the list of Hans Nielsen. You cant keep Sam off the bike and still gets seen entering the odd open meeting and showing how it's done well into his 50's. He is known as GOD in Wolverhampton and Monmore Green will always be his church.
Ronnie Correy
The best first bend rider I have ever seen. Even if he missed the gate he would cut back down the inside or through a gap that didn't appear possible to take the lead. Possibly along with Greg, the nicest rider you could see off the track and in my opinion rates alongside Leigh Adams, Tommy Knudsen and Dave Jessup as a rider that never won the World Title ..... but was certainly good enough.
Piotr Pawlicki
It was obvious he was a special talent at the age of 16 but he eventually came to Britain for a full season in 2014 for Wolverhampton aged just 19. He became a firm favourite on the track and getting to know him in the pits, he was a nice lad too and very focused on where he wants to be in the future. Sadly his club in Poland, Leszno were reaching the play offs and had injuries so they demanded his attendance there rather than appear for Wolves and his services were terminated in September with just a few matches left. When he reaches 21 I expect him to be a full time GP rider and having won the World U21 title in 2014 he has already stated his case in style to his potential and hopefully will be back in the Old Gold N Black in the future. Great to watch and when he gets in the GP's ..... watch out!! ..... Gets in the team just ahead of Dave Jessup, Ivan Mauger, Graham Jones, Ole Olsen, Tom Leadbitter, Fredrik Lindgren and many more as he is the one to watch .... literally!!!
Submit Your Own Dream Team
This article was first published on 11th January 2015
[ Use Mobile Version ]
Comment on this Article | Contact Us | Go Back to Main Menu