MILTON KEYNES - The Groveway
Home of the Milton Keynes Knights from 1977 to 1988
Pictures courtesy of Graham Burrows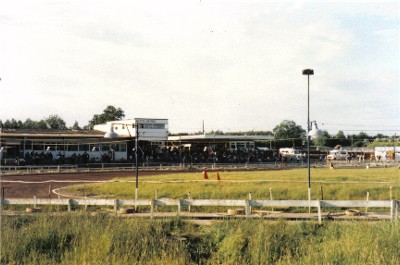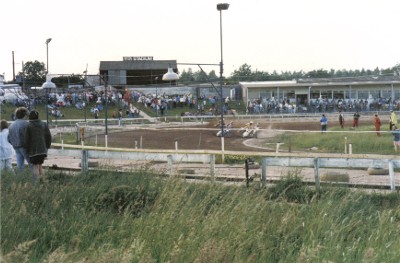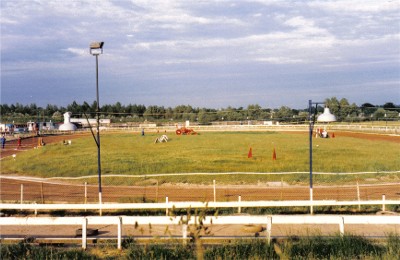 This article was first published on 17th April 2006
---

Martin Clark:

"Great to see photos of Groveway Stadium on the website! I used to drive up from London to MK for home meetings most weeks, and follow the Knights on their travels too .... any of the "MK Barmy Army" out there???"
Chris Camp:

"Still one or two of us around. I followed the Knights in the 80's supporting them home and away all over the country and even to Germany for the World Long Track final, which prompted an article in the Speedwat Star "Trevor Banks on his army". So many happy memories of the Groveway and some of the great meetings that took place there. A Group of us sponsored Steve Mildoon, Knights Junior, and everytime Kevin Smart won his last race, including that great win at Mildenhall, it would cost me a large Bacardi and Coke. It would be good to know where the others are so come on down; Knibbsy, Tank, Timmo, Div, Bouff, Speedy, Jane, Lesley and so many others"
Steve Mildoon:

"Some great times at the Groveway stadium, any past supporters can contact me or visit www.stevemildoonracing.com"
Tim Wilson:

"Hi Chris! You should join us at the "Milton Keynes Knights" group on facebook. I am sure you will find many familiar faces from the Groveway."
Big Ron:

"These pictures bring back memories. My Brother and I used to travel from Rushden to support the Knights. I remember the first season, when the Knights started out as 'whipping-boys', and finished the season winning a double header at home - beating the leauge champions (can't remember who they were). MK Knights dveloped some useful riders - Andy Grahame, Malcolm Holloway , Derek Harrison - to name a few. Led by veteran Aussie Bob Humphreys."
Anonymous:

"The double header "Big Ron" refers to was against Eastbourne who earlier in the season refused to ride on the track one night because they thought it was dangerous. We always enjoyed booing their captain Mike Sampson after that and If I remember correctly we won the rematch 40-38. Happy days!"
Lee Brooks:

"Remember them days well! My brother was the mascot 'Diddy Daniel' so I was brought up on speedway! Still have pretty much all the MK Knights programs from the 80's and Speedway Stars and Mail if anyone is interested. (leedbrooks@hotmail.co.uk)"
Rodney Judd:

"I went to the long track final in Germany too with the barmy army!!!!! OMG! How long ago now? We were just teenagers then following MK up and down the country! Myself, Colin, Paul, Lee (No longer with us RIP)."

[ Use Mobile Version ]

Comment on this Article | Contact Us | Go Back to Main Menu