The Harringay Riots
By Doug MacFarlane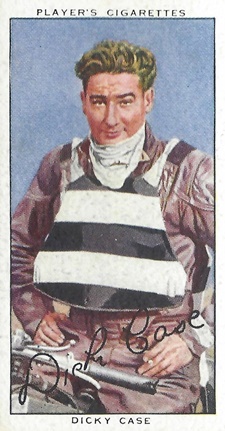 Seems down the years Harringay was a rather lively sporting venue, to put it mildly.
In 1936 they hosted local London rivals Hackney Wick and what one paper described as 'scenes unparalleled in the history of Speedway racing occurred' after the visitors defeated Harringay 38-34.
The Australian international captain of 'hackneywack'!!! accompanied by his wife and other Hackney riders, plus Fred Whitehead, managing director of the club were departing after the meeting when a shouting crowd of around 2,000 men and women assaulted them, repeatedly striking Case and others. Mrs Case was roughly handled and had her dress torn.
Half a dozen Harringay officials tried to intervene to no avail and Case's motor car was wrecked, the tyres slashed, windows and lights broken and they even tried to overturn the car!!
'Hackneyites amid a fusillade of brickbats and other missiles reached the garage when their supporters rushed to the rescue and a fight developed. Traffic was held up and the police intervened.'
The trouble was attributed to Case, following an incident in heat 7 when he fell whilst in the lead and caused all following riders to crash. Harringay's Norman Parker was injured and couldn't continue in the meeting.
Results
Harringay 34
J.Parker 3,3,2,3
B.Pitcher 1,2,1,1
J.Ormston 2,2,2,2
D.Smythe 0,N,1,1
N.Parker 1,1,N,N
L.Wooton 0,2,F,3
B.Lovell 0,1,0
Hackney Wick 38
D.Case 2,3,3,0
B.Hansen 0,1,2,2
M.Hansen 3,3,3,2
B.Clibett 1,0,N,0
C.Milne 3,0,XS,1
G.Wilks 2,1,3,3
S.Dell 0
That wasn't to be the last trouble at a speedway meeting at the track, as in 1938 when New Cross came to visit apparently 2,000 (the same mob as two years ago!!) demanded their money back after the meeting was stopped. When they got nothing, they broke onto the track smashing and damaging parts of the stadium and set fire to the tractor!!
According to wikepedia similar scenes were also witnessed at a couple of Greyhound meetings
This article was first published on 8th March 2020
[ Use Mobile Version ]
Comment on this Article | Contact Us | Go Back to Main Menu