Happy Havvy

Gary Havelock
Gary Havelock's move into this year's Premier League raised many eyebrows, not least because he was the first World Champion to ever drop down from the top sphere of racing. He linked up with the newly formed Redcar Bears in what amounted to something of a homecoming for him as he started his career at Middlesbrough's Cleveland Park back in 1985.
Ken Burnett interviewed 'Havvy' for BBC Radio Oxford's Planet Speedway programme. Havvy reflected on the season so far and is clearly happy with the move he's made.
"It's been really good. I always said I didn't want to drop down a league. I wanted to finish in the top league, but when the opportunity came up it was like a window of opportunity opened up and the more I thought about it, the more it made sense. It's the best thing I've done for a few years, I'm really enjoying my racing again and have a new lease of life.
With no speedway in Middlesbrough for 10 years we've got a nice mix of the old crew and quite a lot of new people who've come along for the first time. The place is really buzzing at the moment, the crowds are steady and they're good and we're certainly holding our own.
The Premier League is a fair bit easier than the Elite League but it's not that easy, there's a lot of very good riders in this league. What you tend to find is that there's usually one or two really good riders in each team, whereas in the Elite League there's five or six, so it is a bit easier. Having said that, being the first World Champion to drop down has meant that everybody's desperate to beat me so it's really kept me on my toes and made me up my game a bit. I feel like I'm riding better now than I have for three or four years.
At the beginning of the season all the pundits put us down for bottom two and we've certainly put them to bed straight away. It was a bit shaky at the start in the Premier Trophy. You've got a lot of guys who've never ridden here before and never seen the tracks, but we've developed as a team. The team spirit is really good now and it's nice to have Kevin Little in. He's been around the tracks and has a lot of experience and between the two of us we're trying to help out the young lads. They've really come on and we're doing alright.
The track's good. It's a fantastic shape for a track, quite small but it's very fast and wide. It's a good racetrack, it's been a bit patchy at times, especially the first match, which if you'd been there in February and seen the state of it you'd understand why. It's got fantastic potential because there's nothing else there, no football, it's a speedway only venue. We've initially got a ten year lease and it's got potential to be one of the top stadiums in the country."
---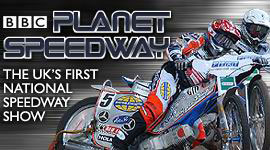 You can listen to Planet Speedway each Wednesday evening at 7pm on BBC Radio Oxford or via the internet. The show is also available through the "Listen Again" feature on the Radio Oxford website if that time is inconvenient to you.
This article was first published on 4th September 2006
[ Use Mobile Version ]
Comment on this Article | Contact Us | Go Back to Main Menu