Can You Help Tracy or Tony?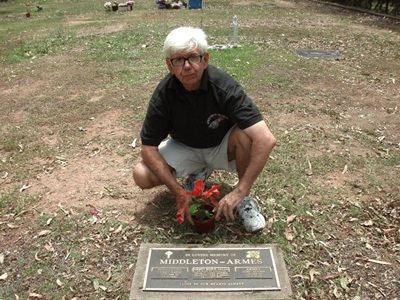 Tony Webb
Long time SpeedwayPlus contributors Tracy Holmes and Tony Webb are looking for a little help from the speedway community worldwide.
First up is Tracy:
He's looking for World Team Cup programme and hopes to find the WTC UK Qualifying rounds from 1975 Reading, 1976 Ipswich, 1978 Reading, 1979 Reading, 1980 Kings Lynn, 1981 Reading, 1982 Kings Lynn, 1984 Kings Lynn and 1985 Bradford.
He is able to swap SGP programmes from NZ 2012 or Australia 2015, or possibly others if you have particular needs.
He'd be delighted to hear from anyone who can help on raebo_nz@hotmail.com
Tony Webb has the following request:
"As you may know, I am working on a Ninety year history of the Ekka 1926-1998.
It will be a Soft cover bound 350 page history with over 300 photos, records and a riders A-Z.
I do not want to compile a dry history all the facts and figours are the basis of the history.
What I am looking for is to compile a chapter of Ekka memories, I invite you to send me your memory, it can be a one liner or a couple of paragraphs, say up to 250 words, funny, risque, sad whatever, if you cannot condense it send it in anyway.
I would like to publish your name or a nick name if you want.
We are looking for a print date of September 1, but the earlier the better."
Tony can be contacted via binbooks@iinet.net.au
Please help out either of these great speedway enthusiasts if you possibly can.
This article was first published on 21st April 2016
[ Use Mobile Version ]
---

Tracy Holmes:

"I would like to thank my dear speedway friends who have helped me with this latest project. Yous are FAB!!! I now need 75 Reading, 76 Ipswich, 78 Reading, 81 Reading, 82 Kings Lynn and 85 Bradford. If anyone can help, please e-mail me and of course, if I can help you out, we can make a trade. Cheers !!!"
Tracy Holmes:

"Thanks again to my dear friends ! I now only need these four; 75 Reading, 78 Reading, 82 Kings Lynn and 85 Bradford. Love to hear from you, cheers !"

Comment on this Article | Contact Us | Go Back to Main Menu