NEW CROSS - Hornshay Street
Home of New Cross Speedway from 1934 to 1963
Picture courtesy of Fred Pallett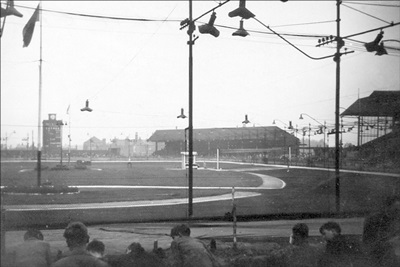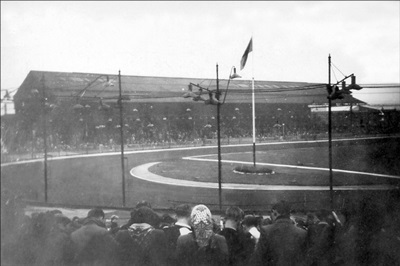 Other Pictures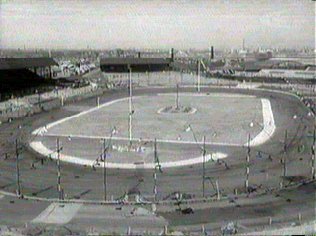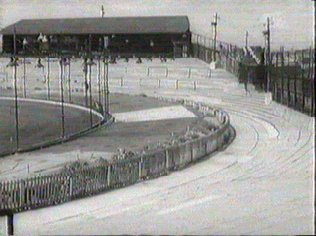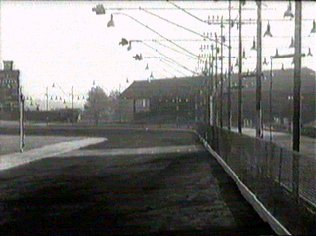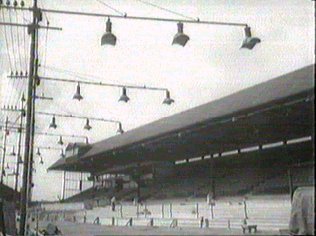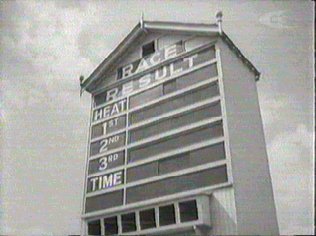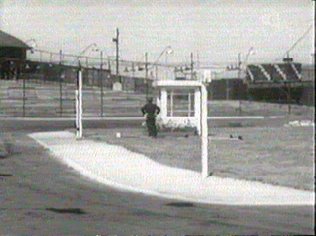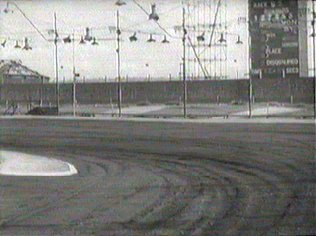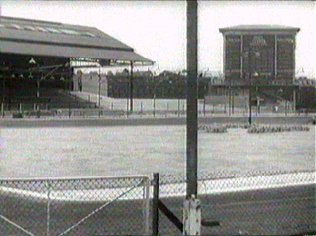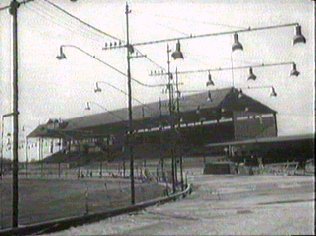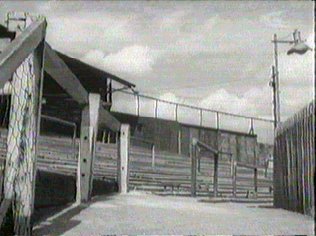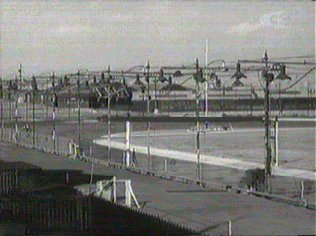 This article was first published on 3rd July 2004
---

Keith Robinson:

"This stadium was used in the film 'Once a Jolly Swagman' starring Dirk Bogarte and Bill Owen !!"
Eric Withams:

My introduction to speedway was in 1948 when staying in London at a family friend's prefab (that was a thrill for a start!). My father had seen speedway pre-war, and took my brother and me to New Cross. The stadium was packed, and the match was against Bradford. I was convinced that the riders had overdone it as they hurtled into the first bend, and would all finish up on the ground! When I opened my eyes they were half way up the back straight! I loved the smell, the noise, the sight of those skeletal bikes with no mudguards, crash helmets (remember we never saw a motorcyclist on the road wearing one then), sparks flying from the steel shoes, and the plumes of black cinders from the back wheels. My brother and I demanded to be taken back the following week when Wimbledon were the opposition.

I've since realised that the film "Once a jolly swagman" was filmed at New Cross that very summer, and the first race shown on that film was shot from just about where we stood in the main stand, so it very much captures for me my first impressions. I must say though, that entry to the first bend looks much tamer now compared with modern day racers who throw the bikes in sideways with the throttle on. Returning home to Chelmsford we made a few visits to Rayleigh over the next two seasons, and in 1950 when Tippy and Arthur Atkinson took over at the Weir, we became regulars. My brother and I are still Rye House Rockets supporters and our children and grandchildren are also speedway fans."
Maud Terry:

"I went to New Cross speedway every week, I was eleven years old but I used to meet my sister who worked in the Gas Company Old Kent Road. We would stand over looking the Pits and I used to get the Riders Goggles with the shale still on them and hang them on my bedpost. We used to sing a song about Ron Johnson. It goes like this:

Ronnie Johnson is his name
Speedway Riding his is game
You should see him when he takes a bend
He's the leader of the stars to end
Every track is the same
Our Ron rides his way to fame
He's the leader of the Rangers
Ronnie Johnson is his name

It was sung to the tune Champagne Charlie is his name.

When New Cross Finished I then supported Wimbledon (The Dons) until 1956 when I got married. Barry Briggs and Ronnie Moore became my Hero's I also went to the 1949 Speedway World Championship at Wembley and watched Tommy Price win."
John Gallivan:

"I spent a great deal of my youth at this stadium with my neighbours who owned The Pink Lady stock car. This was a Hudson Terraplane and is where I learned to drive at 13. Great days, does anyone else remeber these races. If so I would love to hear from you."
John Hyam:

"The Pink Lady Hudson Terraplane. Wasn't it driven by Freddie 'The Mad Parson' Parsons who lived near the stadium? He later became a quite readable author and lecturer, as well as training dogs for the Metropolitan Police."
Denise Beazley:

"I used to go to New Cross Speedway when I was at school as I lived in Peckham. I loved it especially the smell of Castrol petrol. As I got older I started to go to Wimbledon, not to watch Speedway but Stock car racing and have been a spectator ever since.But I will never forget the speedway at New Cross, the thrill and excitement will always stay with me. On the 27 November 2010 at the Methodist Church Hall Albion Way Lewisham SE13 at 7,30 is a New Cross Speedway Night open to Speedway enthusiasts, I will be there."
John Hyam:

"I should beware before going along. The date may be wrong. This is what I have found on a website: no time is given. LEWISHAM LOCAL HISTORY SOCIETY - Friday 26th November 2010 - The New Cross Speedway - Norman Jacobs. The New Cross Speedway was next to Millwall's football ground. The speaker has recently had a book published on the subject, Out of the Frying Pan."
Fred Leach:

"Actually lived in Hornshay st until i was 19, when I joined the army.Went to the speedway nearly every week,and stock car racing, dog track, when we could bunk in. C,mon you rangers! Johnny Hoskins was the king of the game. Saw some great riders - Ove Fundin, Barry Briggs and many more. Great times."
Hazel:

"Excellent site and much needed these days as our never-to-be-repeated heritage fast disappears in these sad and maladjusted times. Make no mistake England is on a slippery slope and it gets more slippery and steeper with every passing day and a good wallow on sites such as this is a great tonic - even though it means coming back to earth with a bang when I shut my laptop! Ha ha . Keep up the good work."
Jenn:

"Just found my Dad's New Cross Speedway Supporters Club Badge which dates back to 1940's but possibly before - researched it and found this site so thought I'd make this little contribution!"
Harry Harrington:

"I went regularly from 1946 to1952 when I had to do National Service. What a team, Ron Johnson was the main man but I loved them all especially Mick Mitchell, not very good but what a trier. I have my first programme from my first visit, the London Riders Championship 1946 won by Ron. 1947/48 seasons were wonderful with Jeff Lloyd, Lionel Van Pragg and Bill Longley joining the club. Silly fool that I am, I still go over to the old site and relive those great days. Up the Rangers."

[ Use Mobile Version ]

Comment on this Article | Contact Us | Go Back to Main Menu