Waiting for the Hourly Roar
By Philip Dalling
Former riders and promoters and the scores of fans who attended British speedway's 84th birthday celebrations at Paradise Wildlife Park in Hertfordshire could be seen throughout the day regularly checking their watches.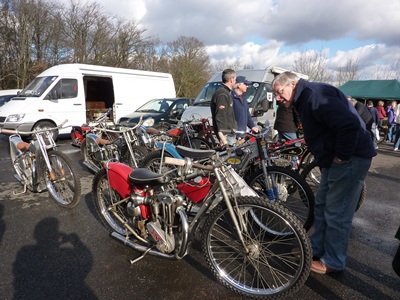 Having a close look at the vintage bikes
It was not a nail-biting case of seeing the seconds of a two minute warning tick by. In this instance the time-watching concerned the wait for the magic moment every hour, on the hour, when exhibitors were allowed to fire-up examples of the large collection of vintage (and some modern) speedway machines on display.
The roar of Douglas, JAP, Jawa and many other motors echoed across the expanses of former rider Peter Sampson's wildlife park, although not for long enough to disturb the magnificent collection of big cats and other animals for which the venue is home.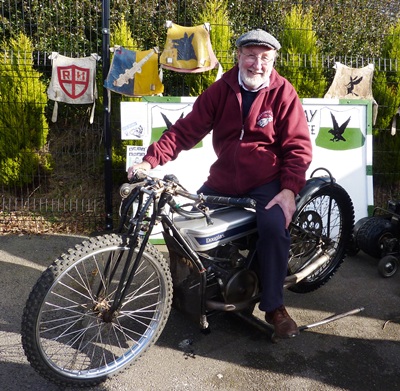 Terry Stone on a Douglas
The annual birthday celebrations were moved from High Beech, the venue for Britain's first pukka speedway event back in 1928, giving visitors the bonus of access to the Speedway Museum at Paradise Park. This year, the event coincided exactly with the date of the first High Beech meeting, and bright sunshine really drew the crowds.
The museum itself was constantly packed with people admiring the machines, race-jackets, posters, leathers and hundreds of other items of memorabilia celebrating speedway, cycle speedway, and ice racing. There was plenty of interest too in the book and memorabilia stalls in the venue's marquee, and in the outside displays.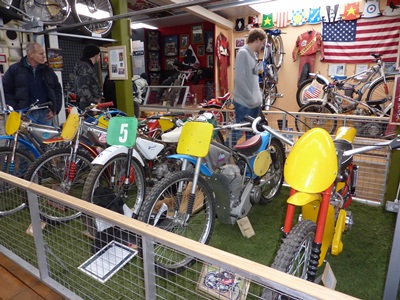 Inside the Museum
Former riders present on the day included double World Champion Fred Williams, Colin Pratt, Reg Fearman, Eric Hockaday, Bengt Jansson, Terry Stone and others. Elite Leaguers Peterborough and Premier League club Rye House had displays, together with the Vintage Cycle Speedway Riders Association, featuring former skid kids who made good in the motorised version of the sport, The Friends of Speedway and an interesting grass track stand.
Free entry to the Park for speedway supporters was an encouragement for everyone to dig deep for a raffle to raise funds for a new and more technical wheelchair for Australian, Mike Letch. Prizes included a free day's training at "My First Skid" Training School, two tickets for the Cardiff GP, courtesy of BSI Speedway, a signed Ivan Mauger race jacket and a Jim Blanchard action painting.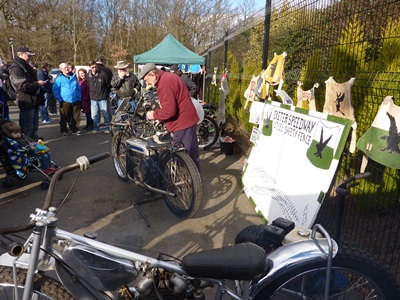 Terry Stone prepares to fire up a Douglas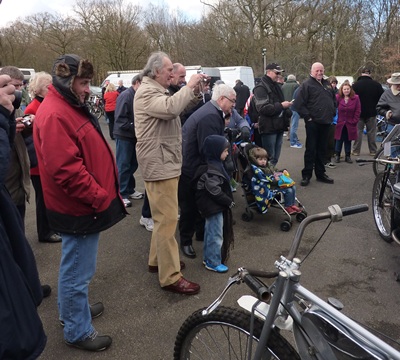 Reg Fearman takes a snap
Photographs by Brenda Dyer.
This article was first published on 26th February 2012
---

Ivan Blacka:

"Look I see Steve Luxton with the Garage Mahal II lurking in the backround over the fence in picture #2 trying to pinch a few vests for the Garage Mahal II. LOL."
Steve Luxton:

"Ssssshhhh Ivan! I'm just going to borrow them! Seriously though I wish I could have gone to that shin dig!"

[ Use Mobile Version ]

Comment on this Article | Contact Us | Go Back to Main Menu