The Belle Vue - Your Memories
No article on the site has generated as much feedback as Kathy Hitchen's photographs of the old Belle Vue track at Hyde Road. We thought we'd pull this together into a single page so that those memories can be more easily shared.
If you haven't seen the pictures yet then click here.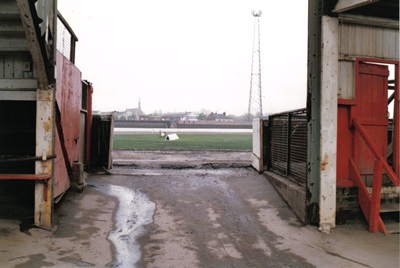 ---
David Horner

"As a Halifax fan I saw some great speedway at various visits to what I would say was the best track in the country. I'm was sorry when the track had to close. Kirky Lane will never be as good."
---
Garry Clegg

"For the first 25 years of my life all I ever wanted to do was race round Belle Vue. The best track I ever did race on as well. When I was still at school I would make my jam sandwiches. On a Saturday morning get on a bus from Ashton bus station & go to Belle Vue & watch the Saturday afternoon training schools, that would be about 1974-6. It was the end of an era when that place closed down and speedway has never been the same since."
---
Kevin Lilley

"Brought back some very happy memories. The old Hyde Road was my very first visit to a speedway meeting way back in 1985 - May 11th v Oxford"
---
Dave Gifford

"Good to see so much feedback on the zoo, one of the great speedway venues to be sure. It also had a feature that I believe was unique although I could be mistaken. You know how the two minute warning siren would sound when the riders would be slow to leave the pit gate or when a rider had a bike problem, the ref up in his box would push a button, right? Wrong, at least at the zoo.

There the siren was activated by the Belle Vue team manager which in my time was Dent Oliver. The button was situated high on the wall by the out gate from the pits and very few people knew about it. So if the home rider was having a bike problem the siren never went off but if it was a visitor old Dent would scuttle round in quick time and get him on two minutes.

I was watching a second division meeting there once, I think it was the Colts and the Romford Bombers and the visitors team manager couldn't figure out why the home riders were never put on two minutes so I explained to him that it was his job to sound the siren and showed him where the button was. So the next time a Colt had a problem this guy walks over and sounds the siren and I stood back to watch the fireworks. Dent Oliver it must be said wasn't the most placid bloke you would meet and he exploded big time at this poor bloke who had dared to touch his button. Of course the Bombers team manager told Dent that it had been my idea and I got thrown out of the pits which happened several times over the years.

I had bought a house about five minutes walk from the zoo and had made it into two flats and rented one flat to Ole so we were always at the track stirring things. We rode for Mike Parker and that was like a red rag to a bull for Dent Oliver who always regarded us as troublemakers. Good times though and good memories."
---
Simon James Bradshaw

"Hyde Road was the mecca of Speedway and the BSPA should of made it the Wembley of speedway. The current GP round in England would of been brilliant on the big track - I'm sorry but Cardiff could not hold a torch to the likes of the BLRC at Hyde Road.

I recently bid for and won a four hour tape of action from Hyde Road taken from the TV which includes the Northern riders champ of 1983, the BLRC from 1977, some great races from a England V USA test match in 1982, the BLRC from 1987 and some action from the Aces v Cradley in 1984. It fills me up every time I watch it. I used to sit in either B or C stand in the home straight. "
---
Roy Parker

"Now that's the Belle Vue I remember... stood on the fourth corner by the pit lane and ducking every time Peter (Craven), Ron (Johnson), Bob (Duckworth), Slant (Payling) or Dick (Fisher) came round. And later on of course Ivan Mauger, Alan Wilkinson, etc. Still got a faceful of muck every racenight though. 1956-1971 Happy Days.

Does anyone else remember the meeting when Peter Craven did four laps (on his own) at the beginning of the night in a (successful) attempt at the four lap record. Then Bob Duckworth came out on his own and broke the 'Flying Lap' record?"
---
John Earnshaw

"Oh for the love of Hyde Road stadium, the memories come flooding back. I used to travel down to Belle Vue on Saturdays from Barrow. The stadium had a special magic the likes of which we will never expeiance again."
---
Andy Button

"These pictures brought back some fond memories, leaving Ipswich at about midday, getting to Belle Vue for five, a few pints in the "Rock" (think that was its name?) and then stagger across the road to see the Witches and the Aces slug it out. This was the day we all looked forward to Belle Vue away!, good food and drink AND the speedway was pretty tasty as well!!!!!!!"
---
Dave Puxley

"G'day and Greetings from Darwin, NT. Looks like it was raining in Manchester just for a change - only time I was there it rained as well (Late 60's). More than a coincidence methinks!!."
---
Steve Ridgway

"Thanks, Kathy - there's some wonderful memories in these pictures, you can practically hear the crowds and smell the dope. Although it's slowly coming back, a lot of my interest died with this stadium, so for that reason I'd remove the second picture, though, or at least edit it so that you can't see the word 'Bamforth'.

Remember the greatest race ever on this track, the 1973 Cup Final Run-off between Peter Collins and Anders Michanek? How do you follow that?"
---
David Cohen

"Great shots of Hyde Road. My father and I well recall what was the first stadium in the world purpose built for dirt track racing. Great memories too of the complex - especially the fun fair."
---
Bernard Atherton

"These pictures of the old Hyde Road track and Stadium bring back so many happy memories of the best race track in the world.

So many memories come flooding back into your mind about happy times spent at the Hyde Road Track, both on race days, and also the Monday night training school.

You can almost hear the bikes roaring away from the start line, and see the different lines that riders took on this the most fairest of tracks.

When I first found the pictures on this site, it sent a tingle or chill down my spine, the place was MAGIC for me, and also thousands more Speedway fans not just from Belle Vue, but from all over the World.

The Stadium and track is gone, but NEVER FORGOTEN."
---
David Ashcroft

"Wonderful pictures of the old Belle Vue - the best speedway track in the country. I remember the training schools at Hyde Road on Saturday mornings in the winter and Monday evenings in the summer. Watching Peter Collins and Chris Morton and a lot more come through the ranks and never missed a home match. Now I am lucky if I can afford to attend a handful of meetings in a season. The old Hyde Road stadium was a very special place."
---
John Digweed

"Every Saturday years ago we used to watch Manchester United/City in the afternoon and then go to Hyde Road to support Belle Vue in the evening. Those were days when speedway attracted really big crowds.

They are not going to come back while we have this ridiculous play off system. Belle Vue this year won the league this but are not champions because of a one off match. Belle Vue lost 12 matches over the season, does this mean that every team that beat them can also have a valid claim to be champions? The league is not a knock-out competition, it is a measure and reward for consistency over a season. What would happen in football if Chelsea won the league by 10 points, and then lost in a one-off game to Manchester United? I feel sorry also for Coventry fans whose victory is obviously tainted by the fact they were not the best side in the league this year. Come on speedway, this is not the way to win back supporters. "
---
Andy Bennett

"I have only ever been to Hyde Park once a long time ago when as a Kings Lynn fan we went to the league riders final which was won once again by Barry Briggs. I remember the day at the zoo entertaining us with the disgustingly funny monkeys and the best speedway racing that we could remember. Now as a born again speedway fan with my kids loving it as well it is sad to think of the loss of this fantastic race track with its superb corners for overtaking. Seeing this site has reminded me of a distant but brilliant day."
---
Andy Oxley

"Brilliant site, brings back childhood memories of the riders and tracks I travelled to as a boy. Still go to Sheffield but not as often as I would like. Thank you for a great web site will put it in my favourites."
---
Max Power

"Great seeing pictures of Hyde Road. I was 11 when it got knocked down. It's where I caught the speedway bug. Although I suspect the pictures are just prior to demolition given that the whole stadium has been photographed, good that someone did it though."
---

Paul F:

"Such a special place for me every Saturday night watching my hero P.C. blasting it around the boards. Always thought that it would be there forever. Without doubt the greatest speedway track. A special place in my heart, I even met my wife there. Seeing these pictures bring a mixture of such joy and equal amount of sadness."
Keith Burrows:

"What a place. Sometimes we would head up to Hyde Road after Cradley was called off, we always wanted a decision quickly at 'The Wood' so we could get to the best track in the world! A few random memories, a classic Peter Collins / John Davis race where they swapped positions nearly every bend and PC hugged the white line on the last bend of the final lap, and then shot to the fence coming off the fourth bend trapping JD against the fence and securing the win that made it 40-38 to the Aces. (I think!).

The Belle Vue / Ipswich KO Cup Final when the track was so grippy after rain all morning and the track record was broken 2 or 3 times, even by Richard Knight(????).

Then the Cradley memories there, the BLRC when Bruce Penhall just lost out to John Louis in the (very) wet, before BP had won anything (1979 or 80???). Being called the 'Cabbage Patch Kids' by Mr Barrie. Winning 49-29 on a Bank Holiday Monday, and winning the KO Cup there when Phil Collins secured victory by taking Larry Ross so wide on bend 3 he nearly went to Wilmslow! I'm sure we also won the equivilent of the Charity shield there as well!.

My biggest memory however was getting lost on the fairground in 1972 and holding up a Cradley coach for what must have been ages, cried all the way home! A sad sad loss, but how would it have been bought up to standard following the Bradford disaster? "
Ian Muir Martin:

"Reading these memories certainly takes me back. I agree, Hyde Road was the best speedway stadium/track that I ever visited including Wembley. To see Sjosten and Mauger flying round there is a sight I will sadly never see again. Only in my memories. Belle Vue Aces were lucky that they could move to Kirky Lane. I am a former Sunderland Speedway Supporter, and have no home Track to visit now since the final closure in 1974. I go to Redcar regularly and Newcastle now and again to get my fix. Excellent pictures, thank you for making me think back."
Steve Smith:

"Just to echo Garry Clegg, having watched speedway at Belle Vue since 1969 until closure, I have seen some epic battles over the years, not only the Collins/Mitchenek 1973 KO cup battle but classic BLRC championships. I also had the privilege to race there in the 80's. Kirky lane is not the same!"
Darren Hartley:

"Would'nt know where to start with the memories, like everyone says the place had a special feel to it. I was born across the road from there and lived there until the mid 80s, there began my love of speedway and I was lucky enough to ride there many times at practices. Hi Cleggy, I rode with you and your Peter there many a time. Later I worked in the stadium for Starline Guards. Made many mates there and had the best times of my life, I often think if only you could relive it, just for one day, you would realise how lucky you were!"
Paul Heaton:

"All of the previous comments simply confirm what I have always thought to be the truth, Hyde road was the best track in the world! Love the comments from Dave Gifford about the 2 minute warning, I had never sussed that out! I first went to watch speedway there in 1963 with my sister & brother in law, Thanks Janet.

I can only remember the smell of Castrol R, the black leathers, the grit & the dust, the noise of all those JAPs & the sell out crowd. In 1969 I started going to speedway every week, Dent Oliver time: went to the cricket match in Denton where very unfortunately, affterwards he suffered a heart attack & I can remember the sadness with which Jack Fearnley announced the news to the crowd the following week.

The Trusthouse Forte period was simply fantastic, sponsors, good track, good stadium. Who remembers the Leicester match which ended in fighting on the track, it was heady stuff in them days. Also during the year the BLRC meeting was so fantastic, all the racing was on the outer 3 meters of the track it was phenomenally fast, I seem to remember Ray Wilson doing well, but it must have been Olsen or Mauger that won. A brilliant spectacle in front of a sell out crowd, I never saw that many people at the zoo. The stock cars were also great at BV but one wonders what the track would have been without them."

[ Use Mobile Version ]

Comment on this Article | Contact Us | Go Back to Main Menu