1971 - Speedway Ruined My Toffee Apple
By Ian Harwood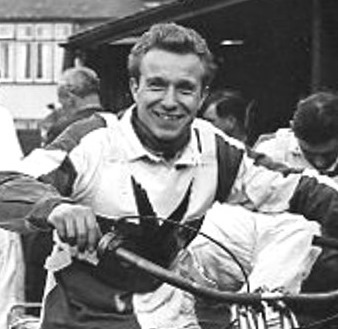 Alan Cowland
Previous chapters: 1970
I went to thirteen speedway matches in 1970. I don't have to count the programmes to know that. I'd already written the tally in the top right hand corner of each one. Dad brought home a buff Sorterlace foolscap file and the office hole punch so I could organize my meager collection.
Christmas had brought me the Champions Book of Speedway. I loved it and read it over and over staring endlessly at the black and white photographs, but it was about the 1969 season, which I hadn't seen. Ivan Mauger was World Champion then of course but Belle Vue had only finished second to Poole that year. Poole? We'd beaten them twice the previous July in league and cup racking up fifty points plus each time and they didn't seem very good at all.
The new season started with Coventry Bees, and although the winning margin wasn't as big as it had been the previous April, Ivan Mauger still got his maximum. The last race of the night was the Junior Scurry novice race. Five riders were entered so someone had to start off a handicap. Despite the twenty yard penalty, seventeen year-old Peter Collins passed everyone else to win.
I didn't get to see how Peter Collins got on in his second-half race in the rest of April as we didn't go to Belle Vue again until the staging of the World Championship Qualifying Round. This time Ivan Mauger won, although not with a maximum, and had to beat Glasgow's George Hunter in a run-off. Peter Collins wasn't entered in the World Championship Qualifying Round as he wasn't a team rider. He would have to wait a little longer to get his chance.
Oxford Cheetahs came to Belle Vue in May and took the record for the most woeful visiting performance I had yet seen. If you think that all a team had to do was get one finisher per race to score thirteen points, Oxford got seventeen. Only two Belle Vue riders were beaten by an Oxford rider, and one of those was Mike Hiftle, not once but three times. At least he managed to beat Norman Strachan who scored his customary "nil point". It might have helped Oxford that Ivan Mauger was away riding in Germany, but unfortunately for them Belle Vue had Ole Olsen riding in his place. Ole was the perfect guest and politely contributed maximum points.
Ole wasn't so polite the next time I saw him ride. Wolverhampton v Belle Vue in the Knock-Out Cup was to be a double first. My first away Belle Vue match, and my first rain-off. An early tea got us to Monmore Green in time 8pm start, but all was not well. It had been raining heavily earlier in the day, and although now a pleasant summer evening Wolverhampton track staff were busy tipping bags of sawdust onto the track and raking it up and down to soak up the excess water. The track looked like a ploughed field. In the three heats they did run four riders fell, off and Ole Olsen beat Ivan Mauger. While there was much debate Len Silver-style as to whether the match could or should be continued, Chirpy Chirpy Cheep Cheep by Middle of the Road was played over the tannoy. I passed the time by wondering why anyone would call their baby Don. Still, we'd only have twenty-four hours to wait as Belle Vue had Hackney in the league the following night. We weren't seeing so much of Peter Collins now because he was a regular in the Rochdale side that was acting as Belle Vue's nursery team. Garry Middleton survived his race with Ivan without ending up in the fence.
Music played an important part in the speedway experience. If Chirpy Chirpy Cheep Cheep meant Fridays at Wolverhampton, then Tokyo Melody by Helmut Zacharias meant Belle Vue on a Saturday night. At seven o'clock precisely you heard, "Danka, danka, danka, danka, danka, danka, danka, danka, dah dah, da dah dahhh, dah da dah, da dah da dah". Those aren't the actual words, there weren't any, and if you like you can find the tune on YouTube. Tokyo Melody had been BBC television's theme for the 1964 Tokyo Olympics, but it was still Belle Vue speedway's theme in the early 1970s. Combine that sound with the revving of engines and the smell of burning methanol and you had the perfect overture.
Tokyo Melody was only the opening tune though. As soon at it had finished a more traditional piece of music was played, and one I reckoned had been played at Hyde Road since the 1930s. It was Blaze Away. This military march announced the parade of bike pushers and St. John Ambulance staff who would march onto the track through a gate in the fence in front of C stand, just by the starting gate. The first aiders would take up station on the centre-green, and the white-overalled pushers would head off to the pits gate to await the first bikes onto the track. It was a bit of pointless pageantry, but it all added to the character and flavour of a night at the speedway.
Pop music did get played between the races. Belle Vue only had two records, or only two that I remember. Can't Help Falling In Love by Elvis Presley was one. It had been released in 1961, but Belle Vue's copy must have been made of the hardest-wearing vinyl because it was still giving sterling service ten years later. More up to date was Freda Payne's Band Of Gold. If Freda ever released another record I never heard it. Hearing Band of Gold means Belle Vue speedway to me.
The week after the Hackney match we were home to Swindon Robins. Barry Briggs wasn't riding as he and Ivan Mauger were away at a World Long Track round in Germany. As both teams were without their big gun we were spared the dreaded guest rider substitute. The Aces still had enough grunt to rack up a fifty point haul, and Peter Collins made a rare second-half appearance only to retire with engine failure.
In July we went to stay with our friends the Smiths in Brierley Hill. Dad and I were fast learning that there were speedway watching opportunities to be had at every turn. Although we were missing the Aces at home to Newport, we could take our hosts to Cradley Heath for a Midland Riders' Championship Qualifying Round. This was just like a World Championship Qualifying Round, only you became champion of the midlands, rather than the world.
Cradley Heath gave you all you really needed for a speedway match - a track, and somewhere to watch from, although many years later I did learn to appreciate the roast pork and stuffing sandwiches. Barry Briggs might have had his photo on the cover of the programme, but he wasn't riding that night and Ole Olsen won with a maximum. I don't think Tim Smith ever went to another speedway match, but he wore his Cradley Heath rosette all weekend. He now races particles round the Large Hadron Collider near Geneva.
Next week and it was back to Hyde Road for the Aces against the Leicester Lions. Leicester were good that year and were running Belle Vue close at the top of the league. They had England's top rider in Ray Wilson and were a real threat. Ivan Mauger was away in Poland with Barry Briggs preparing for the World Pairs at Rybnik, so Belle vue drafted in the experienced Ronnie Moore as a guest. The match was tight and tense, with never more than four points between the teams, and going into heat twelve the Aces held a slender two point lead. The next race turned things Leicester's way as reserve Ken Eyre came in for the poorly performing Belle Vue captain Tommy Roper, and Ronnie Moore failed to finish. Leicester heat leaders John Boulger and Graham Plant took a 5-1 to put the Lions in front. The tension steadily increased in the build up to heat thirteen.
Belle Vue Aces had not been beaten at home since 14th September 1968. I had never seen them lose (other than over two legs of the Knock-Out Cup Final). Defeat was unthinkable. As the riders took the start Belle Vue's highest scoring rider of the night Dave Hemus broke the tapes and was excluded. The tension racked up another notch. Young reserve Alan Wilkinson took his place alongside Soren Sjosten, but they were up against Leicester skipper Wilson and the experienced Alan Cowland. Belle Vue needed a 4-2 just to draw, and a 5-1 to win. This was going to be tough. As Sjosten lead, Wilkinson was last, and in a do or die effort to pass Cowland round the outside he crashed in the pits bend safety fence.
The race was stopped "in the interests of safety", and Alan Wilkinson excluded as the cause of the stoppage. Enraged, and clearly feeling that Cowland had pushed him out towards the fence and the point of no return, Wilkinson grabbed the Leicester man as he rode back to the pits. Before anyone knew what was happening fists were flying, speedway riders were hitting other speedway riders, mechanics were hitting other mechanics, and some spectators not wanting to be left out jumped over the fence and started hitting anyone that wasn't already being hit by someone else.
The Champions Book of Speedway Number Three has a Wright Wood photo of Wilkie being held back by Leicester's Malcolm Brown while Ray Wilson wrestles Alan Cowland away. At the same time Graham Plant applies a smart left jab to someone's chin. Speedway prides itself on its all-inclusive family atmosphere. That night the speedway family all got included in a right old punch up.
Needless to say it was rather distressing. We'd all gone that night, Mum, Dad, Helen and me. Not only that but we'd decided to watch from the standing area near the pits, right where the melee took place. I was shaking. I just had enough grip of my green biro to write "2 mins" against the remaining three riders' names. Such was the delay in getting the heat completed the referee excluded everyone. Things calmed down and the second half was completed as normal. Alan Wilkinson fell off in his heat, and Alan Cowland finished last in his. Maybe they'd had enough excitement for one night.
Peter Collins was deemed qualified enough as a speedway rider to take place in that August's Peter Craven Memorial Trophy. His ten points tally certainly proved it, as Ole Olsen won with a maximum.
Late August gave us a double chance to watch the emerging talent of Peter Collins without having to go any further than Hyde Road. The Belle Vue promotion that ran Rochdale Hornets used the headquarters track to host a double header meeting with Rochdale v Berwick, followed by a match against Romford. PC didn't disappoint, winning seven out of his eight races, and only beaten by team mate Buxton milkman Ken Moss. He was included in the full Belle Vue side that lined up in a challenge match the following Saturday at Halifax. From reserve he rode unbeaten to score his first maximum for the Aces. Mum was worried all this success might be bad for his ego.
"What's an ego", I asked.
"When you get too big for your boots", she replied.
When newly promoted Reading came to town they were without star rider Anders Michanek, who had also been missing when due to ride with Newcastle the previous season. I added him to the name of Barry Briggs as riders I might never see race.
Towards the end of the season we had another trip up to Rochdale. We took two friends from school. Ashley who by this time was a regular with us, and another boy Chris, who Ash had discovered was also a speedway fan. Chris told us that his Dad was going to buy him one of Ole Olsen's old speedway bikes. As he was only thirteen we felt this was unlikely, but were too polite to say. He was the first kid I knew whose parents were divorced. Chris was a year older than us as he'd moved from another school and been kept back a year. Although he liked speedway I did wonder how much he really knew about it. When we arrived at Rochdale he asked me, "Which way do they go round here?"
Just as before only one race was completed in less than eighty seconds, so if speedway value was calculated in time elapsed, you certainly got value for money at the Milnrow Road Athletics Ground.
We shared our passion for speedway by racing our bicycles round in circles wherever possible. We would race round the block of flats where Chris lived with his Mum until we were shouted at by one of the neighbours to clear off. A bus turning circle outside a nearby primary school proved a perfect cycle speedway track as it had a little traffic island in the middle that we could race around all summer evening in peace without interuption.
A similar venture ended up with me in hospital. Simon Hyde told me that a local park had a concrete paddling with a wide smooth flat area all the way round. Although rectangular rather than oval it did make an ideal cycle speedway track. Ideal that is except for the surface. Think slick, with no grip whatsoever. As I dived into a turn the front wheel of my bicycle slid away and I fell whacking my head on the hard ground. I managed to hit the temple area of my head causing my vision to go so blurred all I could see was white light. Virtually blind, I managed to push my bike the half mile home, but I was very sick with the concussion and had to spend the night in Altrincham General Hospital. The x-ray showed there was no lasting damage, and at it wasn't as bad as the last time I'd fallen off my bike and hit my head. That time I'd knocked myself out cold, so at least I was improving my technique.
Ivan Mauger didn't win the World Championship that year. Ole Olsen took the title in the final at the Ullevi Stadium, Gothenburg, and Ray Wilson got fourth, the best placing by and Englishman since Peter Craven won in 1962.
I'd fully recovered by the time the British League Riders' Championship came round. Although not the last meeting of the year at Belle Vue it was the last big prize of the season. The top rider in the averages from each track was entered, so although it was an individual meeting it mattered to your team. At last I was going to see Barry Briggs. Briggo was the king of the BLRC. The British League was only formed in 1965 (being an amalgamation of the old National and Provincial Leagues) and in the six previous runnings of this event Barry had won every single time. In the supporters club shop before the meeting a man told Helen and me that BLRC stood for Barry's Last Remaining Chance. I didn't really get that because if he'd never won it he might need another chance, but he'd never lost.
I'd never seen such a big crowd at Belle Vue. Reports always said 25,000, and the place was packed. We even had to queue to get in, something that never usually happened. There was no chance of getting our usual seats so we stood leaning against the fence on the back straight. This wasn't ideal viewing but you felt the rush of air as the riders shot past and a real impression of speed as they accelerated off the top bend. Atmosphere there was in abundance as N stand, immediately behind us, had been allocated in its entirety to the travelling Glasgow supporters, who kept up a chorus of Jimmy Mack by the Martha Reeves and the Vandellas in honour of their hero Jimmy McMillan.
Anyway Barry Briggs didn't win this one because Ivan Mauger did, but he did get second place by beating Ivan in their last ride and then beating McMillan in a run-off. I don't think the Glasgow fans would have been too disappointed as they enjoyed their atmosphere-filled coach trip home.
Despite that home defeat to Leicester the Aces still came out on top of the British League Division One. They didn't make the Knock-Out Cup final having been knocked out by Wolverhampton in June, and we didn't have the World Champion rider anymore, but all in all a very satisfactory year, and if 1971 had been good then 1972 would be a wonderful year to be a Belle Vue Aces fan.
This article was first published on 6th October 2013
---

Hilary Battersby:

"What a great read....I feel as though I was there though we didn't start going till 1976. I didn't even know Speedway existed back then."
Phil Rice:

"I was at that challenge match at Halifax and in the Star the following week, little mention was made of it - even the fact that PC took home kingpin Eric Boocock from the back around turn one and two."
John Middlemiss:

"Great articles by Ian Harwood, bring back many happy memories of speedway in the late 60's and early 70's, keep up the good work."
Andrew Collins:

"A super read, very accurate as well. I was also at the Leicester match and all hell did break out. I remember the Manchester Evening News gave the full back page to it. The title was something like the disgrace of speedway. Its a shame the sport didn't usually get such a good coverage! The British League Riders Championship was always a fantastic end to the season. This particular one was terrific with Ivan Mauger riding at his very best. Thanks for such a good review, it brought back some great memories. "
David Pickles:

"What a great read and a great article. The BLRC was indeed the highlight of the year, after the Internationale and especially when the World Championship Final wasn't at Wembley.

Great days at Hyde Rd in the 70's. I think it may have been in 1972 when Ted Rogers (3-2-1) was the "guest star". Yes, we had to queue to get in, and 25,000, which I believe was the capacity at Hyde Road, would have been the crowd (you couldn't have got a fag paper between us) would have been the attendance. We were lucky (!) to be right near the tapes, standing of course, but with the old wooden fence, yes you really felt the whoosh of speed as the riders came hurtling round the fourth bend and jockeyed for position down the home straight and the swoop on the first turn.

Wonderful memories of a track much remembered, even by an avid West Ham and after that Hackney and Wimbledon fan (gotta keep it in London!). Great days - the "golden" years of speedway in the 60's and 70's. Thank you to all who had the sheer courage to get their butt on a bike."

[ Use Mobile Version ]

Comment on this Article | Contact Us | Go Back to Main Menu