Dream Team: Ian Roberts
First fell in love with the sights sounds and smell of speedway back in 1988 aged 5. Sadly too young to experience the magic of the old Belle Vue. To me though the home they shared with the greyhound racing was still an awesome sight.
I remember not understanding the scoring system so would cheer the rider in red in heat 1 blue in 2 white in 3 y/b in 4 then repeat the process over till heat 15 when I picked anybody I wanted in the hope of gaining 50p! (Good old Grandad).
Seen some excellent riders and racing on this track as I've grown up and will always remember the weekend double headers with Bradford. After growing up at Kirkmanshulme Lane, the first time walking into Odsal really took my breath away, sadly the death of speedway there I feel has left a massive hole for Belle Vue and its fans, without a local rival we're stuck 'up North' in the Elite league.
My team is going to made up of riders from 1988 onwards but I'll try to keep it from becoming a Belle Vue dominated team and pick 7 of the best I've seen there. Sadly by the end it may appear I've failed.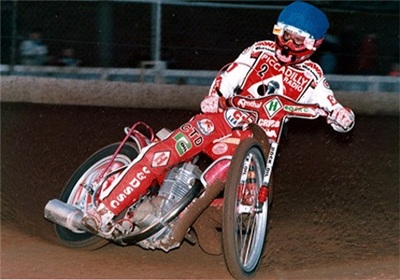 Joe Screen
Jan O Pedersen
Growing up at a time when the Danes ruled the world of Speedway there was something to me about Jan O Pedersen compared with Nielsen and Gundersen. When asked to pick the best race I've seen at Belle Vue I always have two in my mind and Jan O vs Joe Screen is one of them. Was the first non Belle Vue rider I became a fan of.
Jason Lyons
Mr Belle Vue himself. Dragged us out of the dirt so many times. Around Belle Vue you'd always put your money on Jason to get the 3 points. His race vs Tony Rickardsson is the other one that always stands out in my mind. Never made a fuss or went looking for praise just got on his bike and gave his all for a team that most of the time needed more like him.
Gary Havelock
To me Mr Bradford, as I said before I always loved the double headers against Bradford - the battle of the roses. Gary stands out as the Bradford rider that I used to enjoy booing the most. (in the nicest way) But that compettiive marketing and spirit helped make our derby grudge match.
He was never dirty or aggressive against Belle Vue that I can remember but at the time I felt it was my job to boo him. Bradford to somebody who never saw the old Belle Vue always seem so much bigger and better than Belle Vue (let's face it, it was) so it was always nice to get one over on the (to me) bigger club. As much as I liked to boo Gary and the rest of the Bradford riders they were all brillant in signing autographs for us kids and the access to the riders and to be able to see the bikes being prepared before a meeting is something that should be encouraged in future tracks.
Joe Screen
A rider who I was lucky enough to see come in to the Belle Vue team as a teenager who rode like he had no fear in the world. Seemed a natural from the moment he put the Aces jacket on, sadly never reached the heights we thought he would do but put on some of the best races and passing moves around Belle Vue that you'll ever see but sadly suffered the British gating curse. I remember feeling shocked when he signed for Bradford having to boo somebody that lives in the same town as you is hard!
Jason Crump
It's hard to say something that hasn't already been said about Belle Vue's last world champion. Still the track record holder and if the new stadium is completed will be forever in Belle Vue folklore. Home or away Jason was gave us his best, our heat leader winning races. Sadly his decision to come back to Belle Vue cost him an injury that took him a long time to recover from which as a GP rider is never something you need. He's a true professional, gentlemen, has times for the fans and will be a part of the history of Belle Vue for a long time.
Hans Nielsen
To me the most professional speedway rider I've ever seen. If there was qualification at GCSE, A-Level, Degree etc in speedway Hans would of got A* in then all. Gating, passing, tactical riding all first class. I dont think there was ever a Hans Nielsen race I saw that I didn't think he could win. Seemed to be at one with the bike for 4 laps as if it was what he was put here to do.
Roland Danno
The Super Swede reserve! Double figures seem to be the norm for Roland at reserve. Aas my first 'favourite' rider as a kid and only seem right to have him at number 7.
Submit Your Own Dream Team
This article was first published on 13th January 2013
[ Use Mobile Version ]
Comment on this Article | Contact Us | Go Back to Main Menu