If They Had Known Then...
By Ken Nicholson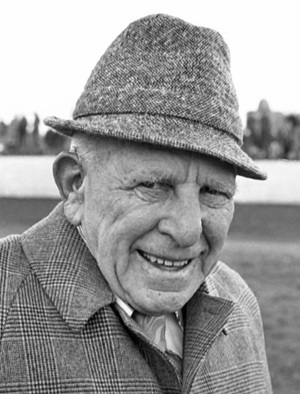 Johnnie Hoskins
...what they know now, they would have left things alone. David Pickles's warning about the impact of fixed race nights on Rye House was prophetic because the club has folded and we are left with a first division of only seven teams (something unseen for 60 years). This is hardly a league when over half the teams go head-to-head in a title race-off. While most people have been scratching their heads over the logic behind introducing fixed race nights and a points-limit rule that prohibits many of the top stars from competing, Rye House's problems seem to have been caused solely by a move to mid-week racing. This raises the question about why it was so disastrous.
Speedway has always been promoted as a family-friendly entertainment, which it surely can be. Yet look around the terraces and they are not teeming with children. While there is an obvious conflict of priorities in term-time, I suspect the reason has more to do with costs. A family can say goodbye to £50+ (travel, admission and car parking) just to get in. Add refreshments to that (thanks to bizarre rules about not taking food and drink into some stadiums) and we are talking about a special treat rather than a regular weekday night out.
Around 20 years ago, I usually visited three tracks (Swindon, Reading and Oxford). Some people could be seen at more than one, and some at all three. Entrance costs then increased, precluding this and triggering a case where the customer base decreased faster than the prices went up. As an example of speedway's hyperinflation, I paid 50p to get into Canterbury speedway in 1975 and 10p for a programme. 50p then was about the cost of a packet of cigarettes, 2 pints of beer or a gallon of petrol. None of these has increased as much as entrance prices, despite them all having attracted taxes to make them less desirable. So, is it any wonder the terraces are empty, especially midweek? With entrance costs around £6 or £7 pounds (50p in 1975 terms), most people would be forgiving if a meeting was curtailed or the racing proved dire. That is not true at three times the price. So at best, anyone other than diehard fans pick and choose their meetings.
Things have changed over the years. Foreign travel is now relatively cheap, meaning European based riders can jet in and out easily. This has not improved the standard of racing (or the riders in Britain) or the level of entertainment. It has just given promoters more scope to juggle teams so they fit in with agreed points limits. Now, lay-down engines are used throughout. While they may potentially perform better than the old uprights, they have proved to be unpredictable in less than perfect conditions. We have watched even the best riders in the world come to grief (some disastrously so), after 'picking up unexpected grip'. This unpredictability has led to a significant increase in the number of rain-offs, some even based on just a threat of inclement weather, which is not what the spectators, television companies or speedway promoters want.
Speedway bikes are much more technical than they once were and the costs to maintain them have grown dramatically. Almost an infinite number of tweaks to the bike can be made to improve performance, making the bike nearly as important as the rider. In turn, this has introduced delays while riders chase the right set-up. Speedway used to be a fast succession of races. There were typically 19 of these in a meeting (including a second half), with time left over for a parade and an interval. All of this was done usually within 2 hours. At Canterbury, Johnnie Hoskins was constantly at war with the council and had a strict time limit that he knew he dare not exceed. He would be on the centre green waving the riders to get a move on and never once was the curfew breached or a meeting curtailed. Johnnie knew the spectators wanted to be entertained and get their money's worth, and that is what happened. Now, it seems impossible to complete 15 races in 2 hours. Instead, spectators are forced to watch endless track grades and are expected to be understanding when a meeting (of only 15 races) has to be cut short because it has over-run.
To compound speedway's woes, the powers that be decided on end of season play-offs. While it can make sensational TV viewing over a couple of meetings, the downside is an annual cramming of fixtures before the cut-off date and a premature end to the season for some clubs. If a family finds it a stretch to find £50+ for one meeting, then they are not going to attend two or three meetings in the same week or pay more for a double-header.
Matt Ford has been voicing doubts about his future at Poole. Much of what he has said makes sense, in that speedway can only afford to provide a product that is commercially viable. This depends on turnstiles clicking and, more than ever these days, sponsorship deals. He has also stressed the difficulties in attracting sponsors. Sponsorship has to be beneficial to both parties. In the case of the sponsor, the benefits include cheap advertising. Some riders know this only too well. How many times have we seen them flashing their sponsors' names on their sleeves or sipping at a certain energy drink when being interviewed on TV? By contrast, the BSPA appears far less savvy. The National League sponsor and a mention of BT Sport apart, there don't appear to be any adverts or sponsors' names on their home page. Their website is updated regularly with results and team news, which is good news for existing fans. However, it is sadly lacking elsewhere. As an example, the basic rules include extinct double-point substitutions, and for reasons that completely escape me, there is a section on the 'sponsored migrants policy' and a link to the Home Office website! If I were a newcomer to speedway, I would to know the location of my nearest track and how much it would cost to get in. That seems to be missing, however.
Despite the online news updates, BSPA does not appear to court the media. It seems they rely on the media contacting them rather than vice versa. Consequently, speedway is seldom seen in the national press these days, while match results have disappeared from our TV screens. BBC West Midlands do provide live radio broadcasts that are available on i-player, however, so there is some interest out there. Sponsors need exposure to justify a financial commitment and since that exposure is virtually non-existent, it is no wonder it is hard to attract them.
Matt Ford has also suggested that speedway might need to return to being semi-professional. The sad truth is that it has never been much else. Unpaid volunteers help out at most clubs, be it with routine jobs or in raising money for their team. So where did it go wrong? I think the crunch point might have been when the Elite League was formed in 1997. I suspect the gamble was to follow the football Premiership model, in that the world's best would be assembled and this would draw big crowds and attract significant income from TV rights. Certainly, the best were assembled that year, but it soon became apparent it was unaffordable. The problem is that speedway does not have the universal interest football attracts. While I have seen British speedway televised overseas, it is always as a minor sport. On the other hand, British football teams such as Manchester United and Arsenal are household names in pretty much every country in the world. Rather than give up on the dream, however, the powers that be diluted the strength of teams to make them more affordable and put entrance costs up. Thus followed the vicious cycle of inflation and falling attendances.
Mistakes made twenty years ago can be forgiven. What is not acceptable is the pretence that everything has been hunky dory and that a few tweaks to the rules would put everything right. Like Matt Ford said, it is time for speedway to reinvent itself. Something a lot of us have been saying for over 15 years.
Cassandra was a Trojan princess who was given the gift of foresight by Apollo. She spurned him, so he spat in her mouth and she was cursed never to be believed. Her predictions of disaster went unheeded and led in part to the fall of Troy. I know just how she must have felt!
This article was first published on 28th July 2018
[ Use Mobile Version ]
---

Jim Henry:

"I found Ken's article interesting and I agree that speedway needs to market itself a bit better. I'm not sure if newspaper advertising is the answer, especially in the sports pages. It needs to seek potential supporters who are not into other forms of sport.

Maybe BSPA needs to consider a UK wide campaign promoting the exiting elements, its family / supporter friendliness, rider approachability. Speedway needs to get a good and informative "roadshow" to take round town centres in areas within reasonable travelling distances of speedway stadia.

Maybe it needs to get a skilled wordsmith to write up articles to send out free of charge to a whole range of family orientated publications extoling the virtues of speedway. (eg Womens's magazines, kids comics, company inhouse magazines, biker magazines.) with a spin tailored to the publication.

What about a central BSPA agency pulling together a weekly / monthly DVD with the best races of the period and giving these free of charge to local TV stations / network stations (obviously this needs to encourage folks to watch the regular events shown by BT and not cut across it).

What about handing out fliers which require contact details (email addresses etc) which, if handed in at the turnstile at any track after payment of admission, is entered into a raffle for (say) admission cost cash prizes to be handed out by the meeting presenter after (say) the penultimate heat. I'm sure speedway fans can come up with other ideas to promote the sport and it might be interesting what these ideas are!! "
Martin Wilkins:

"What Speedway needs is from somone outside the sport to take a good look at it, grab it by the scruff of the neck and say 'This is what needs to be done'. The basic product has always been good, the sport just needs kicking up the backside. "
Jim Kennedy:

"Good article IMO. Sums the sport up."

Comment on this Article | Contact Us | Go Back to Main Menu