DVD Review: Ivan Mauger Racing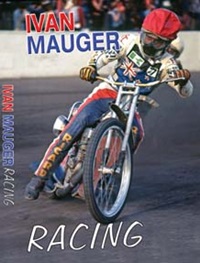 In 2018 we've lost two of the sport's greatest ever riders, Ronnie Moore and Ivan Mauger.
Ivan was perhaps the greatest of them all, winning six world titles in a trophy laden career that stretched from the 1950s right through to the mid-1980s.
Retro Speedway have produced a new double-DVD that showcases many of Ivan's most important races. "Ivan Mauger Racing" is a marvellous tribute to a great man and an excellent piece of entertainment in its own right. Video archives from around the world have been raided to pull together the definitive collection of Ivan in action.
Right from the start we're into some fascinating footage, seeing Ivan racing in full colour at Middlesbrough in 1963. Ivan was at that time a Newcastle Diamond, returning to the UK to pick up the threads of a career that had got off to a bad start at Wimbledon a few years earlier.
He was still with Newcastle in 1965 and we see him in action at Cleveland Park in Middlesbrough once again, in black and white this time, but clearly demonstrating the familiar Mauger style.
He was beginning to make an impact on the world stage too, our first glimpse of him at that level is from some grainy film of the 1966 European Final at Wembley. He ended the evening on top of the rostrum, qualifying for his first of many world finals.
He finished second on the big night, behind Barry Briggs his long-time friend and fellow Kiwi. There's film from the meeting on these DVDs.
He didn't have to wait much longer to win the world title himself, being crowned at Ullevi in Sweden in 1968. Sadly there are no recordings of the meeting available, so we miss out on seeing that particular highlight of his career.
By this time he had joined Belle Vue Aces to kick-start another successful era for the Manchester club. Thanks to 1969 colour cine footage we get the chance to watch Ivan race for the Aces against Poole, Cradley Heath and Swindon (including Briggo). The meeting against Cradley at Hyde Road included the rather unusual occurrence of someone setting fire to the ladies toilet block, thankfully the cinephotographer managed to capture that as well as the racing.
His second world title win came later the same year, at Wembley in front of the twin towers and a packed house. Pathe news were there to record the action, with their plummy voiced reporter telling us: "Mauger was in good form, building up the points steadily".
There's a good mix of film covering Ivan's 1970 season. He's in action at Hampden Park for Great Britain against Sweden. He's winning the European Final in Leningrad (complete with Russian commentary) and winning a third consecutive world title in Poland. On this occasion our friend from Pathe news falls into the old trap of calling him "Ivan Maw-ger".
1971 brings us Ivan in action at the Internationale at Wimbledon, a meeting that included a bad smash for Ronnie Moore leaving him with a serious leg injury. We also see him in World Pairs action at Rybnik and in the European final on his way to another world final in Gothenburg. He misses out to Ole Olsen on the big night, scuppering his hopes of a fourth title win on the bounce. A Swedish commentator guides us through the action on that night.
Ivan was back on top of the world the following year, defeating Bernt Persson in a Wembley run off. It's remarkable to see Ivan in his plain black leathers that night, quite a contrast from the colourful suits that had become the norm by then. We're into more familiar ground with the commentary now with our first chance to hear Dave Lanning's unique style.
1973 starts off with a meeting at Mystery Creek in New Zealand, a rare chance to see Mauger on his home turf. Later in the year we see him lose out in a world final run-off to Jerzy Szczakiel, we're told it's "the greatest shock in the history of world speedway". That claim was certainly true then and it's difficult to think of anything that's come close in the 45 years that have followed.
There's loads of great stuff in the section of the DVD that covers the 1974 season (Ivan's second as an Exeter Falcon):
Match races with Barry Briggs at Workington; World Pairs semi-final in Germany; The British final; World Pairs final at Belle Vue; Swindon v Exeter on a dusty day; The British/Nordic final; Belle v Exteter (including pits footage); The European final (prizes presented by Nerys Hughes) and finally coverage of both the practice and meeting itself at the world final (won by "matinee idol" Anders Michanek).
Ivan was one of the star attractions at Nigel Boocock's testimonial at Coventry in 1975. Lovely footage of that meeting is included here, as is the cine film of him riding for Exeter at Oxford later in the season. He continued to be a big player on the world stage, we see him in a great battle with Phil Herne in a WTC meeting at Reading, plus film from the European and world finals. He didn't win either meeting that year, missing out to Ole Olsen in the European, before losing a classic run off with John Louis for the final rostrum place on the biggest night at Wembley.
That brings us to the end of the first DVD, 106 minutes to sum up a fantastic 12 year period including four world title wins.
The second DVD takes us into 1976 and the Inter-continental and world finals. The world final was in Katowice that year and Peter Collins took his one and only win. Ivan would have been disappointed with his own fourth placed finish, though he did have the slight consolation of inflicting Collins' only defeat of the evening in heat 20. Collins was, of course, aware that second place was sufficient for his own ambitions. Despite a rather disappointing (by his own standards) couple of seasons, Mauger was still piling up the trophies - winning the world longtrack championship for a third and final time. We see him in spectacular high speed action at Marianske Lazne.
If anyone had started to write him off as a spent force, they had cause to think again in 1977. We follow his progression through the Australasian and Inter-continental rounds of the world championship as he secures his place at Gothenburg for the final round. The Inter-continental round at White City was memorable for a clash between Ivan and John Davis on the way to the first bend in heat 16. Ivan got the benefit of the doubt from the referee, much to Davis' understandable displeasure.
Ivan overcame a strong challenge from Peter Collins (riding with a broken leg) in the world final in Gothenburg to win his fifth world title, dropping his only point to surprise packet Finn Thomsen in heat 7.
We don't see too much of Ivan's 1978 season on the DVD. The world final was back at Wembley and he never really recovered from a first race fall, ending up mid-table on 8 points, the first time in his 13 final appearances that he had scored less than 11 points! A remarkable record that truly demonstrates his lengthy dominance and consistency.
1979 proved to be a remarkable season for Ivan, in his 40th year and now competing with next generation of riders like Penhall, Lee, Nielsen and Gundersen.
The DVD has footage of Ivan racing in a mud-bath at Reading for New Zealand in a world team cup qualifier. There's also action from the Yorkshire TV Trophy from the Boulevard in Hull, by then Ivan's home track.
The Inter-continental final was at White City and we see Ivan have an "engine failure" then confess that he sacrificed a rostrum place and prize money to guarantee him a better riding number in the world final. It's no wonder his professionalism has always been admired.
The 1979 world final was at Katowice in Poland and the local tv companies were there to provide coverage of what proved to be Ivan's sixth championship win.
Not content with individual glory, he also led New Zealand to their only World Team Cup win. Recently discovered cine film (with sound) allows us to see Ivan and his team-mates seal the victory against the odds.
As the world moved into the 80s, Ivan started to scale back his commitments and go into wind-down mode. He failed to reach another world final, though still remains a big draw in league racing and in continental meetings.
The DVD shows him in action in various individual, pairs and longtrack meetings throughout the early 80s.
By 1985 he was ready to give up entirely and staged a series of Farewell meetings around the world. The biggest was staged at Belle Vue's Hyde Road stadium and from this DVD it was evident that it was a great day. There were six men races, extended mudguards on the bikes to keep down the spray and a demonstration ride on his world final bike from 1979. The famous Winged Wheel trophy and golden bike were also on display as additional attractions.
There's a great interview that John Chaplin conducted on the day. Ivan is very candid, here are a few choice quotes:
"I've got too many silver medals"
"When you're ambitious, pain is irrelevant"
"British fans practiced booing the week before I got to their track"
Ivan's last competitive races in Britain were at the Golden Greats meeting at Coventry in 1988. There were match races against Michanek and Briggs. The one against Briggo was on modern machinery and Barry takes an unfortunate tumble.
The County Ground in Exeter was Ivan's stage for his last ever laps in Britain. His demonstration ride in 2005 brought an end to speedway racing at the circuit as it staged its last ever meeting. Even well into his sixties he still looked fast and graceful.
If this review has whetted your appetite to see these DVDs for yourself, then head over to retro-speedway.com where Tony and his team will be pleased to take your order.
If you've already got a copy, then why not leave your own comments below and let others know what you thought of it?
---
How To Order
By Phone : 01708 734 502
By Post : Send a cheque for £16 (payable to Retro Speedway) (add £3.50 if outside UK) to:

Retro Speedway
9 Nursery Close
Glossop
SK13 8PQ
Online : At Retro-Speedway.com
This article was first published on 2nd September 2018
[ Use Mobile Version ]
---

Dave Hobson:

"I bought this as soon as it was released, and it is a lovely homage to the greatest of all time. A fitting end with Ivan's laps at a soon to close County Ground. See also ivanmauger.net"
Aaron Govern:

"I'm delighted that I can see myself as a 17 year old, in the background of the interview with John Chaplin in 1985 at Ivan's Farewell meeting at Belle Vue."

Comment on this Article | Contact Us | Go Back to Main Menu