Jack Millen - Forty Years On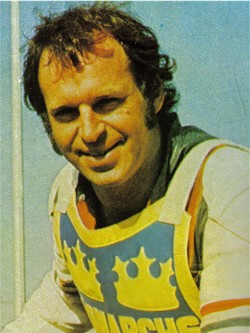 Jack Millen
Today marks the 40th anniversary of the tragic death of New Zealand speedway star Jack Millen.
Millen, known as both "Crazy Jack" and "Millen the Villain" was a hard-riding, often controversial, always entertaining, star of second division racing from 1971 until 1978.
Starting his British career with Crewe Kings, he subsequently appeared for Sunderland, Stoke, Edinburgh and had just moved to Berwick shortly before his untimely passing.
Even after all these years have passed he's still fondly remembered as much for his over-the-top theatrics to "wind up" the crowd as he is for his racing.
Sunderland super-fan Bob Ferry was a huge admirer of Millen, so much so that he published a book "Crazy Jack - The Jack Millen File" a number of years ago. He included some fabulous tales of Jack's life and times:
"Broken bones rarely kept Jack out of the saddle for very long, they were just all part of the game to Jack. Once he was unable to get his left boot on because of the plaster cast on his leg, he had a special metal shoe made to fit over the cast, no problem!"
"On one visit to Teeside, the track-side announcer handed the mike to Jack, asking if he would like to say a few words. Jack took hold of the mike and told the crowd - 'I'm too good to be here'. The crowd responded with an ear-splitting barrage of boos and unmentionable curses. To rub salt into the wounds, he went on to score a perfect maximum."
"When a young newcomer to the team was about to line up in the Star of the Night final, he asked Jack - 'Which gate do I go off?'. Jack replied - 'any bleep-bleep gate you like as long as it's not mine'. Perhaps that gives the wrong impression of Jack, he did care about his team mates. He was a dedicated team man, he would risk life and limb for his team. So when he got himself excluded, or ended up in a pile of dust on the track, lying injured, I truly believe he felt a little guilty about letting his team down."
Ian Darling was a team-mate at Berwick and told this website:
"I got to know Jack quite well before he was killed, he was a wild guy but he had two sides to him. He was always helpful to the younger guys starting off in speedway, but his reputation went before him. He liked to entertain the crowds and speedway could do with guys like him now."
Les Rumsey told us:
"He was a very hard speedway rider, I raced against him quite a few times, but he did have another side. I can remember a time when Bob McNeil and myself travelled from Ellesmere Port to watch a meeting at Bradford the next day, enroute to Oxford the following night. We ended up taking Jimmy Wells back to Jack's place on the Thursday morning, only for Jack to insist that we stayed for breakfast, which we duly did, to be served up blue steak with bread and butter! I must admit it was one of the best breakfasts I'd had until then. Jack was really hospitable, long may he rest in peace, he gave a great deal of enjoyment to a great number of people."
Speedway Star reported his death as follows:
"Jack Millen, one of speedway's most colourful characters, was killed in a car crash in the early hours of last Saturday morning.
Millen's white Jaguar car was involved in a collision with an articulated lorry on the A1 at Grantshouse as he was driving from Edinburgh to his home in Berwick. After the impact Jack's car exploded and burst into flames.
Twenty-two-year-old Leonard Sterracher, of Highfield, Berwick, a passenger in the car, was also killed in the crash.
It is believed that there was a request for medical evidence from New Zealand to enable identification of Jack to be confirmed.
Jack, 36-years-old and a tremendous showman, joined Berwick this year from Edinburgh and a collection will be held at Shielfield Park on May 27, when Edinburgh are one of the visitors to Berwick in a National Fours meeting. There is to be a bring and buy sale in Edinburgh on May 16 and proceeds from the two events will go to the fund set up for Jack's dependants."
Dick Barrie was the in-field presenter at Berwick that year and paid tribute to Jack in the following week's programme.
"His professional image, of being a scowling rogue, never carried itself beyond his 'stage appearances' on the track. Jack Millen could talk more sense in ten minutes than many of his rivals could in two days. His carefully guarded winks to me as he began another public tirade at officialdom told me that, as always he was fully in command of himself and the situation and that he was merely adding yet another story to the massive portfolio of Jack's escapades that we love to quote and will continue to quote wherever people who are involved in this Sport of ours gather."
Neil Macfarlane had been Jack's promoter at Edinburgh the previous season and said:
"Everything in speedway has been overshadowed by the dreadful news of Jack Millen's death. He was a great character, a man's man, and he was good for the sport."
We'll leave the last word to Jack's sister Jill:
"Jack was a man with many faces but there were no hidden agendas, he was always in control, a man that would do anything to help others, a man once met never forgotten, a man that touched the heart of so many, a man that talked a lot of sense, a man that with his death broke a lot of hearts, especially mine."
This article was first published on 29th April 2018
[ Use Mobile Version ]
---

David Cumming:

"Characters like Crazy Jack are what speedway is missing these days"
Tracy Holmes:

"Love Jack! He was in the first meeting I ever saw in 1971. We lost Gary Peterson in 1975 and Jack in 1978. Crazy indeed! Never forget these guys."
Paul Reed:

"The engines roared, the riders hunch-backed,
The tapes flew up, the first bend attacked,
The cinders scattered, the ashes flew,
The exhaust smoke turned the night air blue;

From amongst the chaos, a striped bib emerged,
Worn proudly, down the back straight he surged,
For courage and fearlessness he did not lack,
Such were the qualities of 'Crazy Jack';

And though many a year since has passed,
I do not forget the memories then amassed,
When hearts were young and dread was zero,
And Jack Millen was our speedway hero. "

Comment on this Article | Contact Us | Go Back to Main Menu