Jack Winstanley Obituary
By Philip Dalling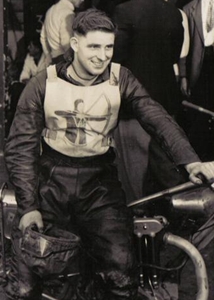 Jack Winstanley
Jack Winstanley, who has died at the age of 81, was one of those riders whose careers in speedway cannot be judged simply by his points average.
His popularity among his fellow riders in the pits, with the fans on the terraces, and with promoters for his willingness to ride anywhere, anytime, over a career that spanned more than twenty seasons, is the real test of his worth.
Jack began his career in 1947 in the post-war Second Division, with Wigan and Fleetwood in his native Lancashire. He later had rides at Coventry, Leicester and Sheffield before settling down with Long Eaton, where he stayed until the track closed in 1952.
Speedway's alarming decline in the mid-1950s made rides hard to come by, especially for men based in the north of England. Jack rode in the `pirate' meetings at Long Eaton in 1954 but solved the problem more legitimately by becoming one of the sport's early globetrotters.
In the days when most riders outside the international class confined their activities to their native country, Jack went in search of speedway in Europe. He rode with success in Holland, Germany, Austria and Czechoslovakia when most doors were closed to him in England.
When Mike Parker began to re-open long-defunct British tracks in the north and midlands in 1959, as a precursor to the Provincial League, Jack was one of the riders he turned to for team men. During the early 1960s Winstanley linked up with his old friend and Long Eaton team-mate Ernest Palmer, who was team manager at Sheffield, and Jack later re-joined Mike Parker at Newcastle.
His final international adventure was to ride for Parker during the Manchester-based promoter's Italian venture in Rimini.
Having been in at the start of the post-war Second Division with Wigan and one of the first riders to rally to the Provincial League, Jack maintained a proud record by finishing his career in the new British League Second Division in 1968, again answering a call for help from Mike Parker, back in Lancashire at Nelson.
He maintained an interest in speedway (including keeping a bike) and was a familiar face at events held by the Veteran (now World) Speedway Riders Association in the north. I met him at a lunch in Halifax, along with Ernest Palmer.
Speedway fans love to watch the star men in action. But without a doubt they have a deep affection for the bread and butter riders, like Jack Winstanley, who have always been the backbone of the sport.
This article was first published on 31st July 2008
[ Use Mobile Version ]
Comment on this Article | Contact Us | Go Back to Main Menu