Riders to Remember....Jack Young
By Geoff Langley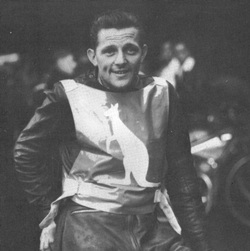 Jack Young
Jack Young is already well established in speedway folklore as the only Second Division rider to win the World Championship, but he should be remembered for much more than that. He was a great rider who played an important part in the evolution of modern speedway.
Jack Ellis Young first rode speedway in 1947, at the age of 22. Due to the lack of proper speedway bikes in Australia in those immediate post-war days he spent most of his first season in a special class for stripped down road bikes. However it was not long before his enormous natural talent attracted sponsorship on custom-built speedway bikes, first on an old J.A.P. engined Rudge, and later on a first rate bike provided by the local Rotrax-J.A.P importer. With decent machinery Jack was becoming almost unstoppable. He had barely two years experience behind him when he beat Bill Longley, captain of the Australian Test side.
British clubs were beginning to get news of this enormously talented young rider and started to show interest but Jack hesitated over the initial approaches he received as he was still not sure if he had what it takes to succeed in British speedway. He still had to consider his wife and young daughter but when he went out and broke all Jackie Biggs track records at Adelaide he knew he was ready, so when Second Division Edinburgh Monarchs offered an opportunity for the 1949 season he accepted.
Such was the informality of the sport in those days that he arrived in Edinburgh on a one way ticket and a verbal offer, not even a written contract or a return ticket if things didn't work out. He had no choice but to succeed and succeed he did! He took 18 wins from his first 18 starts and eventually finished the season as the Monarchs second highest scorer. Jack also made his international debut, being drafted into the injury-hit Australian test team as reserve and scoring one point from 3 rides in the final test match of the season.
Back in Australia for the 1949-50 season Jack was drafted into the Australian Test team to gain experience in the final match of the series. His paid maximum was evidence of the great maturity and team-riding skills he had learned at Edinburgh.
On returning to Edinburgh for the 1950 season, Jack was matched against Jack Parker in a special match race during August. Jack Parker is probably the greatest match race rider in the history of speedway. He had contested the British Match Race Championship 21 times and won 19 of them. But this time it was Jack Young that beat the Old Master 2-0, breaking the Edinburgh track record in the process. This set Jack up for his first World Championship Final at Wembley the following month, when he finished in midfield on 7 points. He admitted that the pace was a bit hot for him, but his natural talent was now being sharpened by the heat of world-class competition.
This was a period of great change in speedway, a watershed between the old and the new. The sport was still largely dominated by older men from the pre-war years, such as Norman and Jack Parker, Bill Kitchen, and Tommy Price, who were still outstanding riders but would soon be coming to the end of their careers. It was also a period of development of engines and frames and many track records fell considerably over the next few years. These developments in machinery made it necessary for riding styles to change, but for some riders this was not easy. The last of the leg-trailers, Oliver Hart was still around, but most of the older riders had adapted to the foot forward style of riding. Nevertheless photographs of the period show that a lot of riders were still using the old straight-and-narrow handlebars, and even pre-war style turned-down bars in some cases, but many of the younger riders, especially the Australians, were using the more modern high-and-wide handlebars. It was the early days of the modern speedway machine. In this great period of change speedway needed a new star to lead to it into the next era. That star was to be Jack Young.
Fast-forward a year to the 1951 World Championship Final. That has sometimes been described as the one Jackie Biggs threw away, thus implying that Jack Young was not really a genuine champion on merit, but that suggestion deserves closer scrutiny. The general account is well known ; Jackie Biggs had collected 4 wins from his first for rides and only needed a single point from his last race to take the title, but for no apparent reason came last, and then came last again in the run-off. However comments made by the riders are enlightening. Jack Biggs later said that after his third ride he started to worry about a recent back injury which was beginning to trouble him and that together with the pressure of knowing that the title depended on getting at least a third in his last race made him a bag of nerves. Now, with due respect to Biggsy, who was a class rider, one of the essential qualities needed to become World Champion is the ability to stay calm under pressure. Jack Young on the other hand, who had been known as "Mr Cool" since his early days at Edinburgh, later said that the two inside gate positions were unfavourable, and he had been on the inside when he met Biggs in the heats but still only lost by half a length, thus was full of confidence in the run-off. In the run-off Biggs made the start but this time Young was right with him and soon forced his way through, followed by Split Waterman who finished second. Thus the man from the Second Division was a worthy champion.
It had been an outstanding season for Jack who had ridden in 39 league and cup matches for Edinburgh and dropped just 9 points including an engine failure, but when Aub Lawson left West Ham it was time for Jack to move up to Division 1 for 1952.
In the First Division it was more of the same, with 19 maximums for the Hammers from 38 league matches, followed by a second World Title, leaving no doubt that he was the best and most consistent rider in the world at that time.
Jack came 4th in the 1953 World Final after inexplicably finishing last in his final ride. Engine problems may well have been the cause of this. He bounced back in 1954 with a win in the London Riders Championship, which in those days was one of the most prestigious events in the calendar. In August he was the top point scorer in the British qualifying rounds for the World Final but in September 1954 speedway suddenly entered a new era. The World Championship was one by a 21 year old genius, Ronnie Moore, the youngest World Champion ever. The list of World Championship qualifiers also included for the first time, Barry Briggs, Peter Craven, and Ove Fundin. These four men, all aged 20 or 21 would now dominate the World Championship for many years to come, and just as Jack Young had swept the Old Guard aside a few years earlier, he now had to defer to these younger men.
It was, perhaps, not so much a question of skill, but more one of attitude. As far as Jack was concerned, speedway was not the be-all and end-all of life. He was a family man who liked to enjoy life's simple pleasures. For example he never won an Australian National Championship because he preferred to go fishing rather than spend days travelling across Australia to compete. For all his brilliance on the track he remained a typical laid-back South Australian, at heart just an ordinary bloke who never assumed any airs and graces as World Champion. It was typical of the man that after he retired it was reported that he was using his World Championship Trophy as a storage jar for his fishing weights!
When West Ham closed, crippled by the dreaded Entertainment Tax at the end of the 1955 season Jack Returned to Australia for a couple of years, then signed for Coventry in 1958 and again in 1960 and '61. He was still a class act, still reaching World Finals, but now in the twilight years of his career he was finishing mid-field rather than on the podium. Nevertheless, he still scored more than 1000 points in his three seasons at Coventry.
During his last season in England, 1961, he was able to work the old magic one last time when he won the Tom Farndon Trophy at New Cross, beating a top class international field that included Ronnie Moore, Ove Fundin, Barry Briggs and Peter Craven. After two more years racing in Australia he announced his retirement in December 1963, after winning the South Australia State Championship.
Jack died of a lung disorder on 28th August 1987, aged 62. It had been a remarkable life. From humble beginnings he had risen to become the most outstanding speedway racer of his generation and one of the top three Australian riders of all time. His name is still revered by older fans in Edinburgh and he has a street named after him in West Ham. Above all he should be remembered as a great World Champion who never let success go to his head.
We want to feature similar articles on riders from any era of the sport's rich history. If you'd like to contribute a piece then email us at speedwayplus@hotmail.com or fill out our form here.
This article was first published on 7th August 2008
---

Ian Muir Martin:

"An excellent piece this. Jack Young is one of my heroes, even though I never saw him race. It is a matter of history that he won the World Championship as a Second Division Rider. What a great shame that neither he, nor anyone else could do that from the lower Leagues these days.

The Grand Prix Series is all very well but at the end of the day - only one of SIXTEEN Riders can win it. They are chosen (qualify??) before the Season even starts. In the good old days of the one off World Final - anyone racing Speedway COULD win it. Jack may have been the only Second Division Rider to win the Championship - but at least he and all the other Riders had a chance as well.

Grand Prix is just a money making machine. It does not have the same, if you like, charisma as the old World Championship. History means nothing unless we learn from it. In years gone by - even Ivan Mauger had to qualify for the World Final - he could have missed out. Nowadays you know before the Season starts who is most likely to win as there are no surprise entrants. Before anyone should mention 'wild cards', they can only win one Grand Prix NOT the Championship itself.

It is little wonder to me that Speedway is losing (has lost) it's credibility. The JOKER in the World Cup makes the Sport look like 'It's a Knockout'. In the Leagues - a lower team can be racing against a top team and can build up a bit of a lead early on and then 'HEY PRESTO' out comes the Black and White Helmet - 'YIPPEE' 8-1 - lower Team loses match.

THIS IS INHERENTLY WRONG. It is like saying that if Manchester United were losing by 2-0 then they can play with an extra player to help the Match be more exciting. RUBBISH - it would NEVER be allowed, and yet Speedway embraces ideas like this. Why can we not get back to a simple Sport with simple rules that Supporters and Managers can understand, exciting racing, Matches being won by the Team who rides the best over fifteen Heats, and NOT the Team who can score an 8-1 in one Heat.

EVERY YEAR THE RULES CHANGE - EVERY YEAR THE CROWDS DECLINE. THAT SURELY SHOULD TELL THE POWERS THAT BE SOMETHING."
Dudley Jones:

"Congratulations to Geoff Langley on his Riders to Remember article on Jack Young. We all discover speedway at a different point in time, and have different favorites from that time. Also, many of us just missed greats who, looking back, we would loved to have seen. I first saw speedway in Norwich in 1962 and consider that I just missed two great riders who I would love to have seen ride, and who retired just a little while earlier. Those two were the great Aub Lawson, and the legendary Jack Young.

For me there were others too, such as Split Waterman (still fondly referred to by Terry Wogan). Looking on the bright side I treasure the clear memories I have of Peter Craven in full flight at the Firs, doing battle with Ove Fundin and Olle Nygren, both heroes of my times, not to forget Terry Betts, whose skill I was able to enjoy for many years. Thanks Geoff, great article, with several things I did not know about Jack, and Jackie Biggs."
Leonard Bowes:

"Just a wonderful story."
George Miles:

"I really enjoyed reading this biography of Jack Young. I remember seeing him ride for West Ham in the fifties - I thought his success was due to his riding style - he would come out of bends sitting well back on his machine, putting his weight on the back wheel and thus getting more traction and power from his machine. As you say, one of the greats of his era."
Bill Wilson:

"Great story on Youngie. I was one of the fortunate people to witness the phenomenon of his arrival at Edinburgh if I remember correctly it was maximum points and track record on his debut. I would like to have seen him up against some of today's supposed "stars" alas we can only dream but he will always be the greatest in my eyes."
Martyn Noakes:

"I was lucky enough to watch Jack on many of his rides for Coventry and also at Wembley. Love the article, as you say he was a great bloke."
David Pickles:

"I never had the good fortune to see Jack Young ride, although when West Ham reopened in 1964 I remember the whole borough of (what was then) West Ham (now Newham) had A3 size posters advertising the speedway, with a back-to-front photograph of.............Jack Young!"
John Tulloch:

"What a great piece on Jack Young! I saw him in Edinburgh at most meetings at Old Meadowbank when he rode for the Edinburgh Monarchs. At the time his 'armchair' riding style was revolutionary and looked so very relaxed in comparison to others. It certainly influenced many of the established riders. A bunch of us went as young kids every Friday - bought two programmes - one to fill in with race results and one for ourselves when we re-ran it as cycle speedway! We were so pleased when he became World Champion, but so sad when he went to West Ham. Thanks for the great memory of an unforgettable star!"
Jim Pitkethly:

"A great story to read, Jack was a hero of my dad's, my dad was a Monarchs fan."
Robert Collin Oliver:

"My family were supporters of the Monarchs and watched the awesome Jack Young from his first races. Ken-le-Breton, the white ghost. Magical times. We were 'third-benders' and it was so good to meet with like-minded supporters. Such happy days and what a clean, honest sport it was."
Dudley Gillham:

"I was at the 1952 World Final at Wembley and remember it like yesterday. Jack Young was imperious and if my memory serves me right he only dropped one point in his last ride to Wembley rider Bob Oakley when he only needed second. I still love the Sport and can only agree that the one night format for the World Final produced tension and drama that could not happen in today's format. Those World Finals were great nights and never to be forgotten. "

[ Use Mobile Version ]

Comment on this Article | Contact Us | Go Back to Main Menu