Jack Young's 1951 World Final Bike
By Neil Burston
Here it is - finally after over 12 months hard work is the Mitchell JAP that Jack Young won the 1951 World final on, it's all finished restoration except for fitting the rear chain which I have left off for ease of moving.
I have spoken to the Birdwood Motor Museum who are interested in taking the bike so all interested people can see it.
It has come out pretty well I think - even though the pictures were taken as I wheeled it out the shed it still has my finger marks all over it and needs a good clean!
My first job apart from thanking those that have helped with the restoration and keeping it quiet is to take it to Lindsay Mitchell so he can see it finished - the last he saw it was when I took it to him as I got it from England and he identified it as the Mitchell JAP built by his brother Clem & Lindsay that Jack Young rode at Wembley to his first title in '51.
Lindsay and Thelma his wife are not going the best at present so I am hoping this will cheer him up a bit - when he hopped on it the first time I took it to him I think he dropped 35 years off his age.
I have also included a picture of the AJW that Jack Young rode in Australia in 1950 that I have had for a couple of years now.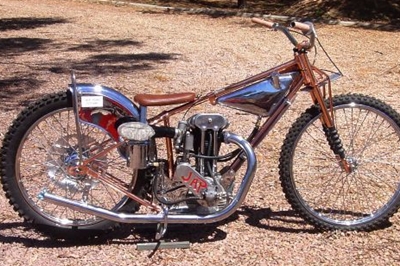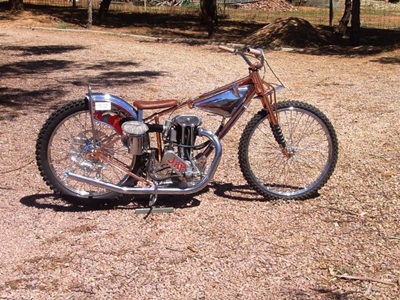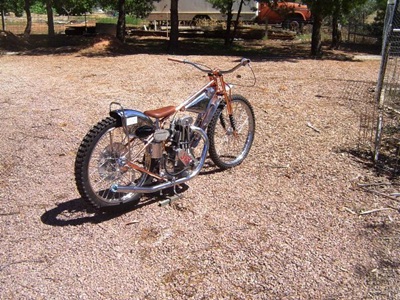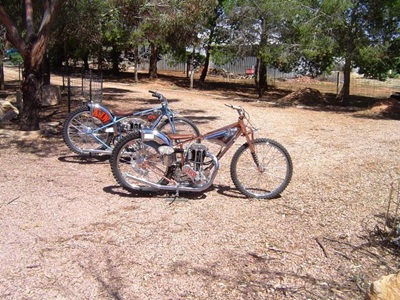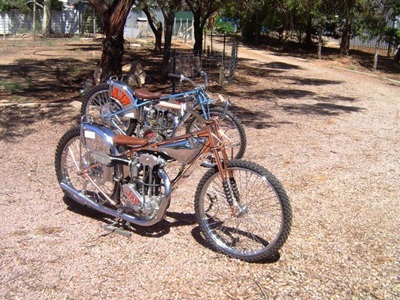 This article was first published on 31st January 2009
---

Keith Anderson:

"Well done,you have saved a great piece of history and made a good job by the looks."
Paul G Dootson:

"Any more photo's? I believe my father Cyril Dootson used to spend many an hour with Jack filing & drilling sprockets and the like. Amazingly my nephew Scott is racing RS125 whilst I have a more sadate classic 50cc. Cheers "
Ronald MacKenzie:

"I think one of Jack Young's Speedway bikes is in the Scottish Speedway Museum."

[ Use Mobile Version ]

Comment on this Article | Contact Us | Go Back to Main Menu