Jimmy Gooch
We were sad to hear of the recent passing of Jimmy Gooch. As a tribute we reproduce Jimmy's entry from The Complete A-Z of Post-War British League Riders (Part 2). Thanks to the authors Matt Jackson and Hugh Vass. Thanks also to Robert J. Rogers for the picture of Jimmy.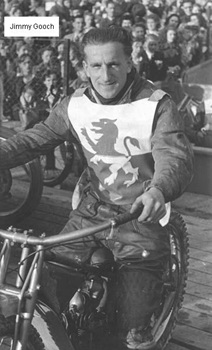 Jimmy Gooch
GOOCH, James Everard (Jimmy)
Born: November 16, 1928, Dagenham, Essex, England.*
Some riders reach world class status in a short space of time and some take a little longer, but there can be few riders in the history of speedway who took 15 years to break into the top echelons of the sport. That was the case with Jimmy Gooch who began his career on the Army tracks in post-war Germany and won the 1949 Combined Services Trophy to win a contract with the famous Wembley 'Lions'. The Empire Stadium club were the dominant force in British speedway and Jimmy managed to win a reserve spot during the 1950 season in a side which included such stars as Tommy Price and Freddie Williams. He was renowned for his wholehearted efforts and was a popular figure at the north London venue, but struggled to lift himself into the main body of the team year upon year.
Eventually, tiring of the struggle of Division One speedway, he went out on loan to Swindon in the Second Division in 1955 and moved to Bradford the following year in an attempt to step up to the next level. When Wembley closed at the end of the 1956 season Jimmy moved to Ipswich but endured a torrid time at Foxhall Heath and quit the sport, sitting out the whole of the 1959 season. He was tempted back by New Cross in 1960 but he continued to be a little publicised rider of no better than second string standard until a move to Oxford in 1964 suddenly brought Jimmy to the forefront of the sport.
Now aged 35, he should have been in the twilight of his career but the move brought more of an Indian summer as he added over two points to his average to record a figure in excess of eight points per match for the first time in his life as the 'Cheetahs' won the National League title. If 1964 was a success, then 1965 would prove to be a sensational year for the popular veteran. The first season of the combined British League brought Jimmy not only an average of just under ten points per match, but a World Final appearance and a place in the Great Britain World Team Cup Final side at Kempten, Germany. Jimmy's World Final appearance at Wembley was indeed the peak of his career and it was impossible for him to retain his fantastic form as he approached 40. Nevertheless, Jimmy remained a force to be reckoned with in later spells at Newport and Hackney and proved a shining example to other riders as to what could be achieved with hard work and perseverance.
Jimmy's Statistics and Honours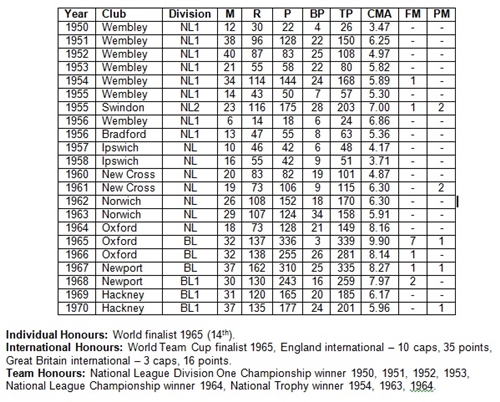 The Complete A-Z of Post-War British League Riders - Part Two
By Matt Jackson and Hugh Vass

To order this CD send a cheque for £9.99 (including FREE p+p worldwide) made payable to V.M. Jackson to:

11 Crescent Road
Nether Edge
Sheffield
South Yorkshire
S7 1HJ
This article was first published on 30th June 2011
---

Rod Woolsey:

"I was always told that Jimmy Gooch was a one time boyfriend of my late aunt Carmel aka Carol and Cissie."
Everil Gooch:

"Jimmy Gooch was a wonderful person. I was his wife for over sixty years, it is nearly five years ago now we lost him, but he is always with me and in my heart."
David Pickles:

"In 1964 as an excited 9 year old when I first discovered speedway, I believe Jimmy Gooch lived or had a business on the old A13 at Rainham, Essex. My late father worked at Ford's in Dagenham, and I pestered him one day to drive past the place I believed Jimmy owned. Needless to say, we couldn't locate it, but he was one of my childhood heroes. Much later to my delight he joined Hackney and I was able to impart the story to him. I was then around 16 (1971?) and I enjoyed a long and very interesting chat to Jimmy after the meeting. A true gentleman indeed. "

[ Use Mobile Version ]

Comment on this Article | Contact Us | Go Back to Main Menu