John Berry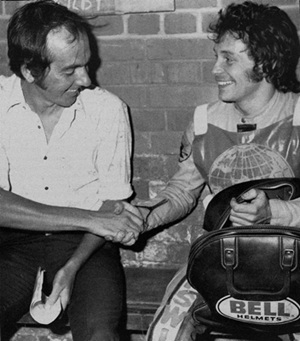 John Berry (left) with John Louis
With the sudden passing of John Berry, speedway has lost one of its great thinkers and indeed biggest fans. Berry made his name as the promoter of the Ipswich Witches, transforming a club with a chequered past into one of the sport's strongest outfits.
Initially starting in the British League Second Division, the Witches moved into the top flight in 1972 and were crowned league champions in 1975, 1976 and 1984. Those first two successes being achieved by a home-grown side, including many locally born riders. John always knew the value of a good local lad and brought through many great riders. Amongst them were Tony Davey, Mike Lanham and Ted Howgego.
His most famous discovery was John 'Tiger' Louis, who rode for the Witches for many years and who followed in Berry's footsteps by becoming the promoter at Foxhall. Louis has paid tribute to Berry:
"No other promoter has or ever will achieve what he did in the sport in my mind. He built a team out of largely local boys, turning us into national and world champions. I still remember the day he came into the shop I was working in and virtually begged me to give speedway a go. What he did was absolutely phenomenal."
Berry always had a father/son relationship with Aussie favourite Billy Sanders. Sanders' suicide in 1985 was a hammer blow to Berry and undoubtedly hastened his departure from the sport.
He was always a controversial character - plain speaking and renowned for delivering some home truths. He certainly had a reputation as a promoter that was respected, rather than one that was necessarily liked.
His chance to really change the sport for the better almost came in the 1986/87 winter. Berry had sold Ipswich in 1985 and was lined up to become a new speedway supremo, effectively running the sport on behalf of the BSPA. A late change of heart by the promoters' association saw the idea scrapped and Berry was lost to the sport. It was a role he would have been ideally suited to - though there would have been many fall outs along the way.
John never lost touch with the sport and in recent years has been a regular columnist in the popular Backtrack magazine. His heavy involvement in the sport made him a great asset to the magazine that covers the 70s and 80s - also Berry's heyday. Indeed the most recent edition of the magazine was dropping onto doormats across the country on the day that Berry passed away. His usual 'leader' article, this time on Polish riders, full of insight and as informed and well written as ever.
He had also made a mark in the world of books. His 'Confessions of a Speedway Promoter' book being highly praised and a big seller, so much so that a follow up was produced. He also wrote a speedway based novel - Sliding into Hell - which was an entertaining read, with thinly disguised characterisations - American Bryce Penrith and 'Crazy Jack' Miller for instance!
Berry had lived in Perth, Australia for many years and leaves a wife (Linda) and son (Alex).
This article was first published on 5th August 2012
---

Ian Goold:

"I was sorry to hear of the passing of John Berry. My family moved to Ipswich from London in 1975 when I was 15. I was a long-time Hackney fan, but continued to attend Witches meetings until the late 1970's, when I drifted away from the sport. John (much like Hackney promoter Len Silver) could certainly polarize opinion upon occasion, but, also like Len, he was clearly passionate about speedway. One Thursday evening in 1976, a friend and I had just set out on the two mile walk to Foxhall Stadium, when a a big car (possibly a Merc?) drew up alongside us. The window slid down to reveal John Berry behind the wheel. He asked us if we were on our way to the speedway and if we'd like a lift? I'd never been in a car like it, my family had a Hillman Imp at the time! As he drove, John asked us for our honest opinions on the track, the team and speedway in general and he gave his full attention to our replies. I told him I missed the exciting racing at Hackney, with it's banked bends which were so great for overtaking and he went into some detail about the problems inherent in preparing a racing surface shared with stock cars, which of course I'd never really appreciated until then. The fact that I still remember that short car journey and conversation 36 years later probably tells you as much about the man and his love of speedway as any other tribute I could offer. The BSPA certainly missed a golden opportunity in 1987. RIP John and thank you for the lift."
Stephen Roberts:

"He will be sorely missed by anyone who had the interest of the sport at heart. He was a great thinker and spoke a lot of sense and his loss will be felt by many. RIP"

[ Use Mobile Version ]

Comment on this Article | Contact Us | Go Back to Main Menu