Dream Team: John Boyd
I started watching Newcastle Diamonds from 1975-2000, Now an armchair fan watching Sky coverage and Grand Prix series.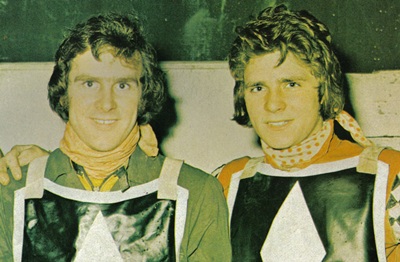 Tom and Joe Owen
Joe Owen
My first speedway idol as an 11 year old, very rarely beaten at home or away, And was still the top National League rider at the time of his accident.
Tom Owen
Newcastle Diamonds legend. A second division superstar, loved as much as Ivan Mauger by Newcastle fans.
David Bargh
A very stylish rider, a novice at 16 then Newcastle's top rider at 19. He had the ability to be world class, A hard rider on the track and a quiet man off it.
Robbie Blackadder
Very entertaining rider, but could be a bit scary to watch when he was behind. Had many exclusions, usually for knocking team mate off.
Darcy Ward
The Grand Prix has moved speedway to another level. He is the best rider I have seen on a speedway bike. I think he will come back stronger after his ban for failing a breath test and if he stays focused he will dominate speedway for the next 10 years.
Tomasz Gollob
Like Darcy Ward a great motorcyclist. If I made a list of the best 10 races ever he would be in about 6 of them.
Ronnie Moore
If you believe what Ivan Mauger and Barry Briggs say about him he must have been a superb rider. This is a rider i wish I had seen ride.
P.S. Peter Collins, Mark Loram, Chris Harris and Kenny Carter just missed out on my team. All bad gaters, but great riders!
Submit Your Own Dream Team
This article was first published on 27th February 2015
[ Use Mobile Version ]
Comment on this Article | Contact Us | Go Back to Main Menu