What if John Louis.....
By Ian Harwood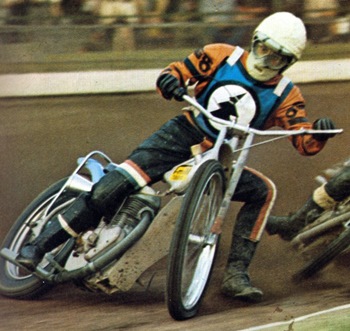 John Louis
We all know what a great rider John Louis was, and although to me, as a Belle Vue Aces fan in the 70s, he and his Ipswich team were the enemy you couldn't help but appreciate his talent and professionalism.
Looking back over my keenest speedway watching years I was reminded of just how late John Louis started his speedway career. When many riders were taking up speedway in their late teens and early twenties, and those from a grass track background were making the transition at sixteen, it seems incredible now that John did not become a speedway rider until he was twenty-eight, having started his competition motorcycling in the world of scrambles. It's even more incredible that in only his third full season of speedway he was finishing fourth in a World Championship final.
I recently began wondering what if John Louis, instead of waiting until an age when many riders have already hung up their steel shoe had first twisted the throttle of a speedway bike a full TEN years earlier.
1959
Its summer and eighteen year old John Louis is a regular in Eastern Centre scrambles and already making his mark. A friend has got hold of an old JAP speedway bike, and suggests they take it down to a nearby airfield for a bit of a skid. Soon John finds he can get the back end out is and carving great arcs on the crumbling old concrete runway. Encouraged by this he attends practice sessions at Norwich and Rayleigh and is invited to take part in some second-half novice races.
Progress is swift, and after a winter of speedway practice sessions and more scrambling John is offered a reserve spot with Rayleigh Rockets of the Provincial League, which he gratefully accepts.
1960

After a halting start, hampered by unreliable machinery, John gets it together and starts piling up the points. By half season he's moved up to third heat leader and is establishing himself as a potential star rider. His solid scoring contributes to Rayleigh winning the Provincial League title.
1961

Steady improvement and new well-prepared machinery propel John to number one in the Rayleigh averages and National League Norwich come knocking on the door.
1962
John joins the Norwich Stars riding alongside former World Champion Ove Fundin. He relishes the big fast Firs Stadium track and is soon racing shoulder to shoulder with visiting top riders like Southampton's Barry Briggs and Bjorn Knutsson, and Belle Vue's Peter Craven. Such is his rapid progress he qualifies as reserve for the World Final at Wembley, but isn't called upon to ride.
1963

John establishes himself as a speedway star and England's second best rider in the averages behind World Champion Peter Craven. Disappointment though in the World Championship as he fails to qualify through the British rounds for the final at Wembley, but is there to see team captain Fundin win a record fourth world crown.
1964

The world of speedway is shocked as Norwich announces that the Firs Stadium will close at the end of the season. Although the track licence is transferred to nearby King's Lynn, John signs for the recently re-established West Ham team for the first year of the new British League the following year. John qualifies for the World Final in Malmo and finishes out of the running with six points.
1965

The World Final casts John firmly into the spotlight as a strong showing results in the third place finish behind Bjorn Knutsson of Sweden and Igor Plechanov of the Soviet Union. John finishes top of the Hammers' averages and qualifies for the first British League Riders' Championship at Belle Vue, and drops his only point to eventual winner Barry Briggs of Swindon. The season ends with West Ham taking the first ever British League title.
1966

John is invited down to Swindon by Barry Briggs to test ride one of his new Jawa speedway bikes that are slowly began to establish themselves as a viable alternative to the traditional JAP. John is impressed by the smoother power delivery of the Czech machine, and convinced by Barry's assertion that bike will go further between major overhauls he puts his name down for two. Within days the investment is starting to pay off as West Ham go to Swindon in a league match with John scoring a maximum and beating Barry Briggs twice in the process. Unfortunately the promised reliability isn't there as machine troubles prevent a decent showing at the World Final in Sweden.
1967
John has another strong season topping the Hammers' averages and again qualifies for the Wembley World Final. Former Norwich team-mate Ove Fundin stretches his record to five titles and John finishes a creditable fifth on eleven points.
1968

More of the same in the league with West Ham but John fails to qualify for the World Final in Gothenburg after breaking his wrist in the British Final. As a consolation he scores ten points for the four man Great Britain World Cup team that triumphs at Wembley.
1969
After again topping the averages in a struggling West Ham team John is joint favourite with Ivan Mauger as the World Final returns to Wembley. On the night Mauger is imperious and John is disappointed to finish off the rostrum in fourth place. As consolation John wins the annual British League Riders Championship at Belle Vue beating Barry Briggs in a run-off.
1970

John qualifies for the first ever World Final in Poland but it's an experience too far as unlike the wily Ivan Mauger he struggles to adjust to the environment and fails to make a double figure score. As the World Team Cup Final returns to Wembley John top scores as Great Britain overcome the Swedish threat lead by Ove Fundin.
1971
West Ham finish in the bottom two of the British League for the third successive season. The frustration clearly affects John's performances. He once more fails to reach the Gothenburg World Final and returns a single figure tally in the year-ending BLRC at Belle Vue
1972
Having run for two highly successful seasons in Division Two, John's home town track of Ipswich is promoted to Division One when they take over the licence of the closing Newcastle. Ambitious Witches promoter John Berry tempts John away from West Ham. The speedway press are shocked that he would leave a capital city team to ride for a small town track, but John sees the writing is on the wall at West Ham as the team is diminished and attendances are falling. As it turns out West Ham closes for good at the end of the season and the Custom House stadium is demolished.
The Ipswich Witches are a revelation, and with a team of mostly young, locally based riders race to a strong sixth place finish in the British League. John qualifies for the World final at Wembley with a top five in the British Final at Coventry. The World Final is a night of shocks as Barry Briggs out gates Ivan Mauger to win heat two, reigning champion Ole Olsen falls in heat four, and Briggs clashes with Bernt Persson in heat five, and seriously injured withdraws from the meeting. John drops points to Mauger and Russian Alexandr Pavlov in the heats but finishes level with Ivan on 13 points.
Refusing to be taken in by Ivan's delaying tactics at the starting gate John sits implacably still and out gates the New Zealand and Belle Vue rider to win the run-off and become the first British World Champion since the late Peter Craven exactly ten years earlier. The crowd goes wild. Even the Belle Vue fans stand and applaud.
And there the imagining stops. We know what John really achieved throughout his career. The facts are there for all to see. Whether he would still have had the appetite with another ten years on the speedway clock we will never know, but my guess is he would. If only fate had taken a different turn.
This article was first published on 10th March 2015
---

Steve Magro:

"A very interesting story on a man I have always admired. To think, John Louis was still scoring very well for Halifax, his final season, when his beloved Ipswich didn't want him anymore. One of the sports stalwarts. "
David Pickles:

"An excellent article by Ian Harwood, which brought back many memories of the early 60's and my beloved West Ham in particular. I like the way it neatly went up to '72 when Ipswich actually took the Hammers licence. Indeed it is fascinating to wonder what would have been achieved by Tiger had he started speedway all those years earlier. Happy days!"
John Hyam:

"That's a very interesting debate in regard to what could have been further achieved has John Louis started his speedway career earlier. I often think the same about Harold MacNaughton (speedway start at 37 years) and Tom Oakley (speedway start at 38 years). Both achieved much in limited careers for various clubs (including Southampton) and also won England test honours in lower level test series circa the late 1940s-early 1950s."
Dean Scott:

"Interesting article on one of my favourite riders of all time who I saw many times through regular spectating at Ipswich and the last 2 years of his career at King's Lynn! Yes it could have happened that way but then again it probably wouldn't have! John Louis had no interest in speedway even after it returned to his native Ipswich in 1969. John only had a go after much persuasion and soon realised he had a talent for it.

A lot of Ipswich speedways success was down to his terrific and quick acceleration through the ranks. I suspect without messrs Thurley and Berrys surprising Ipswich speedway revival in 1969 then John Louis would have never tried speedway and the amazing legacy we still see today at Ipswich with his boy Chris also a similarly successful rider, now running the track, would not have materialised!

I'd be interested to know if John Louis ever spectated at Ipswich when it ran on the outside of where the current track is until it shut in the mid 60's? Had John started riding for Ipswich in the early 60's would the history of the Witches be completely different? Would they have kept going on the big track into modern times? Would one of the best promoters ever seen John Berry, never did become a promoter cause Ipswich speedway wouldn't have needed reopening in 1969? When you look at different events and persons its amazing how different things could of been! "
Robert Rogers:

"The Hammers Management twice try to get John, but both times were told politely but firmly, back-off! There is even a photo of 'Tiger' in Hammers colours when he guested for us once, would be nice if somebody has a copy and could post it on the site."
Dudley Jones:

"A very good piece and one I enjoyed. I remember when John started he seemed almost ancient to me, then a schoolboy. I followed his meteoric rise at Newport and subsequently Ipswich. Reading the article I actually found myself beginning to believe that John might have ridden for Rayleigh in the early sixties before joining Norwich. I watched Norwich avidly for their last two and a half years and feel sure that John would have guaranteed the Championship went to the Firs in 1964/5. Who knows, perhaps the stadium might have carried on. I am equally sure that John would have won at least one World Championship, probably more. Lovely article, it really stirred my imagination."
Martin Rogers:

"John Louis did go to Ipswich as a lad before the pre-Berry/Thurley revival. His dad Jack, later a mechanical wizard who helped JL make the transition from scrambling to the shale, took him and his brother Tony. So yes, he would have seen the old quarter-mile circuit, one sadly buried under the tarmac in the mid 1960s. Sport, speedway and life are all crammed with what ifs, and it was an interesting idea to speculate upon what might have been. What actually eventuated, of course, probably was stranger than fiction. The impact JL made in 1970, 1971 and 1972 in particular has few parallels. And he was still very good value when he rode for me at King's Lynn in 1983 and 1984. "
Sharon Pembroke:

"John Louis is the man who got me interested In speedway! A work colleague used to go to Wimbledon and Hackney and invited me along. I wasn't over keen but she showed me a photo of John in speedway star mag. I was smitten even though I was 17 and he was older and married with two children. Nevertheless that Thursday night he was in an individual meeting at Wimbledon, that night I fell in love with him and speedway. I then proceeded to follow John all over the country and became an ardent Ipswich supporter even though I lived in London. The highlight of my life was on my 18th birthday John snogged me in the Pitts! To this day, even though I'm happily married he is the only man to make my legs buckle!"

[ Use Mobile Version ]

Comment on this Article | Contact Us | Go Back to Main Menu