Riders to Remember: Josef Angermuller
By Peter Heinzl
Josef 'Seppi' Angermuller was Germany's most popular speedway rider at the beginning of the 1970's. Born in 1949 in the Holledau, a world famous hop area in Bavaria, he started his career in June 1968 on the longtrack in Eggenfelden.
Due to his long hair fans and media soon called him the Speedway Beatle. His early results on the speedway track and his popularity aroused the interest of England's Reading Racers and in 1971 he became the first West German to ride in the British League.
He finished the 8 matches for Reading with an average of 3.30. He also was a member of the Olching team, which competed in 3 meetings in England in spring 1972 (at Canterbury, Boston and Birmingham).
In 1973 he qualified for the Continental Final of the World Championship, a rare experience at this time for a German rider! In 1974 he returned to England for a season with the Hull Vikings and an average of 5.11
German speedway magazine Bahnsport Aktuell voted the top 20 german speedway riders and he topped this voting from 1972-1974.
Unfortunately injuries in 1975 and 1976 handicapped his development.
In 1977 he returned to his former Club Olching in the german Bundesliga and his early season results had been very promising ... until his fatal crash on April 24th 1977 in Italy during a world championship qualifying round.
On November 6th 2019 he would have celebrated his 70th birthday. Here are 3 paper cuttings from 1977 when Gerrman papers reported about his fatal crash in Italy.
Click on the image to see it in a larger size.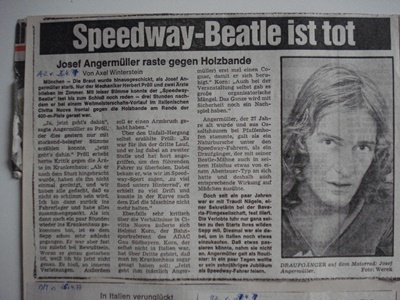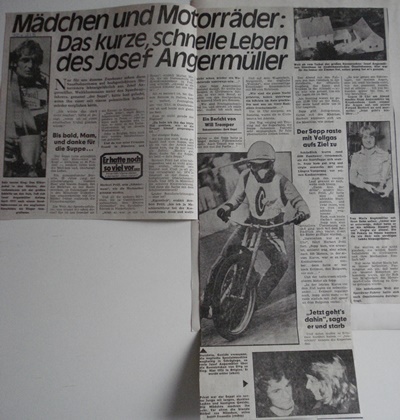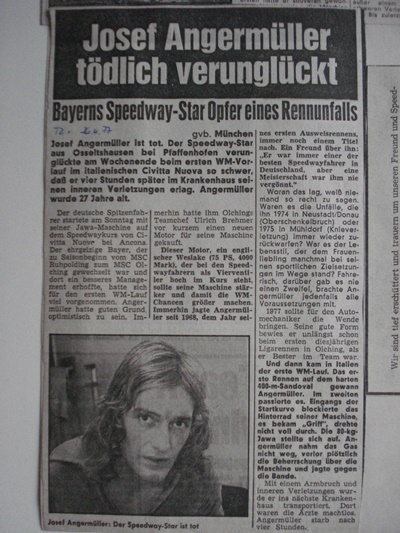 This article was first published on 13th January 2020
[ Use Mobile Version ]
Comment on this Article | Contact Us | Go Back to Main Menu