DVD Review: Kelly Moran Racing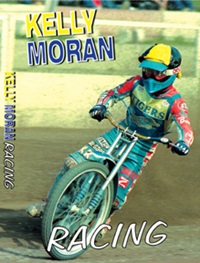 A whole host of Californian riders brought a touch of razzmatazz to the British League in the eighties, with their bright leathers, spectacular racing and outgoing personalities they were welcome additions to the scene. Perhaps the most spectacular of them all was Kelly Moran, the subject of this double DVD from Retro-Speedway.
His rise to fame was meteoric, first arriving in the UK in 1978 to link up with the Hull Vikings and making the world final the following year. Despite still being a teenager he wasn't overawed by the occasion and finished in fourth position, losing out to Michael Lee in a run-off for a spot on the rostrum. There's footage from that '79 final on the DVD and the fact it appears quite so early on merely confirms quite how rapid his progress was.
Other early meetings featured include a World Team Cup qualifier for the US (the infamous wet meeting from Reading) and some action from Hull in the Yorkshire Television Trophy. Sadly, there's no film of him riding in America prior to his arrival in Europe.
After his first world final appearance, he returned home to race in the US final at Anaheim. The footage from that meeting emphasises just how much talent the country could boast at that stage, as he battles with the likes of Penhall, Schwartz, King, Autrey and Sigalos. The riders also wear those peculiar coloured armbands that we'll always associate with the Los Angeles world final a few years later. In these days of air-fences it's interesting to see that straw bales provided the 'safety' barrier for these US legends.
It's unfortunate that Kelly didn't ride in the Sky TV era, he would have been a tremendous favourite with the television audience and the multi-camera HD coverage would have been the perfect stage for displaying his talents. When he's interviewed he always displays an effortless charisma and a great sense of humour. On his move from acrimonious move from Birmingham to Eastbourne he says "problems do arise", with a mischievous grin that hints at there being much more to tell.
He returned to Perry Barr in 1981 to ride in an open meeting and we see him in a terrific tussle with Kenny Carter. On this evidence he must have been a massive loss to the Brummies, not least in terms of the entertainment he guaranteed.
If he was being missed in the Midlands, then the fans at Eastbourne were delighted to have him in their side. The DVD shows us that he was perfectly suited to the tight Arlington circuit, finding lines and space that lesser riders were unable to detect.
There's a lot of film of Kelly in action during the 1981 and 1982 seasons that he spent on the south coast. A good mix of domestic meetings and international meetings - various world championship, world team cup and test matches. In an England v USA test match from Swindon there's another classic race with Carter that ends with a spectacular outside pass by the Californian.
He reached his second world final in 1982, being staged on home soil at the L.A. Coliseum. The final will forever be remembered for Penhall, Carter and Les Collins - leaving Kelly's fourth place rather overshadowed.
He was lost to British racing from the end of 1982 until he returned to join Sheffield in 1986 (joining his brother Shawn in the team). That hiatus does limit the amount of film that was available to the producers of the DVD. They have uncovered recordings of him in handicap action in the states, the kind of novelty action that always seems a million miles away from the serious business of points limits, league tables and team loyalties that we have in the UK.
Despite his divorce from the mainstream speedway world, he was able to make his third (and final) world final in 1984. He maintained his remarkable record of finishing fourth in each of his finals.
By the time he became a Sheffield Tiger, the market for home speedway videos was well established and this DVD benefits from that. We can see him once more in full flight around the pacy Owlerton circuit, where he looks just as comfortable as he ever did around the tiddler at Eastbourne.
There are also a number of remarkable interviews with him from this era, particular one where he bemoans the Tigers' position at the bottom of the league and the lack of support the Moran brothers were receiving:
"Why is it always down to Shawn and Kelly?"
He was also making irregular appearances in his homeland, including the 1988 US final (featured here) which he claims was always the hardest round of the world championship for him and his compatriots. That year seemed a particularly difficult one as it featured five rider races and also included some Canadian riders, for reasons that Kelly didn't quite understand and certainly didn't approve of.
The Moran brothers moved to Belle Vue when Sheffield unexpectedly closed prior to the 1989 season. Kelly spent a little over three seasons with the Aces, remarkably this was the longest service he put in for any of his British clubs. He wasn't a genuine threat on the world stage by this point, though he was a very valuable member of the Aces squad and his interviews continued to be interesting and good fun.
"Kenny Carter used to teach me that any press is good press and it's true, it brings a few more people through the turnstiles"
"It's fun to ride there the first couple of months, but after that it's mayhem it's back home. It's fun to watch but it's a little bit scary to be out there on track".
His British career ended with an injury interrupted spell at Swindon in 1992.
He made a remarkable comeback in 2003, riding in a number of meetings in America. The DVD ends with him riding in one of those at Owego, still showing a fair degree of class and style as he powers to the front of the field.
Kelly died in 2010 after suffering from emphysema, tragically he was still some months short of his fiftieth birthday. A sad end for a man who brought so much pleasure to thousands around the world.
As with their previous productions, the Retro-Speedway team have combed the archives to find the very best footage available of their subject and pulled together an entertaining documentary. The rather fragmented nature of Kelly's career in Europe is mirrored in this production, like us you may have to rewind to check that you haven't inadvertently skipped past 1985 and 1986! He was an interesting character and a great racer and these DVDs do him justice.
"If anyone can, the Jelly Man can, it's Kelly Moran!"
Watch a trailer for the DVD
---
How To Order
By Phone : 01708 734 502
By Post : Send a cheque for £16 (payable to Retro Speedway) (add £3.50 if outside UK) to:

Retro Speedway
9 Nursery Close
Glossop
SK13 8PQ
Online : At Retro-Speedway.com
This article was first published on 28th February 2016
---

Paul Dickinson:

"Thank you for this article on Kelly Moran. I just wanted to mention that there is a wonderful clip that someone has posted on YouTube of Kelly Moran riding at Eastbourne in 1988. I don't think I have have ever seen such sublime control of a Speedway bike and I hope that it is on the DVD , as I will certainly be buying it."

[ Use Mobile Version ]

Comment on this Article | Contact Us | Go Back to Main Menu