Kelvin Mullarkey - 1951 to 2018
By Mark Dell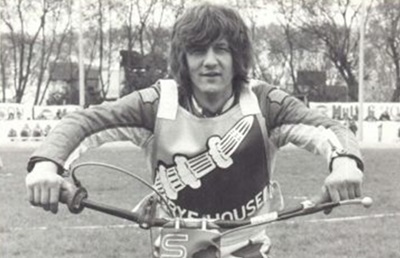 Kelvin Mullarkey
Kelvin Mullarkey, that great Rockets' stalwart and mainstay of the team in the 1970s and 1980s, has died last month at the age of 67.
His career spans the years 1971 to 1990 when speedway was enjoying a boom period of sometimes around 38 tracks in two divisions (although decline was setting in by the end of the 1980s), spread throughout the country, and double headers of 26 heats a regular occurrence to fit in all of the fixtures.
Kelvin's never say die attitude to racing and never knowing when he was beaten was a great advert for the sport and endeared him to the home crowd at Rye House (perhaps not to the away fans though!!). He was a character, a great competitor, a fantastic captain for the Rockets and at times a controversial opponent.
I came across Kelvin's Testimonial programme the other day from 27th October 1985 when he had spent ten years with the Rockets, winning league and cup medals. Len Silver relates the story in that programme of how he signed Kelvin and received a thick ear in the process for doing so!
Len had agreed a fee of £300 with 'Pop' Davis (John Davis' father) who owned Weymouth where Kelvin was riding. Little did Len know at the time, but was to discover shortly, was that Kelvin was not contracted to Weymouth but was in reality a King's Lynn asset. One evening at Saddlebow Road, Len was on the receiving end of a wallop from Cyril Crane, the King's Lynn promoter, for trying to steal his prized asset. Len agreed a fee of £500 for Kelvin and had to stump up an extra £200, which hurt more than the thick ear he said!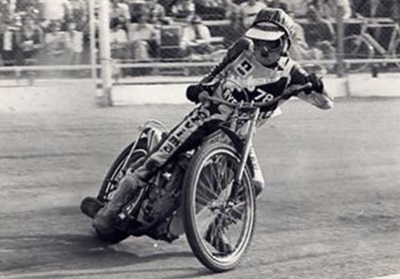 Kelvin the Rocket
Kelvin spent the bulk of his career at Rye, making his debut in 1975, but did ride for other clubs as well, namely Hull, Crewe, Weymouth, Canterbury and Mildenhall in the National League (Division 2) and King's Lynn, Poole and Hackney in the British League. His astonishing record for Rye House totals 406 official fixtures, and between September 1975 and the end of 1982 he did not miss a single match and rode in 295 consecutive league and cup matches, an all time record.
Kelvin achieved his highest average in the Rockets' title winning season of 1980 of 9.29, but still didn't top the averages, with Bob Garrad and Karl Fiala ahead of him. He retired after his Testimonial in 1985, but answered the Rockets' call to return for a few matches in 1989 and 1990.
Tributes have been paid to Kelvin on the Rye House website from fans, his sister Sharon, St John Ambulance and others. Let's hope its not too long before the Rockets are back in action again.
RIP Kelvin Mullarkey.
This article was first published on 28th July 2018
[ Use Mobile Version ]
Comment on this Article | Contact Us | Go Back to Main Menu