Riders to Remember: Ken McKinlay
By Dudley Jones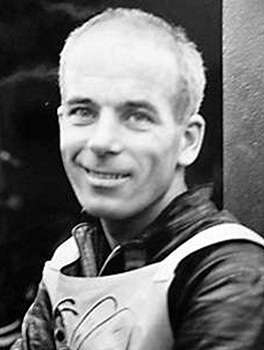 Ken McKinlay
Regular readers of this most excellent e-magazine will know that I first attended what was to be my sport in mid-1962.
They will also know that my team was Norwich Stars and that our bogey team was Coventry (I subsequently married a Coventry lass and supporter - but nobody is perfect).
At the time Coventry were a compact side. They had benefited greatly from the then recent demise of Leicester, in that they had acquired Ken McKinlay as a heat leader from Blackbird Road.
I have to say that, in 1962-4 Ken was a very good rider who we on the terraces at The Firs would rather had not been a 'Bee'. Stylish and always a heavy scorer, Ken played a major part in what seemed to be the team who always took the points away from Norfolk. Ken was perhaps not quite a match for Fundin on his home track, but pretty d*** good.
The passing of Norwich coincided (almost) with my parents trying to make a go of their marriage and moving to Essex (1965 was a time spent in the wilderness for me).
When 1966 dawned, I made the trip to West Ham, to where Ken had moved, as captain of the re-incarnated Hammers.
Custom House, like The Firs, was a big track, where any line could be raced. The trip down the A12 from Chelmsford became a weekly event.
The Hammers had a good side, including Norman Hunter, Brian Leonard, Bob Dugard and a very young Mal Simmons. The captain, I am pleased to record, was none other than the great 'Hurri-Ken' McKinlay.
Now Ken had been about a few years by then, being associated with Glasgow Tigers in the early '50s.
The first thing one noticed was his turn-out. He was always immaculate, shiny leathers, a true professional. The bike was also immaculately prepared, I cannot recall an engine failure.
I was never privileged to enter the pits, but it certainly appeared that Ken was a great captain. It always seemed that Ken was doing everything he could to inspire the younger and lesser members, and one should never under-estimate the extent to which the West Ham treble of 1966 was owed to the Scot. If a team member had a mechanical failure, the McKinlay bike was always wheeled out, and words of support and wisdom were never rationed.
In those days before laid down engines, riders tended to favour 'cow horn' handlebars, and Kens always seemed to be just that little bit higher than the others. He used these to stylishly sweep out of the first bend and into the lead, in a way that was unmistakeable.
Those were magic days. The British League had been formed, the disputes of 1964 were past, and we had great racing.
The Hammers would go on the sweep the board, very much lead by Ken. Mal Simmons would emerge, one evening at Wimbledon, as a star who made a good team great.
On the international scene Ken was a regular choice. I recall several World Finals at the old Wembley, where I really felt that Ken might pull off the greatest triumph of them all. It did not quite happen, but Ken certainly showed, again and again, that he was true world class. If it had not been that his best years were dominated by Fundin, Moore, Briggs, Craven et al then I do believe that we would now look back on Ken as a world champion.
Certainly Ken belongs with the all-time greats of speedway - he was the supreme class act.
In 1968 I left speedway for a while (only to return, happily, to support Rayleigh). Ken spent his final years in the sport helping Scunthorpe, and it is probable that the success of the current Scorpions is, in some small measure, due to this man who I rate amongst the greatest.
I recall that some time ago a correspondent, and relative of Ken asked through Speedway Plus for information on Ken. Let me just say that, if I had been fortunate enough to be related to Ken, then I would be immensely proud - and so should they be. Star, maestro and gentleman, what more could you ask.
This article was first published on 3rd November 2011
---

Bill Elliot:

"Dudley, the defining article on HurriKen-I didn't see him at his peak, but I certainly remember him in his later years as a West Ham Hammer, and then as a Scunthorpe Saint, at all times leaving a team all the better for his time as a member of it!"
Derek Watson:

"Ken is still remembered in his home town and is in the unofficial Blantyre hall of fame in the Blantyre historical website Bla'an'tir's Ain Website "
Jim Henry:

"Scottish Sporting Legends by Robert Philip - fans of Ken McKinlay shouild get a copy of this book."
Geoff Langley:

"In a lifetime of watching speedway I don't think any rider has excited me the way Ken McKinlay did. To watch him was to watch an absolute master-craftsman at work. Only Leigh Adams can be spoken of in the same breath when when we discuss 100% immaculate machinery and immaculate riding styles.

Apart from the things mentioned in Dudley's article Ken was a master tactician who won races with his brain. The classic McKinlay tactic was to sit slightly behind and outside an opponent until the final bend then as the opponent drifted wide to try to shut Ken out on the final run in to the finish, Ken would switch lines in the blink of an eye an slip through on the inside to take the win. He was also the best team rider I have ever seen. These days we tend to measure a riders greatness by his World Championships and Ken was fractionally below that level but as a captain and a team man he ranks among the very best."
Adrian McKinlay:

"Thank you for your insight on dad Dudley. A few things I would like to add on a personal level that is a step away from his league career in England and Scotland. Dad won individual honours that I can't even begin to get my head around, it is to be remembered that he raced from '49 to '75 so it is impossible to tally everything that he acheived.

One thing I do know is that he won the Midland Riders championship 3 times, the first rider to do so and I also know that was a big deal to him. His career in australia from '52 to '72 is also too big for me to comprehend. He won state titles here and also the Australian solo championship in '64 with places in both formats on other occasions. Then there is the England/GB and Lions stuff to consider, he captained and managed those too. Sit down with Nigel Boocock, I think himself and Dingle Brown would give you a true insight into dad, along with countless others.

My biggest thrills are dad collecting me from school one day in Perth (Western Australia) with the jap in the back of the pick up, it was a friday afternoon and we were going straight to the big Claremont circuit for the evenings racing, it was 1971 and I was 8 years old and dad was swamped by the entire school! Chaos... another nice thing that happened a few years ago was John Titman locating the '64 Australian solo championship trophy and returning it to my brother John.

I also have vivid memories of Scunthorpe in the early mid 70s, dad/us driving into the Q.P. stadium with the old jap hanging out off the mercedes 220s and being swamped by fans. Even in later years when we went to Coventry and Cradley as spectators I could never quite get my head around the amount of people who just wanted to say hello to dad, shake his hand and just to think they had seen him. I understand now why people love speedway so much. It's done a lot for a lot of different people, riders and fans alike. Thanks again."
Manuel Mainas:

"Funny enough I work with his son the one and only Adrian Mckinlay he often tells me about his father of course being an avid West ham fan in football Ken sure went to the right team in Speedway."
Bert Harkins:

"As a schoolboy Tigers' fan at Glasgow White City, "Hurri-Ken" McKinlay was my favourite rider. Whilst Tommy Miller was lightning fast from the gate and won most of his races that way, Ken was a notoriously slow gater but almost always came through to win the race. When I think about what a terrific 'Gater' Ken was later in his career, I think that Ian Hoskins must have paid him to miss the gate and give the fans some excitement with his overtaking. "
Diana Ball (nee Carr).:

"I remember Ken from the glory days at Leicester Hunters. I and my classmates from our school spent copious amounts of time at Blackbird Rd during school holidays. Many of us having crushes on the riders. Joy had a crush on Ken. We used to spend our time polishing Leathers. Happy days. I now live just down the road from the new track. "
Ken Naylor:

"I am sure that if the world championship was ever held at Coventry then Ken would have won it . I think I am right in saying Ken won the Brandonapolis more times than anyone and in those days it was a top meeting taking place just after the world final with most of the world finalists taking part. A great rider and a true pro. I remember my first meeting at Blackbird rd and seeing Ken for the first time, it stuck with me for many years. I truly loved Speedway and watching the Hunters, many a great night "
Eamon McDonald:

"In my opinion he was the finest ever to wear the Hunters Bib. Even after he retired he would walk the Terraces at Blackbird Road and chat with the Supporters!"

[ Use Mobile Version ]

Comment on this Article | Contact Us | Go Back to Main Menu