King's Lynn - Part Four
By Ian Davey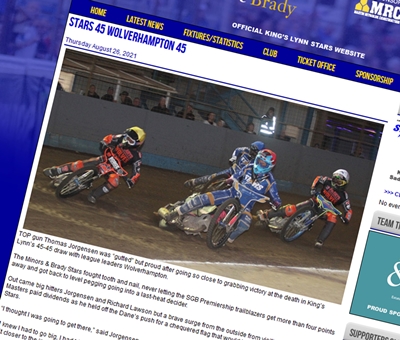 In Part 3 I described a night of slick presentation at the "Adrian Flux Arena" when the Stars took on Belle Vue.
Now in 2021, two years on and Speedway in general had been hit hard by the Covid pandemic in 2020, with virtually no racing apart from a few meetings in March and October.
The new season had started late in 2021, in mid-May, and even then numbers through the gates were restricted for the first few weeks. King's Lynn and the rest of British Speedway needed Covid like a hole in the head.
By the time I got to make my biennial pilgrimage to Saddlebow Road the Stars had been going through tough times and were anchored at the bottom of the Premiership. Humiliating home defeats had taken their toll on supporters' morale. Add to that there were some strange "goings-on", not least the departure of number one rider Craig Cook after two poor meetings. Fortunately the Stars managed to find an immediate very solid replacement in the shape of Richard Lawson who was to prove a reliable heat-leader for the Club, home and away.
Then, not long afterwards, up popped Craig Cook at injury-hit local rivals Ipswich, where he proceeded to show he hadn't become a bad rider overnight, clocking up maximums and proving a thorn in the side of his old club when he came up against the Stars. Other riders not meeting expectations were also shown the door, followed by the sacking of the Team Manager, leading to speculation amongst supporters as to who would be next- the Tractor Driver?
The week preceding my visit there was more controversy when the scheduled match against Sheffield "Tigers" was called off after a lengthy delay because of a wet track deemed unsafe for racing, much to the annoyance of owner "Buster" Chapman, who informed the frustrated crowd that he was putting King's Lynn up for sale. My cousin pessimistically informed me we would be attending to watch another home defeat against league leaders, Wolverhampton.
Such was the backdrop to my visit in late August 2021. I tried to remain optimistic but a miserable night weather-wise didn't help. Wet, windy, freezing cold, the conditions seemed to match my cousin's pessimism, not helped by the news that day that Eastbourne Eagles were withdrawing from all competitions because of insurmountable debt problems.
Suddenly there was a transformation. The bikes started warming up, the heady smell of methanol permeated the night air. It was just great to be at a Speedway track after a two year absence. Stood next to me at the Pits was an 87 year old lady who had started watching the Stars in their original incarnation at Norwich back in 1946 and was now into her 76th season. Both of us would be in for a thrilling night of Speedway.
King's Lynn seemed determined to throw off their underdog status against the league leaders with skipper Lewis Kerr and Eric Riss outgating the visitors in Heat 3 only for Riss to fall inexplicably under no pressure, turning a seemingly sure-fire 5-1 to the Stars into a 3-3. The German didn't score a point all night and this looked like it would prove costly.
Heat 7 saw a terrific battle for second place between Thomas Jorgensen and Wolves' Nick Morris. All looked lost for the Dane who was passed by Morris, but Jorgensen's never say die attitude saw him somehow squeezing underneath his rival on the last bend to secure two valuable points.
The dashing Dane was to prove the star of the night for home fans as he and Richard Lawson both passed Wolves' top guns Sam Masters and Ryan Douglas to take an entirely unexpected 5-1 in Heat 13, bringing a good-sized home crowd to their feet.
Still all square at Heat 15 and Stars fans were already thinking they could pull off an unlikely victory against their more fancied opposition with Jorgensen and Lawson the nominated home pairing. For Wolves Douglas had proved their most consistent performer but Sam Masters had had an in and out night. No matter, wily team manager Peter Adams kept faith with his No 1 who blasted round the outside of the Stars' pair and did just enough to hold off the close attention of the battling Jorgensen and Lawson to leave the final score a 45-45 draw. No win for the Stars but a thrilling end to an enthralling match and a far cry from the humiliating defeat suffered against the same team some three months earlier.
Both teams fielded a full-strength side - no guests, no rider replacement. There maybe question marks hanging over King's Lynn and Speedway in general, but the Stars have a loyal, faithful following and if the Adrian Flux Arena can serve up this kind of entertainment no one will be complaining.
Unfortunately the Stars' final away fixtures saw them suffer further heavy defeats, their cause not helped by a collar bone injury for Richard Lawson putting him out for the remainder of the season. Needing cover for their No 1 at Belle Vue, who did the King's Lynn management turn to? None other than .......Craig Cook, axed to make way for Lawson! This kind of thing can only happen in Speedway.
No matter Lawson, Jorgensen and Kerr have already been signed up for 2022. I'm already looking forward to my next trip to the Adrian Flux Arena.
This article was first published on 7th November 2021
[ Use Mobile Version ]
Comment on this Article | Contact Us | Go Back to Main Menu