Kings of the Road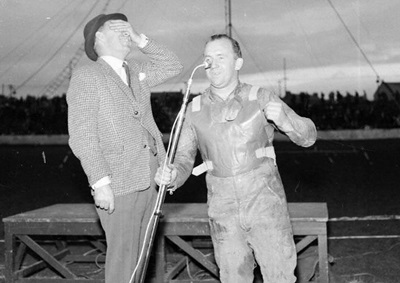 Ian Hoskins and Trevor Redmond
For the professional or aspiring speedway rider, there's an acceptance that spending countless hours driving up and down the motorway is an unavoidable part of the job. Often in a single season a rider will clock up tens of thousands of miles on the roads of the UK alone, plus many more getting to meetings on the continent.
Over the years there have been a number of riders who have opted to take on marathon trips on a weekly basis to get to their 'home' meetings.
One of the most celebrated long distance travellers was Michael Coles who signed for Edinburgh in 1989, despite living in Exeter, a round trip of over 900 miles each week. Coles was determined to improve his small track form having been reared on the massive County Ground circuit in his home town. He'd spent the 1998 season at Mildenhall with that aim in mind and a move to Edinburgh's tricky Powderhall circuit seemed ideal for his development. The extreme travel paid off as he blossomed into a strong all-rounder during his time with the Monarchs.
He eventually returned to Exeter as a number one who could score points at home and away. He never quite lost the travel bug, signing up for long commutes to both Berwick and Glasgow as his long career was winding down.
In more recent times, Ben Barker has taken on even longer trips on a weekly basis. Travelling from his base in Truro to turn out for Berwick, Glasgow and Redcar in the north. It must be a strange feeling to drive past most of the UK's speedway tracks on the way to reaching your final destination.
Bert Harkins pointed out in his recent auto-biography that he spent the early seventies travelling from Scotland to London to fulfil his home meetings, then later in the decade found himself making the opposite journey when he re-joined Edinburgh after he'd belatedly moved lock, stock and barrel down south. Bert never was one to do things the easy way.
When it comes to combined weekly mileage the Glasgow Tigers team of 1964 will take some beating. The Tigers were new members of the Provincial League that year and found that most of the locally based talent had been snapped up by Ian Hoskins and was already turning out for near-neighbours Edinburgh. The Tigers had to scour the country to find enough riders to make up a side and the resultant travel bill must have been horrendous.
Skipper Maury Mattingley was based in far-off Southampton, but was spared the weekly drive north by being permitted to fly to home meetings. This left the small matter of getting his bike to Glasgow, a task that fell to rider/promoter Trevor Redmond who would drive up from London in his car each week.
Chris Julian and Chris Blewett lived even further away, both being based in St Austell in Cornwall and taking on the unenviable drive to Scotland for a few minutes of track action. Even on today's motorways with a reliable vehicle the journey would take over eight hours, god knows how long it took them on the A and B roads in the mid-sixties.
When the Tigers needed some cover later in the season they recruited the experienced Vic Ridgeon to plug a gap. Vic was virtually a local compared to the Cornish contingent, living at Canvey Island a mere 400 miles from Glasgow.
Any more contenders for speedway's Kings of the Road?
This article was first published on 31st December 2018
[ Use Mobile Version ]
---

David Pickles:

"I'd like to nominate "Gentleman" (and he is) George Barclay when he lived in Plaistow, east London, and commuted every Sunday up to Sunderland, around a 750 mile round trip for home meetings. He gave them exemplary service too and I would imagine is still fondly remembered by many in the area. "
Bob Ferry:

"'Gentleman' George Barclay will never be forgotten by Sunderland Speedway and its supporters. A true Gentleman and friend to all."
Colin Hodgson:

"Bob Watts rode for Teesside as a lowly reserve for a short while in the 70s and drove from, I think, Exeter for the pleasure. The fans certainly took to him - he was a trier."

Comment on this Article | Contact Us | Go Back to Main Menu