Long Eaton Speedway Reunion 2011
By Neil Burrows
On 17th June 2011 over 100 supporters and stars of the shale sport of speedway from far and wide were present for the 4th annual and very successful Long Eaton Speedway Reunion at the Soldiers and Sailors Club.
Former riders Sam Ermolenko (former USA Captain, World Pairs, World Team Cup and World Individual Winner and now Sky Sports pundit) and Vic White (Long Eaton Team Manager 1984 National League Winners) along with current riders Chris Widman (Long Eaton and Belle Vue) and Ricky Wells (Wolverhampton and USA) were amongst the riders that were present to turn the evening into a living hall of speedway fame full of nostalgia.
Many happy memories of Long Eaton Speedway were shared as supporters and riders exchanged their stories of years gone by, with Ken Walker (BBC Radio Derby) conducting exclusive interviews with Chris Pidcock, Ken Eyre, Ricky Wells and Sam Ermolenko.
With the addition of a deilicious selection of food available, a memorabilia display, author Ian Gill selling his book Trackin' Down and a screen showing speedway dvds the sights and sounds of Long Eaton Speedway were well and truly back.
At this years reunion there was also an additional exciting attraction where supporters and riders could pit their skills against each other in a 'Gating Skill' competition. This comprised of sitting aboard a real speedway bike and dropping the clutch to see how fast you reacted to the starting lights at the gate. This went down very well and brought out the competitivness in everyone with former rider Phil Whittaker winning the final from author Ian Gill. ,P. Although the reunion is for one night only a year it is a night that is remembered with high regard. "I enjoyed the evening, it went very smoothly" Joe Hughes (former rider), "friendly atmosphere, everyone made me welcome and would like to be invited to future events" Linda Bailey (wife of the late John Bailey (former Long Eaton Team Manager)), "My trip from Sunderland was worthwhile as I thoroughly enjoyed it" supporter Bob Ferry.
Organised by the Long Eaton Speedway Reunion Group, whose chairman is former rider Pete Wrathall, the annual reunion and other social events which are held throughout the year aim to bring the speedway community together to keep the name of Long Eaton Speedway alive and in the process donate all proceeds to a good cause, this year's proceeds are going to St John's Ambulance (Long Eaton Division) and the spinal unit at the Royal Derby Hospital.
"The committee are overwhelmed with the amount of support that the reunion has received. We are very grateful to all the supporters and riders for attending and I'm sure that our chosen benefactors from this years reunion will echo those sentiments" stated Peter.
For future event information held by the Long Eaton Speedway Reunion Group please contact:
Peter Wrathall
Tel: 01332872187
Mob: 07970419170
Email: wrathall39@tiscali.co.uk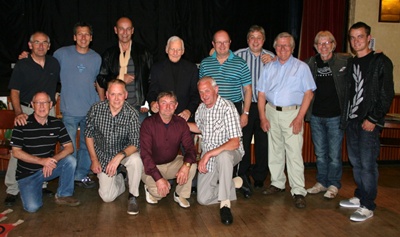 The riders line-up, standing (left to right): Geoff Bouchard, Sam Ermolenko, Paul Evitts, Vic White, Gerald Short, Chris Pidcock, Joe Hughes, Ken Eyre, Ricky Wells. Kneeling (left to right): Ian Teale, Phil Whittaker, Peter Wrathall, Rod Haines.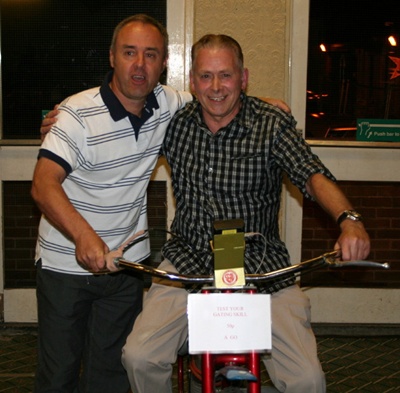 Finalists of the Gating Skill competition: Ian Gill (left) and Phil Whittaker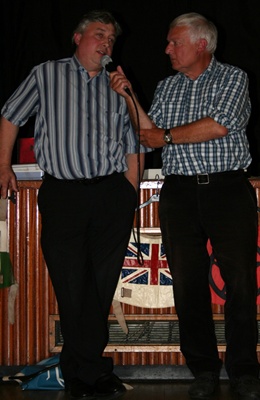 Ken Walker (right) interviews Chris Pidcock.

Speedway for Dummies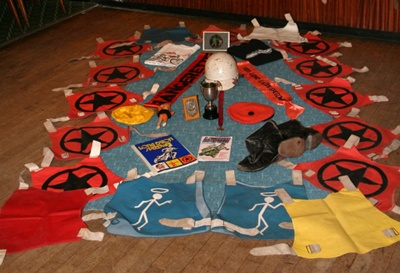 Memorabilia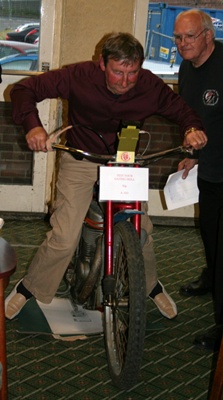 Peter Wrathall gets ready to drop the clutch.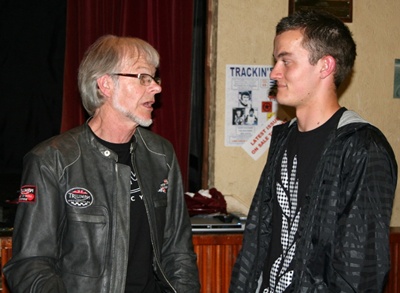 Ken Eyre (left) chats to Ricky Wells.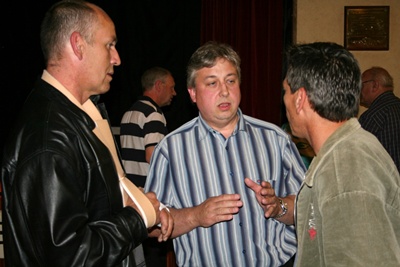 Chris Pidcock (centre) chats to Paul Evitts (left) and Sam Ermolenko.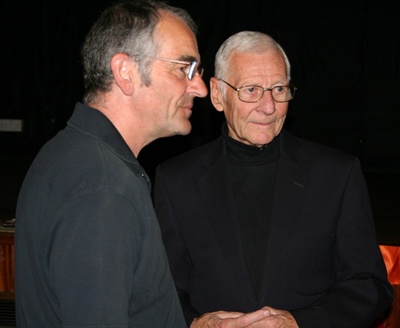 Geoff Bouchard (left) and Vic White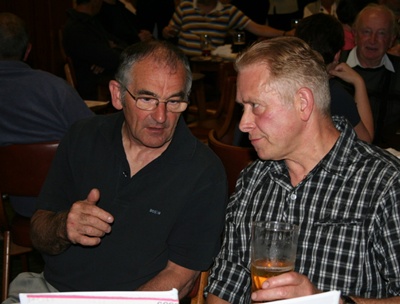 Geoff Bouchard (left) exchanges stories with Phil Whittaker.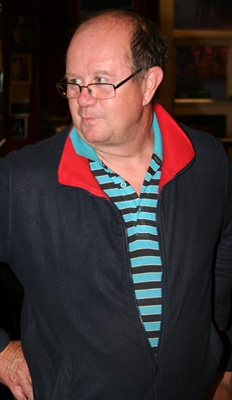 Gerald Short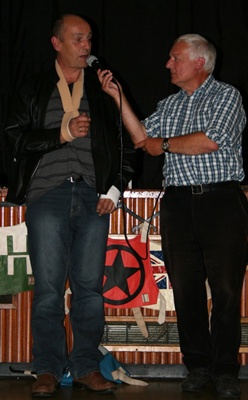 Ken Walker interviews Paul Evitts.
---

Bill Elliot:

"Loved the article on Long Eaton's reunion. Organising something similar for the Paisley Lions on 22 October and it was great to hear about the various bits and bobs about memorabilia, the invitees, interviews, and the like-think it would be a lot of help for anyone organising such an event. "
Ivan Blacka:

"Looks like Ian Gill could make a good Speedway rider after all. But the real credit has to go to Sam Ermolenko. He shows up year after year to these reunions. Maybe the great Ivan Mauger should learn a thing or two from Sam and do some reunions to boost the sport. That's what it's all about isn't it? Boosting the sport.. "

[ Use Mobile Version ]

Comment on this Article | Contact Us | Go Back to Main Menu