Long Eaton Reunion 2013
By Neil Burrows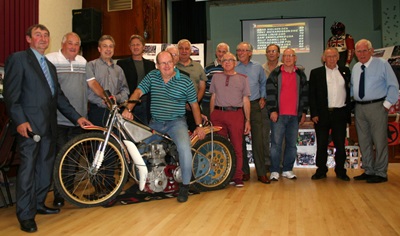 Rider and officials line-up (left to right): Peter Wrathall, Ian Wilson, Chris Pidcock, Steve Cook, Gerald Short (on bike), Vic White (partly hidden), Martin Widman, Rod Haines, Roger Mills, Norman Hunter, Steve Yorke, Ian Teale, Tony Mole, John Turner.
Despite the rain that fell throughout the day there was one speedway event that was not going to be postponed due to the weather and that was the eagerly awaited Long Eaton Speedway Reunion which was recently held at a packed Silver Prize Band Social Club.
With riders and officials representing eras from the vintage to the modern age of speedway present, exclusive interviews, a memorabilia display, a screen showing dvds and a delicious selection of food available, a 'Gating Skill' competion and the opportunity to reunite old friendships, supporters of the shale sport had much to indulge their passion.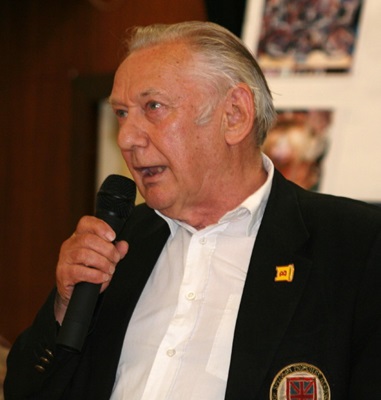 Former promoter Tony Mole
Many happy memories of Long Eaton Speedway were shared amongst everyone that attended with guest host Mark Mason (former Long Eaton speedway announcer) conducting the evening which included exclusive interviews with Norman Hunter (former rider) and Tony Mole (former Long Eaton promoter 1991-97). Tony commented: "We had good seasons attendance wise, we finished second in what was to be the last season of racing in 1997 and it was very disappointing when it closed down despite the efforts made to keep the speedway going. I do wish everyone well in your efforts to find the allocation of land needed to get speedway back within the Long Eaton/Nottingham area, thank you for inviting and listening to me this evening."
Ian Gill gating his way to victory with runner-up Jordan (nearest camera) looking on.
The 'Gating Skill' competition went down very well, with many people being given the chance to sit on a speedway bike for the very first time and drop the clutch as you would do in a real race to see how fast your reactions are. Author and amateur speedway rider Ian Gill was back to try and go one better than when he finished runner-up in the 2011 competition, now with riding skills of his own having taken up riding speedway in the past year, he was very eager to see if he could take the title. And this he did as he edged out young speedway fan Jordan in a close and tense grand final.
The reunions are held in high regard with a growing reputation of being a night not to be missed, long time speedway fan Paul Kaye added: "It's been a good and pleasant evening, seeing everyone again and being able to reminisce I would say that it's gone well. Let's have another one."
Organised by the Long Eaton Speedway Reunion Group, whose chairman is former rider Peter Wrathall, the annual reunion and other social events which are held throughout the year aim to bring the speedway community together to keep the name of Long Eaton Speedway alive and in the process donate all the proceeds to speedway related charities.
Peter enthused: "The level of support and generosity of the speedway community is incredible, that was proven tonight with an amazing turn out and even the winner of the cash prize in the raffle donated the money back to the charities that we support. On behalf of the committee I would like to thank everyone for attending, the evening was a rip roaring success."
For future event information held by the Long Eaton Eaton Speedway Reunion Group please contact: Peter Wrathall Tel: 01332872187, Mob: 07970419170, Email: wrathall39@tiscali.co.uk, Website: www.longeatoninvaders.co
This article was first published on 7th July 2013
---

Danny Norkus:

"I'll forward the link for this to my cousin Rim Malskaitis in New Zealand. Rim rode for Long Eaton in the mid 1960s. I visited him in 2009. He's well and still racing motorbikes. He lives in Auckland. "

[ Use Mobile Version ]

Comment on this Article | Contact Us | Go Back to Main Menu