A Late Night Ride at Hyde Road
By John Porteous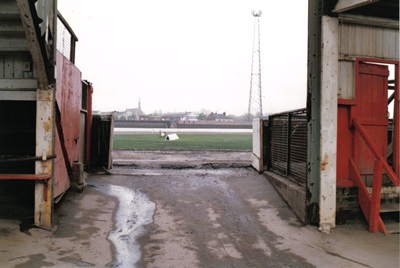 Hyde Road - Manchester
On Saturdays between 1964 and 1973, we used to go to Old Trafford in the afternoon then onto Hyde Road in the evening. When I was about 16 or 17 myself and two mates, Barry and Steve, used to go to the Aces social club inside the stadium. It was opposite the starting gate and we played snooker and table tennis.
If my memory serves me well, we'd ride down on our trials bikes and scramblers, and one night when we came out of the club we saw that half the lights were on around the track. We started our bikes up and then got onto the track as there was an open gate near where we were. The three of us did three laps each flying round the track, we were all in top gear on the bikes and we could already do broadsides as we learnt on St Dunstans cinder football pitch in Moston. It was superb, there can't have been many who have done what we did that night. Thank goodness none of us came off.
Myself and Barry had DOT scramblers and Steve Burns had a Francis Barnet, which was a horrible looking bike, but it never broke down. We all got a right rollicking the week after when we visited the club as usual.
We had fantastic times on those bikes, I could write pages and pages of times on those bikes we all had.
There used to be about eight of us who had trials bikes and scramblers in Moston, one time we went to Halifax to see the Aces on our bikes, and when the meeting was over, I found that someone had nicked my lights off my bike! I had to ride back over the tops with no lights, with me in the middle of the two others just following the lead bike's lights, my eyeballs were popping out when we got back to Moston!
I can't remember what happened to my DOT scrambler, after that bike I bought a Cotton Trials bike off Kenny Robinson. It was a brilliant bike, the gears were so low it could climb Everest if I asked it to. I also had an OSSA, rubbish on the road though, as its top speed was about 40MPH, but then we never rushed about in those days.
I hope that some of the lads from those days may read this. There was Barry Marshall, Steve Burns, Kenny Robinson, Jim Macgrogan, Graham Butcher and one or two others who had these grand bikes, those were the days!
I've not been to Belle Vue a lot at the greyhound track, it's just not the same as the old place, but I can't wait until the new stadium is built.
This article was first published on 5th July 2015
[ Use Mobile Version ]
Comment on this Article | Contact Us | Go Back to Main Menu