Long Eaton Speedway - 30th Anniversary Reunion
By Neil Burrows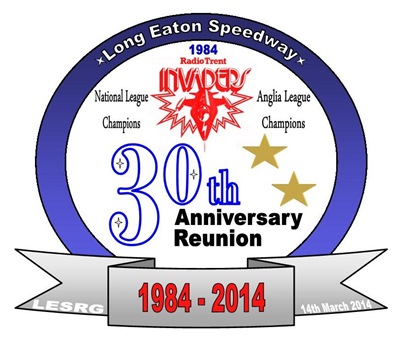 The Long Eaton Speedway Reunion Group are proud to present an evening to mark the 30th Anniversary Reunion of the 1984 National League and Anglia League championship winning teams. It is being held on 14th March 2014 at the Silver Prize Band Social Club, 11 Salisbury Street, Long Eaton, Nottingham. NG10 1BA at 7.30pm.
1984 went down as Long Eaton's most historic speedway season when not only did they win one but two league championships, bringing home both the senior and junior titles with a blend of youth, experience and team spirit that was second to none.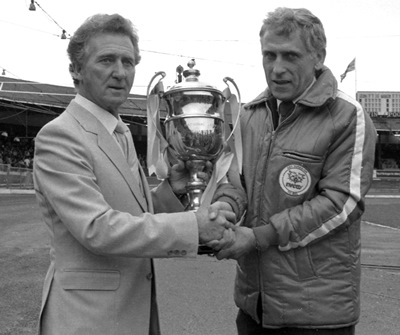 John Turner (right) being presented with the 1984
championship trophy by National League
chairman Danny Dunton
The National League team, which was managed by Vic White and captained by the experienced Dave Perks, contained the likes of locally born Chris Pidcock and the exciting raw talent of David Tyler along with Graham Drury, Miles Evans, Paul Stead, Mark Stevenson and John Frankland.
Geoff Langmaid managed the Anglia League team to success which contained the exciting youthful talents of David Tyler, John Proctor, Derek Cooper, Mike May and Phil Ricketts.
Riders and officials from that history making season will be gathering together again for one night only to mark a very special anniversary where they will be reflecting on their memories and there will also be the opportunity for fans to ask questions.
The host will be Ken Walker (BBC Radio Derby) and everyone is invited to come along to what will be a night of nostalgic celebration.
Entrance fee: Adults: £3 Children: Free
Souvenir programme (limited edition): £2
Raffle: £1
All proceeds from the evening will go to speedway related charities.
For further information on this or future events please contact Peter Wrathall Tel: 01332872187, Mob: 07970419170, Email: wrathall39@tiscali.co.uk or visit www.longeatoninvaders.co
This article was first published on 26th January 2014
[ Use Mobile Version ]
Comment on this Article | Contact Us | Go Back to Main Menu