Magnificent Magnus
By Leandra Graves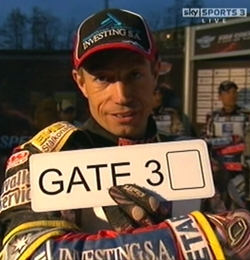 Zorro Goes for Three
Veteran Magnus Zetterstrom produced a stunning display on a very wet night in Gothenburg to reach the semi-finals of the Speedway Grand Prix! Whilst others around him failed to handle the difficult track conditions, Zorro shone and had without doubt one of the best moments of his career. After the meeting he revealed how pleased he was with his performance.
"I am satisfied with my night. I feel like a winner!"
To many, he was considered not worthy of his SGP place for 2010 even though he had earned it by winning the GP Challenge last September. The bookies were making Zorro a rank outsider with odds of 200/1 to win GP's. After his first GP in Leszno, where he had scored four points, including a heat win, he had already silenced some critics.
"I'm not racing to prove the doubters wrong, but it's certainly nice to ride like this and show everyone that I do belong to be here, riding with the best in the GP's."
At the Ullevi Stadium, the Eskilstuna star rode like a man possessed. He was lightning quick away from the gates and after three rides from everyone, his name was at the top of the scoreboard!
The crowd was electric, knowing their home rider had roared through to the semi-finals. The Swedish flags were flying high despite the atrocious weather and the fans were happy with some may say the surprise performance of the likeable Swede. He was watched on by his two children Kevin and Sandra, both who surely would have been very proud of their father on the big stage of the SGP series.
The dream didn't continue however for the 38 year old. As the rain stopped, Zorro was off the unfavoured gate two in his last two heats, which had only secured one victory all night. He failed to score points from either race, meaning he had one of the last gate picks in his semi.
"There was so much material on the track at the start, gate two was just impossible to do anything with."
The night ended with third place in the semi-final after Tomasz Gollob had found a way past the Swede. "I was pretty good in the beginning of the race but I couldn't keep Gollob behind me."
Finishing with nine points in front of a patriotic crowd was an amazing achievement, one he was not at all disappointed with. He took the applause from the ecstatic supporters after his final race and enjoyed every moment.
The Gdansk and Indianerna racer now has 13 points in the World Championship and lies 13th in the standings. He's also ahead of his fellow countryman, Freddie Lindgren.
This article was first published on 10th May 2010
---

Ewen Nicolson:

"Good on ya Zorro! Don't tell anyone, but the old buggers can still mix it......... ;) A very, very classy rider who slayed me back in '07 at Ashfield when he rode for Somerset. Nobody likes to see their team beaten at home, but Magnus was in a class of his own that night, even against King of Ashfield, Shane Parker. Keep proving them wrong Magnus, at last a reason to keep an eye on the GP's....."

[ Use Mobile Version ]

Comment on this Article | Contact Us | Go Back to Main Menu