Holder - I'm Still Speechless
By Leandra Graves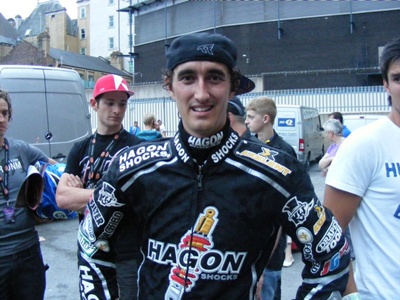 Chris Holder at Cardiff
Picture by Graham Cooke
After the biggest moment of his career, realisation has yet to sink in for Chris Holder. After standing victorious at the Millennium Stadium, Cardiff, in front of 40,000 passionate fans, the moment he had dreamt of since childhood, had finally become reality.
The talk before the series had featured on what could this young Australian do? Exciting and fearless, it seemed he was likely to step up and be considered a contender for the top 8. After the accident in Torun where at first, it appeared he had a broken arm, it looked like he may lose serious points in the championship. However, a typical tough Aussie, he battled on and achieved more than many people expected at only his fifth GP!
A special moment for the 22 year old, watched on by his family. Unfortunately the celebrations that night were not going to be legendary, with a Polish fixture the following day!
He appeared lost for words in the post meeting conference and it was left to the elder statesmen, Jason Crump to do all the talking! It was nice however, to see a rider so ecstatic with taking his maiden victory as he said "I never wanted to leave the track, I could have stayed doing wheelies all night."
The happiness amongst the whole SGP paddock was clear to see with so many riders joining in the celebrations and congratulations after the meeting. Clearly, a very popular winner and great for the sport too.
A week after the event at a vital fixture for his club Poole, in Elite League action at Peterborough, he said, "I'm not back to earth yet. It was such a big night for me. I still shake my head when I'm reminded now. I just want to make sure I stay in the top 8, be consistent and move on from Cardiff. It can be so easy to drop back down the table so I mustn't let that happen."
He admits he was bowled over by the fanatical support in the GP. There may have been no Brits' to cheer on in the rostrum but the noise when Holder crossed the line, was electrifying. "The crowd went crazy. It was awesome. I was so lucky to have my first win there."
Holder thinks Gollob has the edge on this year's title chase. "The points are still close, though Hampel and Gollob have edged away at the top. Both the Poles are so good but Gollob has ridden unbelievable in the GP's as well as the Polish league. Hopefully, for him and his army of fans in Poland, he will win the championship, he deserves it."
Now there is the summer break in speedway from the GP's and attention moves to the annual world cup event. The Aussies will be racing at the Norfolk Arena, Kings Lynn against home favourites Team GB! They will be without their leader Jason Crump and also ex GP star Leigh Adams.
"I've not rode at Kings Lynn for two years. We will miss our two big guns. Just us young ones will have to go out and do the job. I don't feel there will be so much pressure on us. We will just enjoy it. Without the World Champion riding in our team, we are the underdogs, so we will have a go."
Holder will be racing alongside best friends and Poole stars, Darcy Ward and Dave Watt along with Peterborough stars Troy Batchelor and Rory Schlein. This surely will be an entertaining event with plenty at stake to reach the final in Vojens, Denmark.
This article was first published on 22nd July 2010
[ Use Mobile Version ]
Comment on this Article | Contact Us | Go Back to Main Menu