Leningrad Neva Visit Britain in 1968
By John Hyam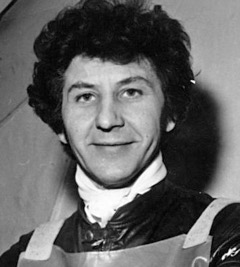 Maximum Man - Cyril Maidment
A FIRST for British racing came in 1968 when a Russian club side raced against Belle Vue on Saturday July 27 1968, then the following Tuesday were in action at Leicester.
But it was no fairy tale trip for the Russians - minus top rider Vladimir Smirnov. The riders from the Leningrad Neva club went down 48-30 at the old and much-loved Hyde Road track, then were completely outsmarted 60-17 at Leicester where only Anatoli Belkin won a race for the tourists.
The tour was something of a mish-mash in its arrangements, largely billed as a return for Belle Vue's 1967 racing trip to what was then the Soviet Union. And it was also inter-linked with Belle Vue's 40th anniversary and a vague arrangement with a 1968 tour of Britain by the Russian State Circus.
At Belle Vue, the Russians started strongly and scored a 5-1 in heat two through Gennnady Vyonov and Belkin. But sadly the Russians had a long tail that refused to wag. Three riders - Vyonov (9), Yuri Lambotski (7) and Belkin (7) scored 23 of their total. Belle Vue riders scored heavily with Cyril Maidment and Tommy Roper recording 12 point maximums.
At Leicester, the Russians luck ran out in the second race when Vyonov crashed heavily, suffering a shoulder injury which forced him out of the match. With Leicester in full command after that, Belkin's eight points was nearly half the Russians overall total. His seven team mates managed just nine points between them.
Maybe that shattering of the Lenningrad team was to have been expected. Leicester then had a formidable side which included such stalwarts as Anders Michanek, Ray Wilson, John Boulger and Norman Storer.
This article was first published on 3rd March 2018
[ Use Mobile Version ]
Comment on this Article | Contact Us | Go Back to Main Menu