Les Wheeler
A 'Can You Help?' Special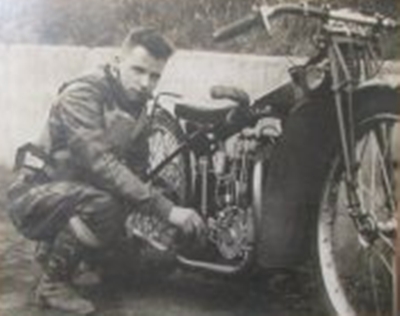 Les Wheeler
John Wheeler is searching for information on his uncle Les Wheeler.
Les was originally from Coventry but is believed to have been associated with New Cross.
John takes up the story and has a rather sad tale to relate:
"I'd be absolutely delighted if there's anyone out there who can shed some light on Les's time at New Cross. "
"I believe he won the New Cross Supporters Trophy in 1934. I can remember this cup from my childhood - a very handsome thing with a leg-trailer in silver on the lid. My mother was conned into selling this to a "knocker" many years ago in Coventry when she was quite elderly and completely failed to realise the historical value of the cup. I was horrified when I learnt what she had done but by then it was far too late to do anything about it of course. I often wonder what happened to it - I rather suspect that it would have been melted down - an absolute tragedy!"
If you can help John with information or photographs then please contact him via email - john@hummel.plus.com
This article was first published on 18th March 2010
[ Use Mobile Version ]
Comment on this Article | Contact Us | Go Back to Main Menu