A Letter from Maurice Stobbart
An interesting collection of sporting memorabilia has recently appeared on the Ebay auction site. This includes a number of letters written by speedway personalities to a collector who was seeking autographed photographs and the likes:
The seller explains:
"I have been fortunate enough to have been asked to dispose of a superb collection of memorabilia. The original owner, a gentleman from the South of England, sadly recently passed away. Over a period of more than 30 years, he amassed a huge collection of items, most of which have been personally signed. These were obtained mostly by post. At the height of his collecting, he was writing 50 letters a day."
It seems as if many of the speedway riders he wrote to were only too happy to send replies.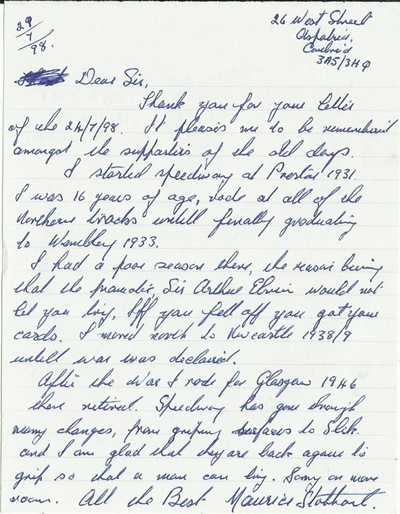 Click to see in larger size
One of the letters was written by Maurice Stobbart, one of the famous Cumbrian racing brothers. From his Aspatria home in July 1998 he wrote:
Dear Sir,
Thank you for your letter of the 24/7/98. It pleases me to be remembered amongst the supporters of the old days.
I started speedway at Preston 1931. I was 16 years of age, rode at all of the Northern tracks until finally graduating to Wembley 1933.
I had a poor season then, the reason being that the promoter Sir Arthur Elvin would not let you try, if you fell off you got your cards. I moved north to Newcastle 1938/9 until war was declared.
After the war I rode for Glasgow 1946 then retired.
Speedway has gone through many changes, from grippy surfaces to slick and I am glad that they are back again to grip so that a man can try.
Sorry no more room.
All the Best
Maurice Stobbart
You can see a number of other hand-written letters from former speedway stars by looking at the seller's items on Ebay.
Other riders who sent letters include Joe Owen, Eric Boocock, Eric Hockaday, Ray Bales and Norrie Isbister.
This article was first published on 4th June 2017
[ Use Mobile Version ]
Comment on this Article | Contact Us | Go Back to Main Menu