DVD Review: London Speedway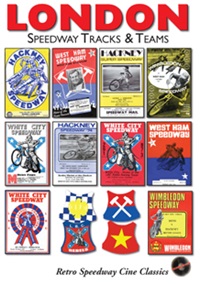 For many years London was the epicentre of the speedway world, with some of the sport's largest and grandest stadia playing host to huge crowds and the world's best riders on a weekly basis. Over the years that powerbase gradually faded away and now you'd be stretching credibility to claim that you can still watch speedway in London at all.
Thanks to Tony McDonald and Retro Speedway we can now relive some of those great days through "London Speedway Tracks and Teams" a new double disc DVD set.
A lot of the film included is recently discovered footage, Tony explains:
"It's great that Jim Goddard could capture this rare and unique footage, using standard 8mm film. It's marvellous that he's helped preserve many happy memories that we're still able to share. It's true that much of the footage is grainy and the riders are not easy to recognise, but it's rare, it's raw and it's retro."
Tony himself provides an informed and entertaining voiceover, letting us know who is riding and adding colourful description on the context of the meeting or about the riders themselves.
Starting in the 60s we see Ronnie Moore and Peter Craven in colour as Belle Vue visit Wimbledon. That's closely followed by the USSR's clash with Great Britain at Plough Lane in 1965. There are also two Wimbledon v West Ham meetings included from that same season. The first of these was the highlight of Malcolm Simmons' time as a Hammer, dropping only one point and also claiming the silver sash in the second half.
From 1966 we start to see a wider variety of circuits with meetings from Hackney, West Ham and Rye House also included. The West Ham footage is particular interesting with the Hammers wearing Hi-vis Orange vests under their racejackets, an interesting experiment from Dave Lanning. We also get to see their Custom House stadium in its full glory, with fans packed into the stand on the back straight. The meeting at Rye House is an interesting clash between Rye House Red Devils and West Ham 'B'. The West Ham side able to call on the services of Clive Hitch who notches up an impressive 12 point maximum.
The jewel in the crown of London's speedway was undoubtedly Wembley Stadium. During the sixties it didn't host league racing but was still used for the very biggest meetings. We see film from the 1967 World Final practice and from the final itself.
On our next visit to West Ham in 1968 we can see that back straight stand has been demolished, the first step towards the stadium being totally flattened a few years later. The meeting is a World Championship Qualifier round, followed by a similar round from Hackney just three days later.
The 1968 visit of Newcastle to West Ham is also included, allowing us to see both the legendary Ivan Mauger and Ole Olsen in Diamond's colours.
1969 sees Coatbridge Monarchs visiting West Ham and film from the World Final practice at Wembley. Ronnie Moore is wearing a cast on his leg but determinedly lapping the circuit in his usual style. There's also great film of Nigel Boocock in his famous blue leathers.
In 1971 we're up in the East Midlands for a battle of the Lions as Wembley visit Leicester. This was the second and final year of the Wembley revival. Bert Harkins, Brian Collins and Dave Jessup are to the fore for the visitors. Jessup would become a popular Leicester Lion the following year.
The 1973 International tournament has become a thing of legend and it's good to see some action included on these DVDs. The venue is Wembley as Great Britain take on Sweden.
We see a couple of meetings from Oxford in 1974 as both Wimbledon and Hackney take on the home side. Barry Briggs, back from a self-imposed exile from British racing, is still good enough to lower the Cowley track record.
From that season there's also a GB v Poland test match from Hackney included. It couldn't really be described as a nail-biter with the Brits racking up 5-1s in each of the first 16 heats. The visitors eventually lose by 88-19 after the 18 heats have been completed. Good to see the film nonetheless.
The first disc finishes in 1975 with the world's best competing for a new bike at the Internationale at Wimbledon.
In 1976 we get our first look at White City, reopened as a suitable home for some of the biggest meetings. There's World Team Cup action with an excitable female spectator screaming "C'mon Phil" at the top of her voice to encourage Phil Crump in his endeavours. A number of the clips on the second disc included the sounds of fans loudly cheering on their favourites, something that is much less noticeable at modern day speedway, perhaps because you feel less self-conscious shouting in a large crowd.
Action from 1977 includes Wimbledon's visits to Belle Vue and White City. Best of all is the famous visit of White City Rebels to Wolverhampton, where the London side clinched the league title. We see some action from the meeting, featuring Hans Nielsen as a young Wolf, along with the celebrations that followed. A great day for the Rebels and the first time in 12 years that the league trophy was taken back to London.
1978 was the Golden Anniversary of British Speedway and the season opened with a celebration meeting at Hackney. Tony McDonald shares some interesting first hand memories of the day and there's great footage of a match race between Jack Parker and Malcolm Simmons. Again the sound of an enthusiastic supporter adds to the entertainment, clearly frustrated by Simmo's inability to pass the pensionable Parker.
Another highlight from '78 is a Mildenhall v White City meeting. Steve Weatherley picks up a maximum for the visitors, despite the efforts of Bob Coles for the Fen Tigers.
We skip forward to 1981 after that, with film from the practice at the last ever World Final at Wembley. That meeting has attained legendary status and it's great to see some of the preparations that led up to it.
By 1982 the VHS revolution was well underway and enterprising companies were beginning to record speedway meetings for home viewing. This allows us to see a number of meetings from Wimbledon which feature commentary.
The mid-eighties are represented by a couple of controversial meetings between Berwick and Hackney. Hackney were in their Kestrels phase at this time, courtesy of Terry Russell moving his operation over from Crayford in 1984. The 1986 clash at Berrington Lough was particularly fiery, with Andy Gavin parking his bike in the middle of the back straight during a race, unhappy that Paul Cooper hadn't been disqualified for an earlier incident. With characters like Russell and Davie Fairbairn in the pits the aftermath was predictably entertaining.
1989 is the last year covered by these DVDs. There's action from Arena Essex as they entertain Wimbledon, featuring Roger Johns and Ray Morton amongst others. Then we're back to Wimbledon to see the Dons in action against both Eastbourne and Ipswich. The Dons were promoted by Russell Lanning at the time and he recruited father Dave to commentate on the racing over the stadium PA, we can hear snatches of that as the action unfolds. We also see Todd Wiltshire and Mark Loram competing against each other, both taking early strides on their way towards the World Championship rostrum.
It's fitting that the DVDs end in the 80s, there really wasn't much great speedway in the capital beyond that point, with both Wimbledon and Hackney closing their doors in the next couple of years. Short-lived revivals at both circuits in later years aren't recalled with much fondness.
Will we ever see speedway in London again? At the time of writing it seems highly unlikely, so perhaps all the more reason to enjoy these DVDs and wallow in a bit of nostalgia.
---
How To Order
By Phone : 01708 734 502
By Post : Send a cheque for £16 (payable to Retro Speedway) (add £2.50 if outside UK) to:

Retro Speedway
9 Nursery Close
Glossop
SK13 8PQ
Online : At Retro-Speedway.com
This article was first published on 31st October 2018
[ Use Mobile Version ]
---

Bill Dutnall:

"As a Londoner at one time there were so many tracks to visit. Alas not even Rye House or Lakeside are now operating. (Hopefully RH will revive with a more realistic management). It was a great opportunity to see riders like the late great Ronnie Moore. Memories flood back thinking of the period.

My personal favourite was George Newton; past his best by then through serious ill health but for excitement unequalled in my experience. A leg-trailer, of course, along with Oliver Hart and some others I can't recall. (Incidentally am I imagining things or is leg-trailing making a come back?).

Orthadox riders that come to mind are Jack Parker (and his match race pension), Vic Duggan the King of Harringay, ruthless Tommy Price who would make Nicki Pedersen look like an angel. Bill Kitchen the ultimate team man, the immaculate Jack Young, Bruce Abernethy with his scary face mask, spectacular Alan Hunt.

It would be interesting to add to the list but the brain isn't what it used to be. Any suggestions please?"

Comment on this Article | Contact Us | Go Back to Main Menu