Long Eaton Reunion 2010
The recent 2010 Long Eaton Reunion attracted over 100 people and it turned out to be a very enjoyable evening. Prospective Leicester director Sam Ermolenko was amongst those in attendance. Neil Burrows was one of the organisers and reports from the event.
The riders line up, left to right: Dai Evans (partly hidden), Phil Whittaker, Geoff Langmaid (partly hidden), Col Smith, John Hart, Barry Wilson, Ray Wilson, John Boulger, Norman Hunter, Roger Mills, Joe Hughes, Vic White, Mick Handley, Geoff Bouchard, Steve Waplington, Sam Ermolenko. Kneeling left to right: Graham Plant, Peter Wrathall, Ian Teale. On bike: Ken Vale.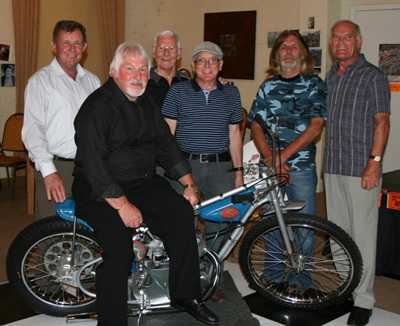 Former Leicester Riders left to right: John Boulger, Ray Wilson (on bike), Vic White, Roger Mills, Graham Plant, John Hart.
On 4th June 2010 over 100 supporters and former riders from far and wide were present for the 3rd annual and very successful Long Eaton Speedway Reunion at the Westgate Suite, Long Eaton.
Former riders John Boulger (former Australian World Pairs runner up), Ray Wilson (former England Captain and World Team Cup winner), Sam Ermolenko (former USA Captain, World Pairs, World Team Cup and World Individual Winner and now Sky Sports pundit) and Vic White (Long Eaton Team Manager 1984 National League Winners) were amongst the former riders that were present to turn the evening into a living hall of speedway fame full of nostalgia.
Many happy memories of Long Eaton Speedway were shared as supporters and former riders exchanged their stories of years gone by, with exclusive interviews on the evening with John Boulger, Roger Mills, Phil Whittaker and Ken Vale.
With hot food available, a memorabilia display including 2 speedway bikes and 3 big screens showing speedway dvds the sights and sounds of Long Eaton Speedway were well and truly back, albeit for one night only a year it will be a night that will be remembered with high regard.
"I really enjoyed myself" Sam Ermolenko, "Very well organised" Vic White, "Thankyou for organising the event" Ray Wilson and Norman Hunter.
Organised by the Long Eaton Speedway Reunion Group, whose chairman is former rider Peter Wrathall, the annual reunion and other social events which are held throughout the year aim to bring the speedway community together to keep the name of Long Eaton Speedway alive and in the process donate all proceeds raised to injured riders.
"As with this event and other events that we organise it goes to show that the sport of speedway, in particular the sport of speedway in Long Eaton, is still extremely popular. Everybody enjoyed themselves tonight", explained Peter.
For future event information held by the Long Eaton Speedway Reunion Group please contact Peter Wrathall on: Tel: 01332872187 Mob: 07970419170 Email: wrathall39@tiscali.co.uk
This article was first published on 17th June 2010
[ Use Mobile Version ]
Comment on this Article | Contact Us | Go Back to Main Menu