Long Eaton Speedway Reunion 2012
By Neil Burrows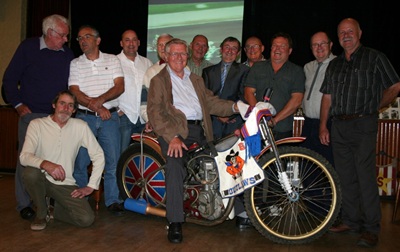 The rider line up (left to right): Dai Evans,
Gerry Scott (kneeling), Geoff Bouchard, David Tyler,
Vic White (partly hidden), Joe Hughes (on bike),
Chris Harrison, Peter Wrathall, Geoff Langmaid,
Mark Williams, Gerald Short, Glenn McDonald.
With Speedway stars from Australia and the UK reliving the parts they played as Archers, Rangers, Outlaws and Invaders the Hollywood style backdrop was set for the hugely successful 5th annual Long Eaton Speedway Reunion which was recently held at the Soldiers and Sailors Club in Long Eaton.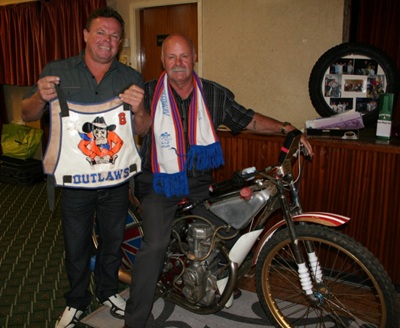 Aussie Outlaws: Mark Williams (left) and Glenn McDonald
Over 100 supporters and former riders attended the event which embraced Speedway nostalgia from the 1960s up until the present day, former riders included visiting Australians Mark Williams and Glenn McDonald who both rode for the Nottingham Outlaws (1979-1980) plus a very special appearance from former Invader David Tyler who played a pivotal part in the Long Eaton team that won the 1984 National League Championship.
Special guest host Ken Walker (BBC Radio Derby) conducted the evening with great professionalism during the course of which he interviewed Gerald Short, Glenn and David. Glenn commented with a smile: "Before I came to Long Eaton I was told it was not too flash and was told to get a pair of wellies in order to help get the track ready, but I will always remember that the atmosphere was great."
Sights, sounds and smells of Speedway were in abundance with a big screen displaying dvd footage of archive speedway, a memorabilia display (including a Weslake speedway bike), author Ian Gill selling the 4th issue of his book Trackin' Down and there was also a delicious selection of food.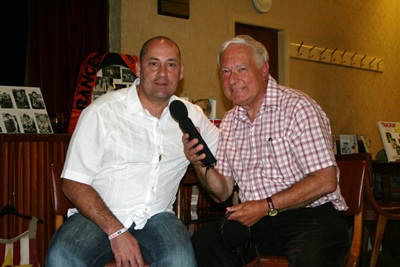 David Tyler (left) with Ken Walker
Throughout the evening there was a 'Gating Skill' competition which involved sitting on a real speedway bike and dropping the clutch to see how quickly you reacted to the starting lights at the beginning of a race. This was a very popular and competitive attraction with Geoff Langmaid achieving the fastest time of the night and Martin Widman winning the knockout competition final from David Tyler.
The reunion is held in very high regard, David added with passion: "The reunion has brought back a lot of fond memories, I've been able to show my children what their father used to do and I would like to pass on my thanks to the organisers for making this possible." and supporter Stephen Williams, while looking forward to the next reunion, said: "It was good to meet riders from different eras, especially Gerald Short."
Organised by the Long Eaton Speedway Reunion Group, whose chairman is former rider Peter Wrathall, the annual reunion and other social events which are held throughout the year aim to bring the speedway community together to keep the name of Long Eaton Speedway alive and in the process donate all proceeds to a good cause, this years proceeds are going to the Notts & Lincs Air Ambulance.
"I would like to thank everyone for making this memorable evening possible, the supporters, riders and organising committee. The reunions are growing in strength and I'm sure that the chosen benefactors will be very grateful to everyone connected with Long Eaton Speedway" enthused Peter.
For future event information held by the Long Eaton Speedway Reunion Group please contact: Peter Wrathall Tel: 01332872187, Mob: 07970419170, Email: wrathall39@tiscali.co.uk or visit: www.longeatoninvaders.co.uk
This article was first published on 24th June 2012
---

Ivan Blacka:

"It's great to see Glen McDonald in the photo. I remember in 79 in Rockhampton Aussie Glen met the US boys and took us down to the sea for some sightseeing. Real nice bloke and a good host. Wonder what brings him to the UK?"

[ Use Mobile Version ]

Comment on this Article | Contact Us | Go Back to Main Menu