The Long Eaton Reunion
By Simon Stanley
From the 1920's to the 1990's, from cinders to shale, memories of Long Eaton Speedway were brought back to life at the Long Eaton Speedway Reunion on June 14th 2008 at the Bridge Inn, Sandiacre.
The tapes went up at 7.30pm and over 120 fans and former riders, promoters and managers attended a very special nostalgic evening organised by Peter Wrathall (former rider) and his committee.
Riders from different eras were in attendance with legends Ray Wilson, Norman Hunter and Dave Perks making an appearance:
Ray rode for Long Eaton in the mid-sixties and went on to appear in many World Finals, the pinnacle of which was to come in 1973 when he captained Great Britain to World Team Cup success, He won three more World Team Cups with Great Britain and also became World Pairs Champion in 1972.
Norman, although he didn't ride for Long Eaton, rode for Leicester and won the World Team Cup with Great Britain in 1968.
Dave was the captain of the Long Eaton team that proudly won the National League in 1984.
Other former riders, promoters and managers in attendance were: Graham Plant, Geoff Bouchard, Russ Dent, Joe Hughes, Roger Mills, Steve Waplington, Gerry Scott, Keith White, Paul Evitts, Dai Evans, Martin Dixon, John Hart, Ian Teale, John Turner (promoter), Sandra Brown (widow of promoter Ivor Brown) and Mike Peregrine (team manager).
The evening was made up with different events comprising of a buffet, raffle, auction, speedway video footage, rider photo sessions and interviews compered by Chris Carter (freelance sports journalist), with displays of speedway memorabillia all around the room with the main attraction being a 1950's Rotrax Jap speedway bike (kindly loaned by Joe Hughes).
Everyone there recollected days gone by which made it a very enjoyable sociable event for all concerned. Here's what a few people had to say of the evening's events in recognition of Peter Wrathall and his organising committee:
Karen Major (former Long Eaton Speedway Beauty Queen) said "Thank you for such a great night. It must have been very rewarding for yourselves with such a fantastic turn out. It was so enjoyable, hope we can all meet up again soon".
Ian Gill said "I would like to congratulate you for organising the enthralling and enjoyable reunion evening, all the riders were so friendly and happy to chat, thought it was a great success and I personally hope that it becomes an annual fixture".
Nigel Deeley said "What a brilliant night, nice to see old faces, look forward to the next one".
Peter Wrathall (organiser) said "I am very happy with the successful way the reunion went, I would like to thank everyone on the organising commitee for all their hard work and everyone for attending especially certain people that had a long way to travel, their commitment and effort typifies the speedway community. The riders and fans expressed to me how much they enjoyed the evening and with that in mind future reunions are being planned with a view to being held on a yearly basis".
As to the future of Long Eaton Speedway itself, cinders will one day go to the ball.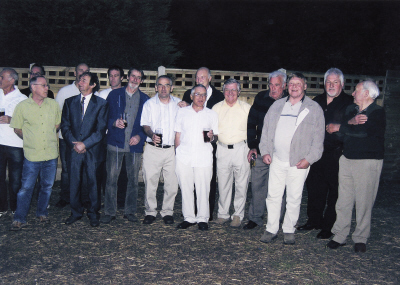 (left to right) John Hart, Keith White (partly hidden), Ian Teale, Paul Evitts (at the back), Peter Wrathall, Martin Dixon, Gerry Scott, Geoff Bouchard, Roger Mills, Barry Wilson (at the back), Joe Hughes, Dai Evans, Russ Dent, Ray Wilson and Mike Peregrine.
This article was first published on 17th July 2008
[ Use Mobile Version ]
Comment on this Article | Contact Us | Go Back to Main Menu