New DVD:
Mark Loram - The People's Champion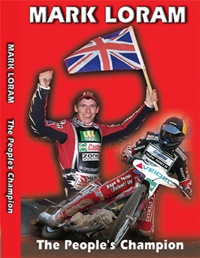 Produced by Retro Speedway
Price: £16.00
Running time: Approx 4 hours (double disk)
Release date: March 30, 2011 FORMER world speedway No.1 and three times British Champion Mark Loram thrilled crowds wherever he rode for two full decades before his brilliant racing career came to a painful end in 2007, the night 'Loramski' sustained serious injuries in a horrific crash at his home track Ipswich.
He has not raced again since then but the memories of his spectacular, leg-trailing style and never-say-die attitude live on in the hearts and minds of all those who had the pleasure of seeing The People's Champion race. A universally popular performer and top bloke, the year 2000 World Champion saw it as his duty to entertain the public every time he put two wheels on track.
For this official double DVD we were given access to Mark's rural Suffolk home, where we filmed him with his young family, interviewed his wife Flo and parents Paul and Vi, and recorded his personal memories of a glittering career spanning 20 full seasons and 10 British clubs: Hackney, Ipswich, King's Lynn, Exeter, Bradford, Wolverhampton, Poole, Peterborough, Eastbourne and Arena-Essex.
With thrilling action footage from every stage of Mark's career - from his schoolboy racing days to that fateful crash, the entertainment comes thick and fast.
Mark recalls his greatest races and doesn't duck any issues when he talks about the only rider who deliberately knocked him off and some of the sport's burning issues, such as rider safety and the future of British youngsters.
Which clubs and promoters in England, Poland and Sweden did Mark enjoy riding for most? Who was his toughest opponent and the best rider he ever faced? The answer to these and many other questions are answered here by Britain's last World Champion.
We also present interviews with Ivan Mauger, a key part of Mark's support team in his World Championship-winning campaign, and his friend, manager and mechanic Norrie Allan, plus former GB team manager Neil Middleditch, BSPA president Terry Russell and Speedway Star's Richard Clark,
Produced by Retro Speedway, this riveting four-hour production is a must for all Loramski fans.
---
For further information, please contact Tony McDonald or Susie Muir at Retro Speedway on 01708 734 502. Or email them at editorial@retro-speedway.com
Retro Speedway, 9 Nursery Close, Glossop, SK13 8PQ.
This article was first published on 17th March 2011
[ Use Mobile Version ]
Comment on this Article | Contact Us | Go Back to Main Menu