Book Review: John Louis - A Life in Speedway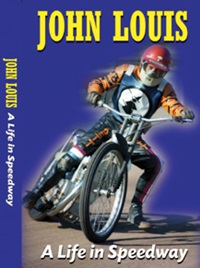 Despite the heroics of his son, John "Tiger" Louis remains the ultimate Ipswich Speedway legend. His incredible story can now be read in "John Louis - A Life in Speedway", his new autobiography just published by Retro-Speedway.
As a late starter in speedway, there is plenty of ground for the book to cover before he even takes to the track for the first time. There are insights into his early life and his successful career in other motorcycling disciplines. These are covered in the first few chapters, so there isn't too long to wait for the speedway story to kick-in.
The story of his meteoric rise is well known, but is now told in the first person and with the benefit of many years hindsight. He admits to a slight reluctance to attempt a career on the speedways, but once he was finally persuaded he found it relatively easy to adapt to the sport. He was definitely naive about what the sport entailed, exemplified by taking his first rides without a steel shoe and wearing a hole through his boot! After a few weeks of second half racing he was given his first taste of professional racing and also acquired his "Tiger" nick-name, which actually had nothing to do with his racing style at all it seems.
His progress was rapid, quickly becoming one of the top performers in the second division. He also picked up a Second Division Riders Championship win, held the silver helmet for much of the 1971 season and was selected to represent "Young England", despite his rather mature years.
The Ipswich club as a whole benefited from having a local hero on the books and crowds justified a move into the British League for 1972. John was asked to move up and retained the captaincy also. Despite the increased level of competition, he took the step-up in his stride and he established himself as one of Britain's best performers. Before the season was out, he had represented England for the first time, scored over 400 league points and finished fourth in the World Final, not bad for a lad with only three years' experience to call on.
Throughout the remainder of the seventies, he was a pillar of strength for the Witches and for his country. Further World Final appearances followed in 1974 (4th); 1975 (3rd) and 1976 (6th). He also led Ipswich to British League titles in 1975 and 1976, making him something akin to speedway's own "Roy of the Rovers".
As well as recalling the on-track action, John sprinkles in a number of anecdotes about some of the more interesting things to happen over the years. One keen Witches' fan used to wash John's leathers after the meetings, a service for which John was greatly appreciative. They would always be ready for his next meeting, but occasionally the lady in question would include a Polaroid of herself wearing the leathers. John never found the nerve to question the significance of the photos!
As an Ipswich legend, it's often difficult to picture him wearing other colours, but the book reminds us that after an acrimonious split with Ipswich, he turned out for both Halifax Dukes and King's Lynn Stars, performing admirably for both despite being at the veteran stage.
It seems that John never quite made a definite decision to retire, but was content to call it quits when no suitable offer was made for the 1985 season. He returned to Ipswich as team manager, also taking responsibility for track preparation. All of that proved to be invaluable experience for the years ahead. During the 1986 season there was a parting of the ways, John admits that he got the track preparation wrong on one occasion and he copped the blame when the Witches lost at home.
It looked like he may be lost to speedway but he was tempted to join Hackney in a promotional role as they re-joined the British League in 1987. John recalls that they were unable to recruit a successful team and made the sensible decision to drop back to the National League the following year. That season is still well remembered by all involved with the Kestrels as they convincingly won the league, due in no so small part to the heroics of Mark Loram (who would go on to marry John's daughter) and Chris Louis (son of John).
A series of co-incidences led to him returning to Ipswich in 1989, taking up the promoter's role, a position he retains to this day. There are strong parallels with his racing career, starting off in the lower division and gradually building to an all-conquering season in the top flight in 1998. That side was one of the most successful the sport has ever seen and included Tony Rickardsson, Tomasz Gollob, Scott Nicholls and John's own offspring, Chris.
Many ups and downs have followed in the years since then and John is candid in his recollections of these times. He admits that still being a licenced promoter precludes him from spilling some of the beans that he may have wished to. He does share some interesting tales from the BSPA conference, including an account of a trip to a gentleman's entertainment venue that may leave a few of his fellow promoters cringing.
As someone whose career spanned the revolution from JAP to GM, Louis is well qualified to comment on the technical innovations within the sport. He writes about this in an accessible way, explaining the differences between the machines and how decisions made in the workshop can impact results on the track.
Like all families, the Louis family has experienced many highs and lows over the years. John speaks openly and emotionally about some of the events that shaped his life and the rather complex family tree that now includes a number of well-known speedway personalities. He also explains his conflicted thinking during his years as England manager, being in the difficult position of having a son and son-in-law amongst the contenders for places in the pairs, fours and test teams.
The book certainly seems to have been painstakingly researched, with good use made of facts and figures to add meat to the bones of the story. There are also hundreds of pictures included, a mix of action shots, promotional pictures, team line-ups and personal snaps. There's also a special section of colour photographs, including recent pictures of John back in his old "Tiger" leathers and cutting a rug on the dance floor.
Recent converts to the sport may only know John as the Ipswich promoter or as "Chris' Dad", so this book is a timely reminder of what an incredible life he has had. Despite being a late starter, he is one of Britain's best ever riders and one of the longest serving promoters in history. This autobiography is long overdue, fully justified and extremely well executed. This is poles apart from the cash-in autobiographies that celebrities rush out at this time of year, it's evident just how much work has gone into this book and this a story that is well worth telling. An essential purchase for everyone in the Ipswich area and a highly-recommended one for everywhere else in the speedway world.
Order Online : at Retro-Speedway.com
This article was first published on 30th November 2015
[ Use Mobile Version ]
Comment on this Article | Contact Us | Go Back to Main Menu