Speedway Scrapbook: Louis to Race New Weslake
From Motorycle News - 1/1/1975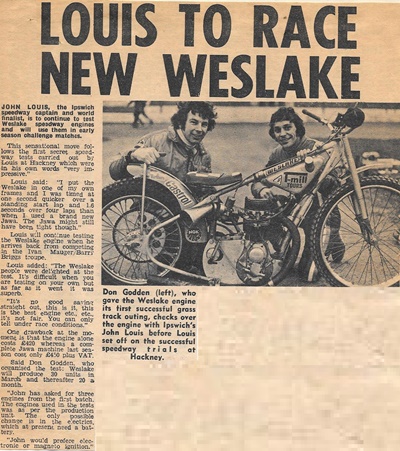 JOHN LOUIS, the Ipswich speedway captain and world finalist, is to continue to test Weslake speedway engines and will use them in early season challenge matches.
This sensational move follows the first secret speedway tests carried out by Louis at Hackney which were in his own words "very impressive".
Louis said: "I put the Weslake in one of my own frames and I was timed at one second quicker over a standing start lap and 1.6 seconds over four laps than when I used a brand new Jawa. The Jawa might still have been tight though."
Louis will continue testing the Weslake engine, when he arrives back from competing in the Ivan Mauger/Barry Briggs troupe.
Louis added: "The Weslake people were delighted at the test. It's difficult when you are testing on your own but as far as it went it was superb. It's no good saying straight out, this is it, this is the best engine etc., etc., it's not fair. You can only tell under race conditions."
One drawback at the moment is that the engine alone costs £420 whereas a complete Jawa machine last season cost only £450 plus VAT.
Said Don Godden, who organised the test: "Weslake will produce 30 units in March and thereafter 20 a month. John has asked for three engines from the first batch. The engines used in the tests was as per the production unit. The only possible change is in the electrics, which at present need a battery. John would prefer electronic or magneto ignition."
Click on the picture above to see the article in a larger size
This article was first published on 3rd November 2019
[ Use Mobile Version ]
Comment on this Article | Contact Us | Go Back to Main Menu