The Loyal Squad Reunion
By Bill Elliot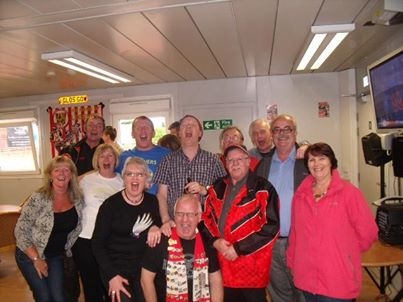 The Loyal Squad - 2013 Style
A few weeks ago, I and a number of others had the very great pleasure of meeting up again after ahem..... a lot of years to re-live our days of youthful exuberance, occasional misdemeanour, but above all, our love of all that is, was and always will be, the Glasgow Tigers.
The opportunity arose through the forward thinking promotion's idea that not only is it a good idea to attract new supporters to the sport, it's also a decent shout to try to get back some of those who know what it's all about but, for whatever reason, these days don't come either at all or at very best, not with the frequency which they once displayed.
So, with the aid of these new fangled tools like email and Facebook, unheard of phenomena when we were all in our prime, the word was put out that for one day only, the somewhat famous/notorious/most wanted (at least in their own minds) Glasgow Tigers "Loyal Squad" was going to be back in town. The name "Loyal Squad" was one which then promoter Neil McFarlane, never slow to create a bandwagon or fancy name if the situation warranted it, came up with at the turn of the 60's/70's when a group of youngsters began following the side away from home, and gave an already "boisterous" away support some added impetus with a level of noise which sometimes even encouraged a reserved home support to respond in kind, (not just the waving of programme boards when their favourite crossed the line first) and generate a healthy level of noise over and above that generated by the bikes!
We could also be relied upon to dismantle the safety fence at Hampden Park of a late Friday evening in advance of a big football match there on the Saturday, to return on the Sunday to put it back up again (with sometimes an away match at somewhere like Cradley Heath/Coventry/Halifax on the Saturday thrown in between), so I suppose the term "Loyal Squad" may have been a more polite description of a group for whom the term "chronically off their heads" might have been more appropriate.
On the appointed afternoon, therefore, we all strolled up, and after finding a spot to park our zimmer frames and other assorted walking aids in keeping with our advancing years, we began the sometime difficult job of remembering/identifying folk that we maybe hadn't seen for better than 30 years-some were easy, others were more difficult, and in many cases the increase in girth and/or the receding hair lines forced the occasional "erm, sorry, who are you again?" (and those were only the ladies!). Before we'd even reached our appointed place within Ashfield Stadium for the afternoon (the promotion very kindly laying on a buffet for us), the most used phrase of the afternoon, "do you remember...." was already in overdrive and, of course, the smell of the bikes, that very special perfume, took us all back 30/40 years quicker than a trip in the Tardis.
Now, I have to admit, that for all the returning to the Tigers' home was and remains a big thing, I hardly saw a race, as I was too busy reminiscing with my fellow "Golden Wonders" (we're not "oldies", just well used!) about all the things we used to get up to-I won't bore you with all of them, as many will come into the "had to be there" category, and I'm not sure about the statute of limitations regarding some of the others, but there was the night when we were at the late lamented Blackbird Rd watching the Leicester Lions take on our very own Tigers. After Jim McMillan had done the unthinkable and beaten home favourite Ray Wilson, we burst into a little song about it, much to the chagrin of a certain "Soldier Boy" who was, shall we say, a bit of a Wilson fan at the time, and as he came marching along the bit between the track and the terracing, in full Army gear, to remonstrate with us, burst into a chorus of "It's A Long Way To Tipperary", and "Action Man Is Here", which seemed to find favour with the home support, not familiar with visitors sledging him!
On another famous night in 1971, when Jim McMillan had the meeting of his life to finish 3rd in the BLRC at Belle Vue behind two relative unknowns (Mauger & Briggs-wonder whatever happened to them?), the volume of support for the Glaswegian in a tiny wee stand on the second turn even obliged master showman Ian Hoskins to simply invite us to show our appreciation without comment from himself, and I swear, that wee stand was actually vibrating with the sheer outpourings of delight for OUR rider's performance in a field which rivalled that of any World Final. Finally, I believe the Tigers' fans were the first to discover the audio advantages of air horns, now a regular feature at speedway meetings, of course, but I doubt if many people will know that the market research was carried out one Tuesday afternoon by a group of "Loyal Squad" members on manoeuvres in a Weymouth shopping mall prior to a New National League match at Radipole Lane that evening. Now THAT was loud!
Anyway, enough, I'm blethering again. Back to the afternoon of the reunion, and we compared notes on how many grannies, uncles and aunties we had buried (sometimes several times over), almost invariably on the same day as the Tigers were racing at some midweek venue such as Leicester, Reading, Oxford, and the like, and had turned up at work/school/college etc the next day looking like washed out rags, given that for quite a time in the early 70's, at least, a "derby" match for the Tigers was a day trip to The Shay in Halifax, so midweek jaunts in support of the team required a late night into morning drive back as two days off for a relative's funeral was usually chancing one's arm a bit!
In the course of the afternoon, it was amazing to see a number of folk drop in just to say Hi, as they knew we were about, and I have to say that we were treated right royally by the Glasgow promotion-indeed, one member of board did comment that the bar takings were at a record level for the afternoon, which, I suspect, is maybe closer to the REAL reason why promoters from years gone by looked forward to a visit from the Tigers, absolutely nothing to do with the atmosphere they created! It was amazing, too, just to find out what folk have been doing with their lives in the 30/40 years between the last time we'd seen each other and the more recent get together-I mean, one of our group had even been honoured by the Queen, for goodness' sake!
So, what's the purpose of this little reprise of an afternoon at Ashfield Stadium? Well, several, I suppose. Selfishly, it's given me the opportunity to look back on a wonderful afternoon with so many people with whom I shared so much time in my rise into adulthood, and with whom I had so many good times. After so many years, and I never realised it until the event, the common bond that we still shared, even after so many years of not clapping eyes on each other, was and is still there as strong as ever.
Secondly, it gives me the chance to say to you, if you ever get the chance to attend a speedway reunion, formal or like the one I went to, entirely informal, bite the hand of the organiser for tickets or an invite, as it's got to be about the most fun thing you can do in your later years with your clothes on!
Finally, I suppose, if there's any promoters out there looking for a way to get not new fans through the door, but people who used to go, you could do an awful lot worse than take the lead shown by Glasgow in organising a reunion, whether for a regular speedway meeting or a more formal occasion like some of those I've seen advertised in "Speedway Plus"-take it from me, you can't fail!
This article was first published on 11th August 2013
---

Bill Elliot:

"As a small footnote to this little piece, when former promoter Neil McFarlane heard that the Loyal Squad had re-convened, he raised the possibility of him travelling up from his south of England home to meet up with some of the troops who had formed the ranks at another Ashfield meeting. To cut to the chase, it's all happening on 25 August when the Witches are in town-such is the power of reunions, and maybe nostalgia IS still what it used to be!"
Colin Bennett:

"Well said Bill twas a great day. "
Ye Auld Silver Fox:

"To Billy Elliot for the article (By the way, he is the gentleman with glasses on the far right)many thanks....Like Billy I was very fortunate to be one of the lucky ones to leave my zimmer behind and enjoy what must have been a highlight to my later years...To see some "Old" friends after so long was one thing, but as Billy says to get the opportunity to once again join other members of your old family and look at photos and discuss stories which seem to vary dependant on who's memory you believe. I know I speak for all when I say thank you to Jim Coyle and the Glasgow Promotion, for allowing us to go back to our youth. It says a lot for true friends when my old scarf turned up still in tact after all these years....So to Jim and Liz, I say thank you"

[ Use Mobile Version ]

Comment on this Article | Contact Us | Go Back to Main Menu