Riders to Remember: Mark Thorpe
By Jonathan Healey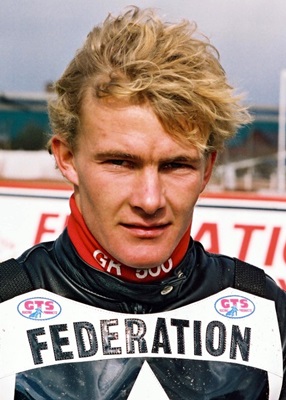 Mark Thorpe
Mark Thorpe was New Zealand's and Christchurch's last successful rider to make it to the European speedway leagues and race regularly in the winter months in New Zealand.
Born in Christchurch 26/03/1969, now aged 47, Mark began his UK speedway career with Newcastle from 1989 until 1994.
Mark began motorcycle riding at age 9 with a motocross bike which he felt was the best way to get involved in speedway, giving him confidence in his riding.
His first major success in New Zealand was third place in the NZ championship held at Western Springs (Auckland) in 1989 to Garry Allen and Larry Ross. The following year he did one position better in 1990 at Ruapuna Speedway (Christchurch) coming in at second to Larry Ross and Craig Wilkie in third.
Mark's attempt to make it overseas was supported by Ivan Mauger and David Bargh who helped assist him with sponsorship and Mark was also the winner of the 1989 Under 21 solo championship which included a prize of a flight to England as an attempt to help start younger riders careers. That helped him break through to Newcastle, one of Mauger's previous tracks.
Mark won the New Zealand solo title 3 times at Ruapuna in 1993, 1994 at Stratford and 1996 at Ruapuna again. In that last victory he was attacked in the last few laps by youngster Graham Hartshorne also from Christchurch. Mark had to use all his expertise to fight back and win the race. It showed in years to come that Graham Hartshorne who was Under 21 solo champion at the time had a natural ability as a solo rider.
Mark worked incredibly hard to get where he was finishing his final years in speedway, by now racing with Swindon and averaging over seven points a match in 1996. Who knows how much further he could have gone had he not suffered a terrible career ending crash in 1997.
Whose fault it was ...who knows...sadly it was a disappointing way to go for what a very talented young rider at the age of only 28. Practice starts are something all riders must prepare for, unfortunately this time for Mark his luck ran out and exiting the pits was a tractor awhich Mark did not see with its pick up bucket lowered which was heading towards him. Mark hit the tractor with real speed and landed himself in hospital for a recovery, probably wondering what on earth happened.
Strangely Mark's speedway career had been mostly injury free compared to some riders. Mark could have restarted his career after that, but injuries may have hindered him and he had already achieved a lot in 8 years racing in New Zealand and overseas. Only the year before at Addington (Christchurch) he had won the Golden Helmet Ivan Mauger event and NZ long track grand prix fending off the best competition in New Zealand and many talented overseas riders.
After the accident he returned to New Zealand and his background since then until a couple of years ago is unknown. Recently he was working as an electrician in Christchurch and he has recently moved to Australia.
I don't know if a speedway return is on his agenda, he no doubt still has the talent and ability to return and be successful but competition in his home town is lacking solo racers, despite a new speedway track being developed from a training track (Moore Park).
He was involved for some time at the venue coaching new young speedway riders, but still hasn't been convinced that a return to speedway is where he should be right now. Anything is possible though, and if Mark is fit enough and interested enough he may have some unfinished racing business.
Mark was never a self-centered competitor always willing to share his expertise, one example of this was early '97 on a Sunday afternoon where he took the time to share his knowledge with local riders on how to ride on rougher bigger tracks in preparation for a NZ title the following week in Stratford, North Island.
Sadly, no other riders from Christchurch ventured to England to race during the 90s, though there were some very successful and competitive riders that could have, including Graham Hartshorne, Andy Walker, Mark Jamieson and the McKinlay brothers (Daniel and Blair) both of whom later in 2000 and 2001 showed their real talents as riders. Daniel McKinlay went to race overseas in Ivan Mauger's series in Australia in the early 2000s. Speedway racing has declined in Christchurch since 2004 and now is a dying class sadly.
We want to feature similar articles on riders from any era of the sport's rich history. If you'd like to contribute a piece then email us at speedwayplus@hotmail.com or fill out our form here.
This article was first published on 14th August 2016
[ Use Mobile Version ]
---

David Torley:

"As a Newcastle Diamonds fan I remember Mark well. He was really struggling to begin with although there were glimpses of his talent. I remember him becoming a heat leader was literally from one race to another. Ivan Mauger was making one of his visits to Brough Park and Mark was struggling again with (I think) two last places to his name. I don't know what advice Ivan gave him that night but he won his last two races and from that point was an 8+ man. His last heat pairing with David Bargh won Newcastle many matches and even a trophy or two. I always had the impression that Mark didn't believe enough in himself. If had had a little more self confidence he may have gone further in the sport."
Wiremu:

"Racing solos at Ruapuna in the 1980s to early 1990s was a lot of young very good riders like Craig Monk and Mark Thorpe, Mike Hollow and there was also grasstrack and longtrack happing in the south island with Kim Mauger and Mike Hollow and Warren Madden and all these guys have gone now but not forgotten."

Comment on this Article | Contact Us | Go Back to Main Menu