Flashback....May 1967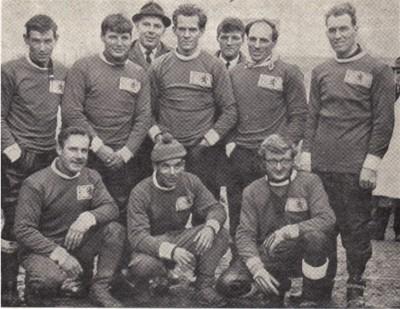 The Scottish team from the Old Meadowbank test
England gave Scotland a roasting on their patch with a 74-34 win at Old Meadowbank. Youngsters Terry Betts and Ray Wilson led the way with 16 points apiece. Top scorers for the Scots were Charlie Monk and Dougie Templeton with 10. The Scots long tail was a major factor in the result as three of the side failed to score. As a result the Scots strengthened up for later matches by including foreign riders who were riding for Scottish clubs. This, rather ridiculously, led to the likes of Bernie Persson turning out for the Scots.
'Gentleman' Gote Nordin won the prestigious Internationale meeting at Wimbledon. He did it in style by romping to a 15 point maximum.
The World Championship qualifying rounds were staged throughout the month. There were an incredible 19 meetings in all, with all competitors taking part in three rounds. Star performer was undoubtedly Nigel Boocock who raced to three maximums.
Jon Erskine was in the headlines after scoring an eighteen point maximum at Poole. Sadly his Newport Wasps team mates could only contribute an additional 15 points between them. This was only the second 18 pointer since the league was formed in 1965, the first was by Cyril Maidment in 1966.
Oxford suffered a major blow when skipper Arne Pander broke his left leg. The Dane was out for the rest of the season.
Edinburgh's future was in doubt as their Old Meadowbank venue was to be demolished at the year's end. There was talk of a new circuit at Hailes Quarry but sadly it came to nothing and the Monarchs had to decamp to Coatbridge.
Bjorn Knutsson, world champion only two years previously, shocked the sport by announcing his withdrawal from the world championship. He cited business commitments in his native Sweden as the reason for his surprise decision.
Mike Parker, who less than a decade earlier had started the provincial league, suggested that the time could be right to launch a second division of the British League. Parker had already secured a lease on a stadium in Nelson which he suggested could be one of the founder members. He also took a swipe at prospective promoters who were unable to find a suitable venue and offered to find a track for anyone who had a serious desire to promote. The new league was indeed formed the following season.
Arnold Haley became speedway's first ever sponsored rider when he was presented with two bikes and a van.
Brafield-on-the-Green staged it's last ever meeting, a challenge against a Hackney Hawks side. Tyburn Gallows top scored with 14 points. Unfortunately crowds were insufficient to support the club.
This article was first published on 24th July 2004
[ Use Mobile Version ]
Comment on this Article | Contact Us | Go Back to Main Menu